Sinead Kennedy made her return to the Today show recently, after the birth of baby Indie last year. The presenter talks to Janice Butler about how motherhood has changed her more than she anticipated and how she and husband Conor are managing parenthood while he works in Brussels.
It's Sinead Kennedy's first day back on the set of Today in Cork after her extended maternity leave (baby Indie was born last March) and she kindly gives up her lunch break to chat to me. She's ordering a burger to be delivered when I interrupt her and when I remark at the end of the interview that she didn't get to eat it, she assures me "Oh don't worry, I'll have it when we're rehearsing."
She doesn't seem at all nervous to be going back on live television (with Dáithí Ó Sé). She says that her husband Conor Kirwan asked her if she was nervous when he dropped her to the studio that morning. "I don't know if it's a bad thing but I'm not nervous at all; on a show like this, you're just being yourself. Obviously, you're doing a job, but it's kind of second nature now. I'm doing this nearly 20 years now," she explains.
Dressed in a glitzy silver sequin jacket and her trademark platinum hair in waves, Sinead remarks that it's been so long since she's had the opportunity to dress up and she's seizing the moment. "I figure if you're coming back, why not do it with a nice subtle look?" she laughs. "I've had no Winning Streak as an outlet for my sequins and I didn't get to wear any over Christmas, because we weren't out and about, so it's time to break it out," she adds.
We need your consent to load this Instagram contentWe use Instagram to manage extra content that can set cookies on your device and collect data about your activity. Please review their details and accept them to load the content.Manage Preferences
Sinead isn't just returning to the day job; she's returning to life back in Cork and Ireland. Her husband Conor, who works with the Irish Defence Forces, has been on a secondment to Brussels since Sinead became pregnant. He will be there for another year and a half. Sinead and Indie spent her time off with him in Brussels, before coming home at Christmas.
She admits that it's a big adjustment for the family now, having to juggle their time between the two places. "I don't feel like I'm just back to work, I'm back to Cork and to Ireland too, so it's a big adjustment," she says. "We've been in our own little bubble figuring our routine out as a family, so there's been a lot going on the last few weeks, coming home and getting myself sorted."
Sinead was originally due back on the show in September, but decided to extend her maternity leave until the New Year, something, she says, she doesn't regret. "I just realised it was time that I was never going to get back. I couldn't make it work with our current living situation so it was all lining up for me not to go back, which is what I wanted without knowing it was what I wanted and needed. The closer it got to September, it just felt it was way too early. My heart goes out to anyone who can't take the time, I know I was very lucky to be able to do that," she says.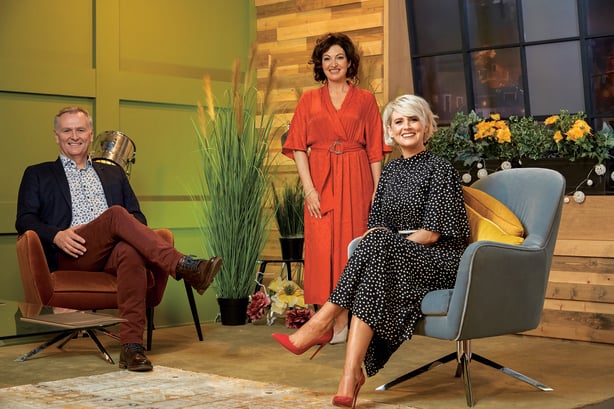 Emer O'Neill filled in for Sinead from September in her Monday and Tuesday slots, but Sinead remarks that she purposely tried not to watch the show, to completely switch herself off. "With my type of work, you can physically see someone else doing your job, which is a weird one, but I never watched the show. I just completely switched off; I didn't want to be in the zone of having to think about work."
Conor is home for her first week back at work to help with the transition and when he goes back to Brussels, Indie will be going to a childminder, another big adjustment for Sinead. I remark that it must be difficult not having him in the country.
"This is just the life we have," she replies. "It's hard to see him leave because I know he'd like to spend more time with her, but we've been constantly over and back, up and down and back around and trying to figure ourselves out. We're together about 16 years and we've never really been in one place together for very long, but it's just very different when there's a little human involved," she adds.
She plans to spend time in Brussels in the summer when the show is off air and in the meantime, they'll manage as best they can. "It's about enjoying work, getting back to my old life and new life and trying to merge the two – it's going to be like it is for everybody…challenging. We're both very happy in our jobs, so it would just be great if we were in the same country," she laughs.
We need your consent to load this Instagram contentWe use Instagram to manage extra content that can set cookies on your device and collect data about your activity. Please review their details and accept them to load the content.Manage Preferences
One thing that really took Sinead by surprise was how quickly she took to motherhood. She admits that she never yearned for children but the minute Indie was born, life has she knew it completely changed. "I just look at her and wonder how I got this lucky in life to deserve this gorgeous human being; she's been the making of me. I'm a completely different person," she says, gushing a little.
"I was always quite relaxed about having kids. It wasn't this thing I was talking about from my 20s. I thought if it happened for us, great, but if it didn't, that would be OK too. But when she arrived into the world, within 24 hours, I was a completely different person," she says.
"She's changed me in the nicest way; I'm far more patient, I'm far more relaxed, far less stressed. I know this sounds naff but I really feel like I was made to do this and I'm so happy. I feel I found myself by becoming a mom."
She admits it was a difficult and lonely time when she was pregnant, having to go to the scans and appointments on her own due to the Covid restrictions, something many people campaigned to change.
"I went to all bar one on my own, but I was very lucky to have had such a healthy pregnancy because I cannot imagine going into those scans and getting bad news. There's a lot to be said for having that support and the hand to hold," she says; adding, "it's so unfair in so many ways that you have to go through that on your own and I think a lot of people will come out the other side of this quite traumatised."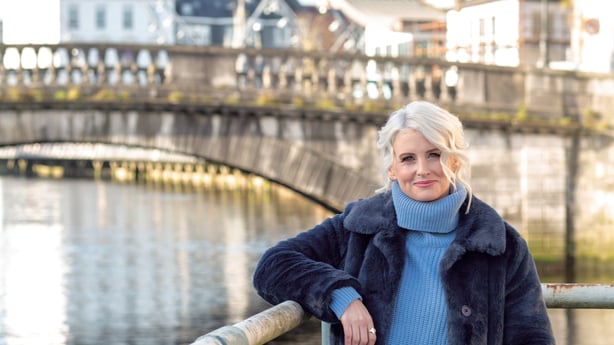 Conor was there for the birth, which she describes as "overwhelming" and she admits when Indie was born in March, it was an anxious time for her. "The guidelines were changing all the time at that stage and they were starting to say pregnant women were at risk so I had a lot of anxiety towards the end."
One phrase you won't hear from Sinead is 'bouncing back' after having her baby. She says that throughout her career, she's had to get used to people commenting on her appearance, so she gives it very little headspace.
"I've found at my heaviest or at my lightest, that people will pass remarks regardless. You're either too slim, too heavy or your hair is awful; there's always something and people, if they're that way inclined, will pick you apart. So I haven't given it a second thought. I'm happy in how I look. I mean, I look tired because I am tired," she laughs.
She says she's been asked a lot about returning to Winning Streak, which hasn't been on the air since the pandemic began. She missed her other TV husband, Marty Whelan, but hopes the show can come back in the future in some form.
"It hasn't been able to come back due to the nature of the show; you need the audience and then you have five different families from different parts of the country. Putting them together in a room just can't be safely done at the moment," she says.
"I'll definitely be there when it comes back. I love the show so much, there's such a feel-good factor to it. And I miss my glam, this is why I'm in sequins on an afternoon show!" she laughs.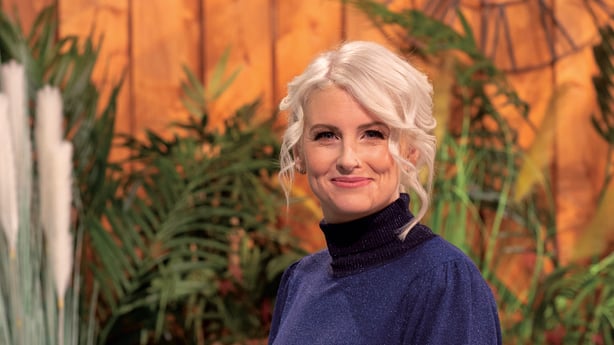 She's being called by the producer to come back from lunch and I can hear Dáithí Ó Sé slagging her in the background. "I think they think I'm just having a chat with my best friend," she laughs. "Just call or text me if there's anything that I said that didn't make sense, I'm probably still in maternity fog and a bit all over the place," she says as she runs back to her old but very much changed life.