"I wouldn't be someone who would make resolutions because I definitely wouldn't stick to them", Kellie Harrington tells RTÉ LifeStyle. A typically realistic and pragmatic statement from the Olympic gold medalist who dazzled supports at last year's Olympic Games in Tokyo.
Instead, she's more about small changes that add up to a big mindset shift. As part of Spar's Better Choices campaign, she's advocating for more people to make better choices in the new year.
For her, she's spending her hours out of the ring in the great outdoors, getting as many walks in with her fiancée Mandy and their dogs as possible. "I'm trying to get out now and do a couple of walks now, maybe every second weekend", she says.
"I've just been putting it out on social media for other people to come out and walk with me and meet new people as well. You're meeting new people and you're enjoying the fresh air and company of other people and a lot of them are strangers. And it's just really nice to be able to get back out there and meet new people."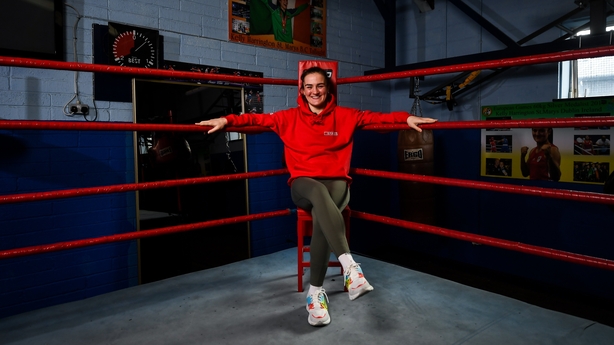 It's understandable that the young athlete is focused more on the simple things these days, after a whirlwind year that saw her charge to victory on the world stage and – arguably more impressive – delight viewers when she appeared on The Late Late Toy Show.
When asked about how she looks back on the year past, Harrington is as down-to-earth as ever.
"Obviously the Olympic Games is massive and I'm not playing down or anything", she says. "And sometimes I get kind of worried because I feel like I am playing it down and people are like, this is massive, Kellie, but I still feel like for me, it's just business as usual and I'm just doing the same thing that I do and I've been training for this moment.
"I had downtime and then I reset and refocused. I'm still kind of in Christmas mode at the moment. I'm still like in la la land sometimes, but look, I like being in la la land. It's a land where I feel comfy and everybody knows me in that land!"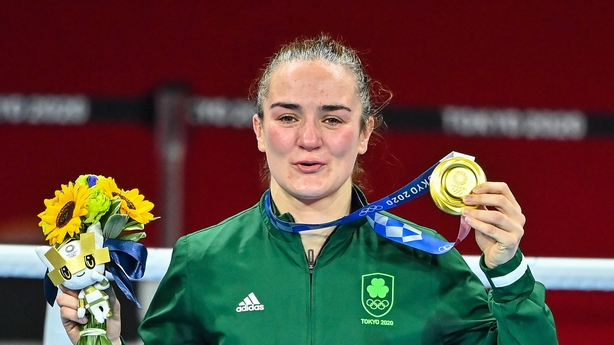 What does downtime look like for an athlete like her? "Just chilling out", Harrington says, though the group walks have become something she's incredibly passionate about. "It's really nice to meet strangers who you've never met before and hear their stories. And they heard a lot of people probably know my story now, obviously, but just to chat to them."
Going on a walk with an Olympic champ is not how everyone gets to spend their weekends, though the last thing Harrington wants to talk about is her success.
"To be honest with you, people come up and they go, 'oh, congratulations, well done'. And they'd be really nice, and I'll say thanks very much. But I quickly turn the story around saying how are you doing? And how is it going for you? How has your year started off and then I turned it back on to them and then they get talking about themselves.
"Everyone has a story to tell. A lot of people know my story, so I like to hear their stories."
Anyone who's spoken to Harrington can see how humble she is, but the Dubliner says she's never been anything but. When it comes to settling back into normal life after her Olympic win, she says she never needed anything to "bring her back down to earth".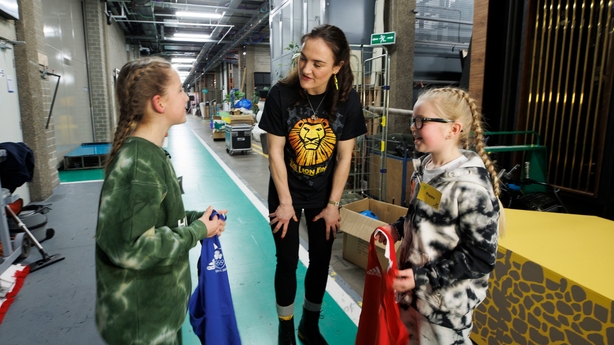 "I'm always on Earth, I'm always planted on the ground", she says. "People ask me that question over and over again, but I never feel like I have ever left the ground.
"I do be wondering, do people actually like, I don't know what that would feel like because it hasn't happened. Does that happen to people or is that just something that people think happens to people? I don't understand it because it hasn't happened."
Central to this is her devotion to the sport itself, and her belief in sport as a central pillar for communities, especially inner-city ones.
"The importance of sport throughout our nation as well as our communities is one of the most important things the community can do because they're setting up the fundamentals for kids for life", she says.
"They're creating good habits and routine and teaching them discipline and to be healthy and teaching them that it's okay to chase a dream that you have. And sometimes we might not catch that dream, but it's not always about catching it. It's about the journey, about who you meet on the journey and about creating good memories that you can pass on to other people.
"I do feel that boxing and sport has a massive, massive role to play in my community, but in every community throughout Ireland. I still think that so much more needs to go into sport because this is where this is where you can change people's lives. This is where you can stop them from going down the wrong road. You can help them off the wrong road onto the right road."
We need your consent to load this Instagram contentWe use Instagram to manage extra content that can set cookies on your device and collect data about your activity. Please review their details and accept them to load the content.Manage Preferences
This is something Harrington has unique insight into as a celebrated athlete with her feet firmly planted in local communities. As such, she's often called upon to bolster young people who might be struggling.
"There's times when I've rang when parents have given me phone numbers of their kids", she says. "But there is only so much that I can do as a person as well because it is quite a lot of responsibility. You can take a horse to a well, but you can't make the horse drink. It's really down to the parents."
Speaking about the campaign and a study carried out for it, she notes that "58% of people polled said [they wanted to] improve their overall health and quality of life and then 10% of them said setting a good example for my family, whereas I think that setting a good example for my family is one of the bigger ones because like I said, you are a product of your environment."
This is why she believes so much in the idea of better choices, she says. "Better choices for eating, better choices for what you do at home in your house is going to filter down through your children. Kids are a product of their environment. It's monkey see, monkey do.
"I think overall, as a nation over the last number of years, we've become better at making better choices and looking after ourselves and exercising a little bit more. And I think there's a lot of education, a lot of information out there to help us. There's also a lot of misinformation out there."