Kathryn Thomas talks to Donal O'Donoghue about what motherhood means to her, why Operation Transformation works and her plans for 2022.

It's the day of broadcast of the first episode of Operation Transformation and Kathryn Thomas's phone is hopping. Since 2011 the Carlow woman has hosted the RTÉ reality show that has championed healthy living as it tracks the progress of five or so pilgrims ("leaders" in OT parlance) over a period of eight weeks.
Each season the programme has evolved, incorporating nationwide events to get the country up and active, striving to be more holistic in its approach. But Operation Transformation has not been without its critics, and in the past week there have been calls from some people for the show to be cancelled. Bodywhys, the Eating Disorders Association of Ireland, issued a statement expressing concerns over the emphasis on weight-loss.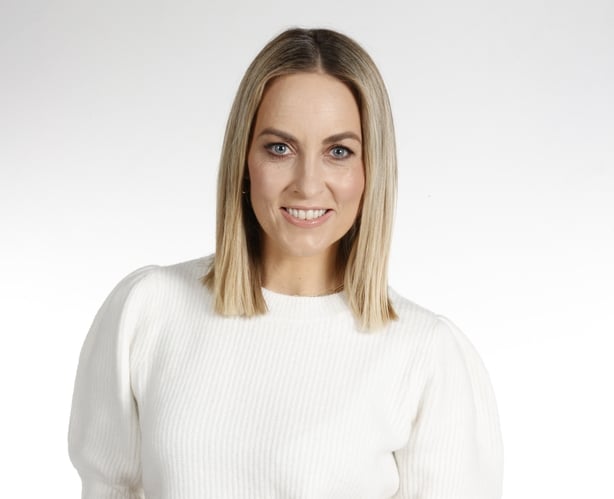 Controversy about Operation Transformation, now in its 15th season, is not new. Down the years it has shipped flak for parading the leaders in lycra during the weekly weigh-ins. "Fat shaming", cried the critics – but Kathryn Thomas points out that the leaders are given a choice (some sported vests in 2021), and for the 2020 finale she herself stepped out in Spanx to "honour all of our leaders' hard work and dedication".
This season the programme has shifted away from focusing on weight-loss to emphasise the bigger picture: living healthier, in a more sustainable and holistic way. And during a recent Liveline broadcast, in which callers debated the "triggering" aspects of OT, producers stated that, for 2022, all leaders will wear leisure/gym clothing for the weigh-ins.
"I believe it is an important show," says Kathryn, "educational and entertaining. We work with people who are concerned about their health and well-being and are stuck in a rut. They come to us and the panel of experts, and learn the tools to get themselves out of that rut."
It's not all about weight loss, she stresses, but is "so much more than that. It also involves working with the GAA (the "Ireland Lights Up" walking initiative), Park Run (community-centred jogging meet-ups) and schools across the country. Down the years OT has run a number of campaigns that have been hugely influential in educating the population about health and well-being.
"We've all been there at one time or another when we haven't felt our best. But of course every person is different: what works for one might not necessarily work for another."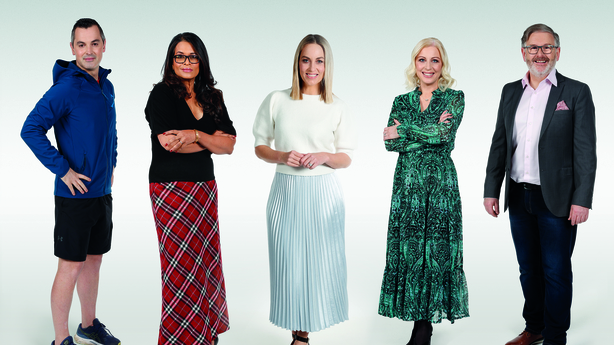 When we spoke last week, this veteran of TV and radio was grabbing a rare moment of quiet. Kathryn has been married since 2019 to long-term partner, Padraig McLoughlin; the couple have two daughters, Ellie (3) and Grace (11 weeks).
"I'm looking forward to a proper night's sleep, but that will come," she says with a laugh – even as she concedes that, second time 'round, she'd forgotten most what being a mum entailed.
Kathryn goes on, "When I was leaving the hospital, it was like I was doing it again for the first time! I couldn't remember the feeds or when they go on solids or any of it. But everything eventually falls into place.
"Grace has just started to smile now. Padraig had been saying that he was getting a few smiles and I was like, 'That's rubbish!'.But she's smiling like a good thing now and those little moments bring it all back, how it was with Ellie. So it's the most glorious little world that we are in right now."
Following the birth of Grace in late October, Kathryn posted a message online that their family was now "complete". It was a long way from early struggles to have a family (she had two miscarriages before Ellie was born in March 2018.)
"Sometime memories come up on my phone from when we were in that world, trying to conceive and exploring all the different avenues available," she says. "We were hanging onto the hope that it would happen at some point. Now there are moments when I look at Ellie with Grace in her arms and I realise how blessed we are.
"So I never take what I have for granted. When you have gone through a fertility journey with its many challenges, you are always going to be aware of how lucky you are and how difficult it can be for others."
She was vaccinated during her pregnancy, a difficulty she admits was "difficult". Kathryn adds, "There's a lot more research and information now but for me it was looking at the science, talking to the right people and making what I believe to be the right decision."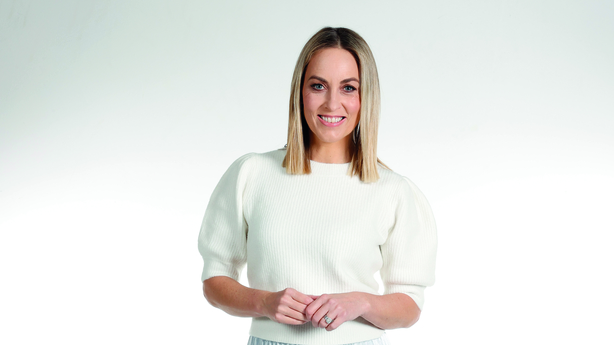 In the end, all went well and both sisters are getting on like a house on fire: "Ellie is like a little nanny with Grace, making sure she has her socks and hat on and all the rest. The first thing I heard this morning when I was in the shower was Ellie saying, 'She gave me a smile.'"
There have been a few tantrums too – "when too much attention has been focused in the other direction" – but, Kathryn stresses, "not like I expected. And we lower the buggy so that Ellie can push Grace, which gives her that sense of ownership as well."
She does concede, though, that parenting is hard, and motherhood – especially in these uncertain times – can take its toll. Kathryn says, "When Ellie was born in 2018 we had the long summer evenings ahead of us and we did not know what Covid-19 was. Back then the days were long and it was a different world. I flew to Los Angeles with her when she was just four months.
"Now we have Grace and it's midwinter and the pandemic is rife. We cocooned a good bit in recent times and I didn't get out of bed for a week after I came home from hospital. With all the terrible stuff happening in the world, Grace has been a little beacon of light for me and a distraction from all that other stuff."
"I have to keep the child alive, feed it and look after it, so I don't have time to despair. I'm too busy being a new mum again."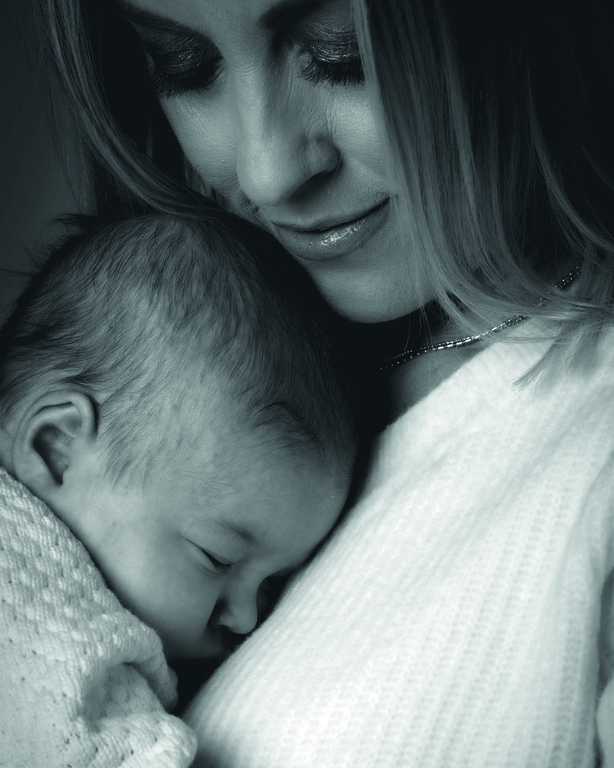 When she was just four weeks old, there was a scare when Grace fell ill and had to be rushed to Crumlin Children's Hospital (it was later diagnosed as bronchiolitis).
"It was absolutely horrific," Kathryn recalls, "every parent's worst nightmare. "I was fine until I got to the door of the emergency department and then I fell apart. You hand over the most precious thing in the world to people you don't know but who you trust implicitly. Grace was tested for meningitis and sepsis and had to get a spinal lumbar puncture.
"Jesus, Donal, it was terrible. I knew instinctively it was nothing (very serious) like that but they had to take those preventative measures, including giving her intravenous antibiotics, just in case it was sepsis or meningitis. The staff were incredible, they're walking angels, and after three days we were home and all was well."
The workload is less than usual for the new season of Operation Transformation. Kathryn says, "I didn't do any of the reveals before Christmas and that works for me right now. I was able to bring Grace on set every Saturday. We're literally like bosom buddies as I'm breastfeeding her. I also have a childminder on set so I can run in and out.
"Having been working on the show for so long there's a really good, family atmosphere. And if I wasn't ready to go back, I wouldn't have; I said that to the producers. Pre-Christmas I wasn't able to commit (fully) but felt strong enough to go back with that reduced workload."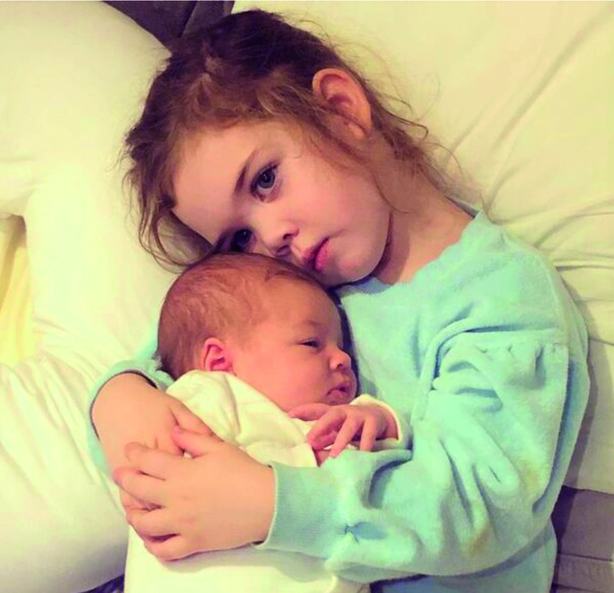 And she has some more plans for 2021: "I want to get more structure and routine into my life." The day before we spoke she'd laced up her running shoes for the first time in nearly a year. She's also doing her 30 days of dance, giving it socks every day for three minutes or so.
"The music is up to the max so I imagine the neighbors are going crazy," she says. "January can be such a downer for so many, and I believe it's important to add something into your day that is fun. If I can get that hour each day for myself over the next few months, I will be delighted. But I'm not putting too much pressure on myself this year and that's important."
It's like she says of the show: "Steady and slow is the way to go."