A new year means new possibilities, especially when it comes to romance. Whether you texted your ex over Christmas, or were visited by the ghosts of ghosters past, you can always consider your slate clean for the new year and get to swiping.
Doing just that is our latest crop of romantic hopefuls, as the First Dates Ireland restaurant reopened for a new season.
As always, the show has served up a host of diverse daters from all walks of life, but on last night's show we met a couple that had come through marriages, raising families and years of giving of themselves to finally be ready to put themselves first.
Sean's not giving the game away but I think we all know how he feels about Amanda 😏 #FirstDatesIRL pic.twitter.com/Igm5EzXjw0

— RTÉ2 (@RTE2) January 13, 2022
And for one dater, she put herself out there in the hopes she'd find love for the first time.
Despite marrying at 19 and raising two daughters, Amanda from Clonmel, Co. Tipperary told viewers "I don't think that I've ever actually been in love". She added: "I would to think that at some part of my life I'm going to find love, that I'll be in a relationship with someone where there's no ifs, buts or maybes."
The 55-year-old had married young soon after becoming pregnant with her first child, which she believed then was "doing the right thing, doing the grown up thing".
"It should never have happened because we didn't really know each other very well", she said.
She stayed married "on and off" for 10 years, despite not feeling completely comfortable in the relationship, during which time her two daughters had families of their own. "My marriage broke whatever confidence I had in myself", she said. "Having the strength finally to walk away from my marriage and have my own home was a huge thing for me.
"As much as I can, I tried to find the good. Our life goes by so fast. If I'm only ever going to concentrate on the negative stuff, I don't want to look back on my life and see it as a waste."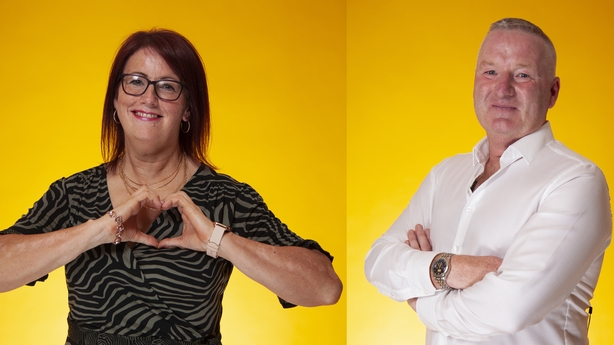 After years of having her daughters and grandchildren living with her at various points, this is the first time Amanda is living on her own. Coming to Dublin by train on her own was its own massive step, she said: "Country mouse coming to the big city!"
She was ideally paired, then, with Sean, 56, from Co. Carlow, who had had his own experiences with marriage going awry and needing to find himself again.
A referee who lives by the motto "Feel the fear and do it anyway", Sean has recently gone back to college to pursue a degree in counselling and psychotherapy. He'd spent some time volunteering with the Samaritans and through that and his work coaching athletics and refereeing soccer, he's seen how essential mental health supports are.
"I see the youngsters in particular, I find, there's nothing for them there and I just feel if you could be an influence for them around 15, 16, 17 it could change their whole life", he said.
She came to the restaurant a bag of nerves but now Amanda leaves with a huge smile on her face beside the luckiest man in Ireland! 💚😍 #FirstDatesIRL pic.twitter.com/Ptgfnr47Kk

— RTÉ2 (@RTE2) January 13, 2022
For him, his turning point came when he booked a flight to Machu Picchu, a place he'd always dreamed of seeing. Heading off with his supermarket sleeping bag and his thermals thrown out the night before, he endured freezing temperatures to experience his dream come true. Soon after, he started travelling the world.
For Amanda, however, travelling on her own to Kilkenny was a significant milestone, she said. "I'd never actually got on a bus on my own that I didn't have some member of my family or my best friend with me."
The pair's vulnerability was charming, and came through in Amanda's description of what she believes love is: "Love, that's something I want to explore. To be actually in love with somebody, where I'm not going thinking a hundred different questions, a hundred different ways around it. Love is just being at peace. Love is... it's quiet. My head and my heart are quiet."
Watch First Dates Ireland on Thursdays at 9:30pm on RTÉ 2.