Fresh off the Dancing With the Stars stage, and with a campaign for the Vhi parkrun to discuss, not to mention how she's got on in the first six months of motherhood since welcoming baby Wolf, broadcaster Lottie Ryan has plenty to chat about.
But on our phone call this week, she starts with an arguably more important topic: that she keeps getting sent my mail.
"They're like, 'But are you not Charlotte Ryan?' And I'm like, 'I am Charlotte Ryan but my post comes to Lottie'. 'This person sent it to your real name. They sent it to Charlotte'. And I was like, 'No, there is a Charlotte!'
A years-long mix-up finally acknowledged, we can move onto the other reason for the call: Lottie's support of the Vhi parkrun, which has just launched the Start With... parkrun campaign, designed to get all kinds of runners out running, jogging or walking this year across 100 locations.
Along with Olympian David Gillick, Lottie is encouraging would-be runners to start where they can with the campaign, with all runs free of cost to join.
"I kind of got my inspiration from my mom", she tells me. "My mom is a huge runner. She's the real deal and she got me into it. So I started running-- well, I'm going to say jogging with her."
If there's one thing to knock you out of stride with running, however, it's a baby and after welcoming Wolf with her husband Fabio Aprile last year, her routine changed. "Once I had a baby, I couldn't really run or jog for a while. So I go out and I walk with the buggy, or I might do a soft jog.
"That's why I think that this campaign is so good because it's not directed at just one type of person. It's all fitness levels, so it doesn't matter if your routine used to be one way and is now another. You can take part no matter what."
Based on her seemingly effortless turn on Dancing With the Stars, you'd be forgiven for thinking Lottie is a natural at any sport she turns her hand to, but she says that's far from the case.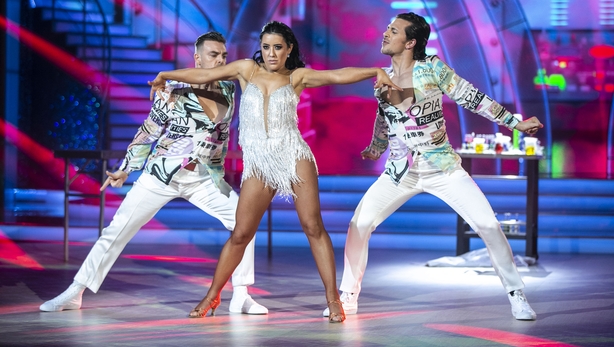 "I find it a struggle", she says. "My form of fitness preference would be dancing. And the thing about dancing is you're not thinking about what you're doing. You're focusing on something else. You're thinking about the steps. With running, I found myself only focusing on my breath and what was in front of me, and I struggled with that. So it kind of became something that I just wanted to prove to myself I could do."
That said, she added there are "similar qualities" between dancing and running: "In the sense that when I was doing both of them, I couldn't think of anything other than what I was doing. So that email that I haven't responded to or that phone call that I've been putting on the long finger or that fight I had with my siblings, I couldn't think of any of that when I was dancing or running or jogging because I was so focused on what I was doing."
So how does the presenter stay motivated on her runs? Good old fashioned spousal competitiveness.
"My husband is my running buddy. He's very good at egging me on. He knows the thing to say that will get me going. He'll go, 'Oh, it's okay if you can't do it Lottie', and then I want to beat him!"
They also work in ways to keep each other pumped throughout a run: "We have our little running playlist that we share with each other when we go out. So we're listening to the same things. And I think it's good to have a partner in crime because like that when you feel like you're struggling, they can give you some encouragement."
We need your consent to load this Instagram contentWe use Instagram to manage extra content that can set cookies on your device and collect data about your activity. Please review their details and accept them to load the content.Manage Preferences
Her other top tips for beginner runners are to build a playlist with a strong beat to keep to, as well as setting benchmarks for yourself out on your runs. "Start with clean slate that belongs to you and no one else", she adds. "You're only going to improve."
Me-time is an essential part of her weeks now, as she settles into parenthood. "Going to the toilet with a baby in my hand, pulling down your pants with one hand is not an easy thing to do", she laughs.
Like most of us, she says she fell into the habit of binging television shows during the pandemic before realising "that actually wasn't really time to myself".
"For me, I find after I've done something like read a book or have a bath, something a little slower paced is how I find time for myself. The main one for me, if I'm being honest, is having a bath. I know it's not the best for the environment, but it's what's best for my head sometimes just having a cup of tea beside me, some good Nora Jones playing in the background and a little moment to myself to be able to just breathe."
In the same vein, Lottie says she isn't one to go in on New Year's resolutions, although she used to. "I just think after the past two years, sometimes resolutions and setting yourself up for these things sometimes can put us under unnecessary pressure.
"I'm trying to be a little kinder to myself. I'm actually not the best at it", she adds. Instead of changing something about yourself, she says, "maybe do something like instead of giving something up, take something on. It doesn't have to be about giving things up and sacrifice."
Taking projects on seems almost second-nature to Lottie, who only recently made a spectacular return to the Dancing With the Stars stage as reigning champion, performing her fantastic routine for the Dora the Explorer theme.
We need your consent to load this Instagram contentWe use Instagram to manage extra content that can set cookies on your device and collect data about your activity. Please review their details and accept them to load the content.Manage Preferences
"It was difficult. I'm not going to lie", she says. "As I was standing at the side of the stage and I heard the intro to the song I did think to myself, you are either brave or incredibly stupid and I couldn't decide which one I was, but I was dying to get back on the floor.
"It was probably the hardest of all the routines I did, but I kind of felt like I had something to prove to myself in a selfish way."
Doing this just six months after having a baby is certainly a feat, but Lottie says she's still bowled over by the experience of motherhood.
"It's very hard to describe, because no matter how much my mates or people at work described it to me before I had them, nothing could have prepared me for how it actually feels. I'm obsessed with him. I mean, I'm obviously biassed, but I think he's bloody spectacular.
"Sleep deprivation is not an easy thing to deal with. And obviously, as a first time parent, you feel your world has turned upside down. And there's so much stuff you need to learn, but in the same breath, it's just so rewarding. You're looking at something that I still look at them going, how did I make you? It blows my mind that me and the person I love made a human. It's still to me like, it's just crazy."