The RTÉ Guide's Christmas issue is a festive staple in households across Ireland, and this year's cover is another winner.
For this year's colourful cover, the RTÉ Guide team collaborated with award-winning Irish illustrator Annie West. Her vision for the highly-anticipated cover was inspired by childhood Christmases driving down to Sligo from Dublin with her father, and passing through lots of tiny little villages.
Annie specialises in highly detailed pen and ink drawings with the emphasis on detail so you and the kids can have some fun spotting all 32-county colours represented on the cover.
According to the RTÉ Guide, this cover marks a moment in history, with the people in it bumping elbows, wearing masks and even holding up a Covid cert on the phone. If you look closely, you can see they are socially distanced between groups, but these inclusions don't dilute the festive cheer and joy we all need at this time of year.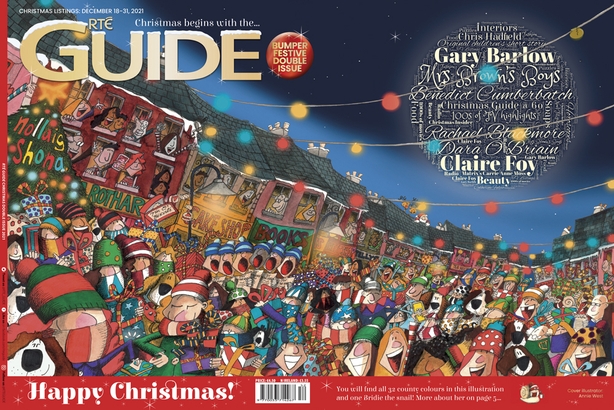 We can only hope that this impressive cover will follow in the footsteps of the Guide's award-winning Christmas cover which featured a host of RTÉ stars including Ryan Tubridy, Marty Morrissey, and Neven Maguire.
The Mrs. Brown's Boys inspired cover won Cover of the Year at the 2016 Irish Magazine Awards. Editor Catherine Lee was "absolutely delighted" to accept the honour at Dublin City Hall.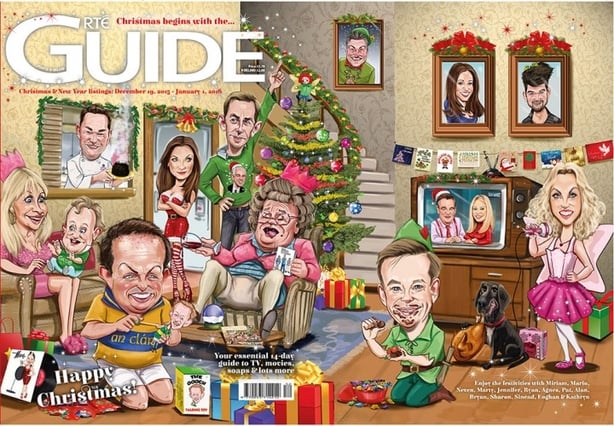 The RTÉ Guide Christmas double issue is on sale now, packed with the all-important two-week TV listings (from December 18 to December 31, 2021), 14-day Christmas TV and Movie planners, exclusive celebrity interviews, Christmas food, fashion, puzzles, competitions and plenty more for the festive season ahead!
Click through the gallery at the top of the page to see some of the Guide's past covers.