Happy Toy Show day, everyone! The big event has finally arrived and we are counting down the seconds until the big event kicks off at 9:35pm on RTÉ One.
This is Ryan 'Toy Man' Tubridy's 13th year hosting the Christmas extravaganza and his dedication to creating the most spectacular show possible appears to have no bounds. This year, he'll have not one but two musical performances for this year's Lion King theme.
Speaking on the theme of this year's show, Tubs says it's time for the kids to kick back and have some fun.
"I am bowled over by children in a pandemic. Just when you thought kids couldn't be more impressive and amazing, we watch them and their resilience over the last two years, they're knockout."
"Why The Lion King? It's fun, it's goofy, it's silly and it's a problem-free philosophy and that's good enough for me."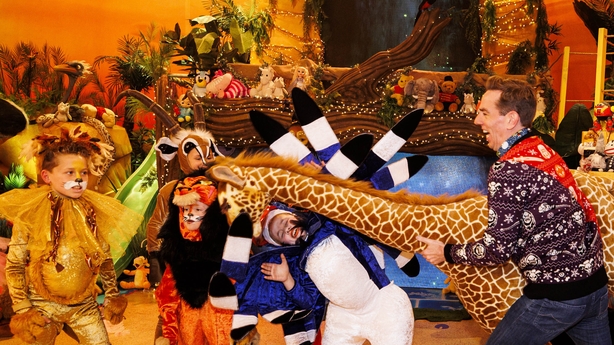 We caught up with the Toy man on the day to see if he had a message for the children of Ireland ahead of tonight's show. And, oh my, did he deliver. Buckle up, kids.
"Children, it's the Toy Man. I have a very important message: Tonight, Toy Show night, you're the bosses. You run the house, you run the TV room, you run the kitchen, you run the couch, you own the remote control. All the sweets in the press, all the crisps in the cupboard - they're yours."
"Tonight, it's on your terms. Your parents, your guardians, your aunties, your uncles, your grandparents? They're second fiddle tonight. You're in charge, enjoy every bit of it."
The Late Late Toy Show airs on Friday, November 26th on RTÉ One at 9:35pm.