"Okay, let's talk about it."
Almost a year to the day after he accidentally swore on The Late Late Toy Show, host Ryan Tubridy addressed the much-debated incident at a media round table interview ahead of tonight's show. Twelve months later and the people still want to know: was it an F-bomb, or a B-bomb, as Tubs previously said?
"There was a significant debate", he says. "I'm surprised Micheál Martin didn't bring it up in the Dáil."
In case you somehow missed this now infamous moment, here's a recap from Tubridy: "There I was, having a dinner situation with one of our guests, and there was a big bottle of 'fizzy orange' as Tommy from Love/Hate would say. I took it out and was being all cool and trying to be together and professional.
When you drop the F-Bomb in front of 100k+ children.#LateLateToyShow pic.twitter.com/0wle5BI47t

— BenchWarmers (@BeWarmers) November 27, 2020
"I twisted it, and it went God knows everywhere. There wasn't a bit of me that wasn't covered – hair, eyebrows, eyeballs... I stank like an orangerie for a week.
"In the course of the excitement, I... emitted an expletive from my mouth!" he laughed.
He says he didn't even realise he'd uttered the word until he arrived home that night.
"I got home and my eldest daughter turned around and said, with her phone, 'What did you say?' I said, 'Why, what did I say? I mean, I was there for two hours, what did I say when?'
"'There's a thing fully doing the rounds', it wasn't even a meme, it was a bit of everything. It was basically the most viral viral thing to be viral. I said, 'I'm just coming home from the bus made of rainbows and marshmallows.'
"'Did you say f--- or b---?'" he daughter asked.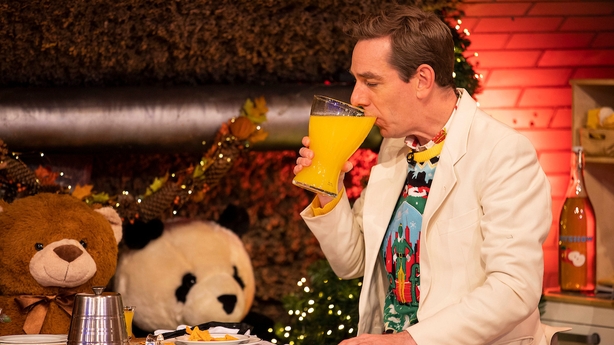 Knocked off his rainbow, he set to setting the record straight, as Twitter erupted in memes, debate and even a few delighted cheers from the weary parents, possibly uttering the same word.
"The first thing I did last year after the Toy Show was watch this thing going round and round, going 'uh-huh, mhm', and I said, 'No, that's not an F-bomb. That's a B-bomb. It's a bomb!'
Once the panic subsided, he says he "was heartened by the broad reaction afterwards where people went, 'Oh right, okay, so he does that too?'"
"I reacted like any dad would react", he says. "You don't have to be a dad just to react to a bottle of fizzy drink spilling all over you, but it was a classic, honest to god reaction – on live TV, in front of many, many children – so I don't know if it's too late to say mea culpa, but it couldn't hurt."
"It was just a moment. We are one of the last live television programmes in Europe, and that's probably why."
The Late Late Toy Show airs on Friday, November 26th on RTÉ One at 9:35pm.