Angela Scanlon's Monday morning will strike a chord with busy parents everywhere. "I've been trying to get out the door, with a small child going to the Aquarium, not quite ready for me to escape," the broadcaster says, when she gets on the phone.
The Meath native, whose new show, Angela Scanlon's Ask Me Anything airs on RTÉ One, is accustomed to a hectic schedule. A familiar face on screens from shows including travel series Getaways and Your Home Made Perfect, her other ventures include her successful podcast, Thanks a Million, on the theme of gratitude, and a just launched jewellery collection, FRKL, all while taking care of three year old daughter, Ruby.
The new Saturday night show, in which she surprises celebrity guests with questions they've never been asked before, is an ideal vehicle for her brand of smart and personable vivacity. Originally meant to air in spring of last year, it was postponed because of Covid, so how does she feel about the show finally starting?
"Relief and terror, which is quite a heady mix," she says. "There was a sense that all of us were unsure as to whether it would ever happen. It all felt very surreal and we left studio with two shows in the bag, and it was 'Oh well, won't see you on Wednesday but we'll see you in a couple of weeks'. Cut to 18 months later, so it was quite an incubation period, but delighted to be back on set and back with the team."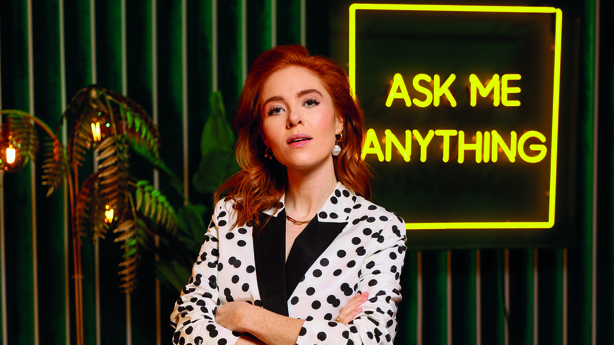 In an era when access to celebrities is often on their management's terms, and the scope of the interview limited to whatever they are promoting, Ask Me Anything's concept is a refreshing change. Although, the presenter emphasises, it's not about blindsiding her guests. "It's not like we're trying to expose the underbelly of celebrity," she says.
"It's not necessarily that you're asking questions that will make them feel uncomfortable or exposed. You're asking them the things that maybe don't live on a traditional chat show. It's is an entertainment show at heart and what we want is for it to feel like a really fun, escapist experience, both for the guests and for people watching."
Home for the presenter is London (although she's back in Dublin for six weeks for the show) with husband, businessman Roy Horgan, and their daughter. Her Instagram account, which has 219,000 followers, offers glimpses into her life, but she doesn't feel any need to control that narrative. "I don't have anything to hide. I don't live a celebrity life. I do my job and go home to my clan and it's not that interesting," she laughs. "So maybe I feel I don't need to be as controlled."
Her feed highlights things like her love of outdoor swimming, her fashion obsessions, and delicious food and it's all peppered with her trade mark self-deprecating humour. Sshe points out these are all quite everyday things. "It's accessible, I'm not starry. I think I look at people on Instagram and think that's insanity – lovely but it's a different world. I try to be honest and open and there's vulnerability in doing that, and insecurity in posting certain things but I think it's important to show a realistic sense of life and not just the shiny things."
We need your consent to load this Instagram contentWe use Instagram to manage extra content that can set cookies on your device and collect data about your activity. Please review their details and accept them to load the content.Manage Preferences
When it comes to keeping all her plates spinning, meditation has been her saviour. "Covid set in motion that routine," she explains. "I've never had routine in my life. I was quite frustrated by the fact that oh, I can't do a yoga class every Tuesday because I don't know where I'm going to be on Tuesday. I always talked myself out of these things that I knew would probably be good for me. Then Covid came and I was like, I'm literally sitting at home, I cannot continue to make excuses for not showing up. I dabbled in and out of meditation for a long time, but then I was doing it every day and it definitely kept me sane."
Angela's tendency is to immerse herself in work, but this is something she's trying to change. "I've been trying to make a concerted effort to have balance, which we all know is this kind of elusive unicorn thing, but an attempt to give as much time and as much space and importance to those seemingly, every day, 'mundane' things – and I say that with quotation marks – but those are the things that feed me and keep me sane, whereas before I thought that was achievement based and it's really not."
She describes herself as a recovering perfectionist – "and not in the way you'd throw it out in a job interview, like 'Oh my God, I'm actually just a bit fabulous and my attention to detail, it's an absolute curse'. I didn't realise that I did it but I was incredibly hard on myself and my performance and my progression at work." She has been trying to loosen the reins on that.
"Now I realise that people I look to and feel inspired by are brave enough to do stuff. It's very easy to sit around and wait for the perfect time or until you're absolutely ready. The truth is that never comes. That expectation that you need to be absolutely prepared and ready and bullet proof, when actually growing and failing and faltering a bit – publicly or otherwise – is part of the gig now. It just became very stifling in every respect because there was no real enjoyment."
We need your consent to load this Instagram contentWe use Instagram to manage extra content that can set cookies on your device and collect data about your activity. Please review their details and accept them to load the content.Manage Preferences
After working on the show for a long time, its debut comes with a degree of excitement and apprehension for her "There's a lot of my heart and soul gone into it and there's definitely a bit of weirdness as well, so I'm not going to lie, I'm feeling a little bit nervous. I just honestly hope that the viewers enjoy it and see guests in a slightly different light."
Just before she goes, Angela shares some happy news, which at this point she hasn't yet publicly announced: she is expecting her second baby, or is "with child" as she puts it.
"The nausea has passed, the baby seems to love the Irish Sea and I'm very excited and also much like the show, my other baby, I'm excited and terrified by the prospect of expansion but here we go…"