Róisín Murphy and Peter Finn are back for a new series of Home Rescue - The Big Fix. Along with their clutter-busting crew, the team have been working extra hard this summer as they have been bumped up from a half-hour programme to a one-hour sot on RTÉ2.
Throughout the series, viewers will see six ordinary (disorderly) homes transformed with plenty of sustainable, budget-friendly and inclusive design hacks.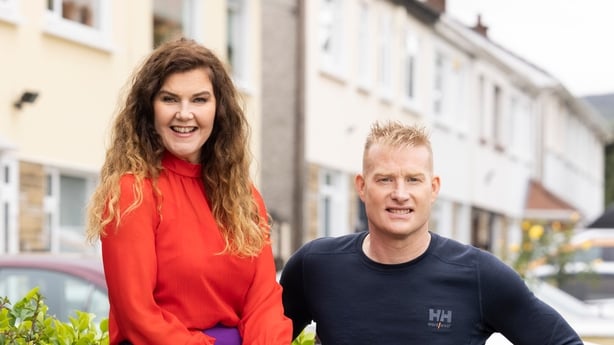 We caught up with architect Róisín Murphy to find out more about this year's show and the tricks viewers can take home with them.
What can we expect from this year's show?
"We've got six beautiful families, first of all, each with varying challenges. The casting was amazing this year, there was a mix of stories and houses, but these were people who really, really needed it.
"This series also has more design, we had extra rooms and more walls taken down and we really got to solve problems - the full hour really gives you that extra bit of time and money."
You have to de-clutter and re-design a home in five days, how do you manage?
"I am wrecked! I'm really tired this year because to meet the schedules you have to pre-plan everything. We had a delay in products and materials so you have to be careful in what you're ordering. There were problems in pre-production because we couldn't get the right kind of couches or things that fitted so you'd have to order other options.
"That said, it's such a good opportunity to do the hour. I loved the extra room. For the past four years, I've been saying 'can we knock the wall down', and producers would say 'when you get the hour Róisín!' so with the extra time you could do so much more."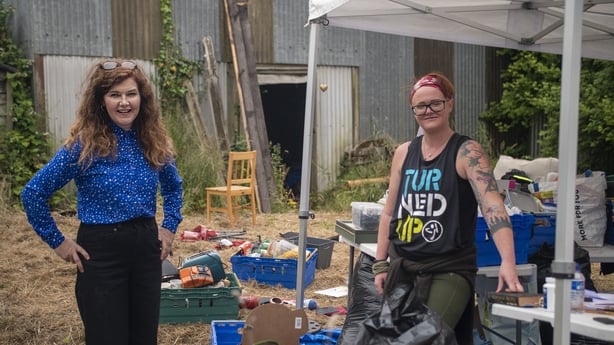 What work arounds did you find while dealing with Brexit and COVID related supply issues?
"My job is to get around the problems. We upcycled a huge amount this year. People will see how to deal with these issues because my speciality is not having things to hand, not having big space and not having big budgets but making houses look really like they're mansions.
"Knocking a wall down is nearly like adding 25 square metres on to your house, if you do it correctly. Or you can upcycle a kitchen cabinet by spraying it a different colour, we upcycled lots of furniture. All the mad stuff I love doing."
How can people change the look of their home in small ways?
"Repainting a kitchen and taking the overhead cupboards down and making open plan shelving is a quick fix that can completely upgrade your kitchen. You can do a tile backsplash or you can paint over tiles. There's products out there for painting floors.
"We've turned wardrobes into larders. A food pantry out of wardrobe is one of my favourite hacks because it just looks like something from a really expensive kitchen.
"Don't be afraid to knock a wall down, if you have a small space and you're feeling that claustrophobia. We knocked a wall down and made a sliding door so you have the benefit of open plan and then you can shut it down, and it's not big budget. Be brave.
"Painting the outside of your house. Paint the windows, I often paint the outside or inside of a window with a pop of colour like a peach. Even one panel of a window, in a pink or a yellow. Or painting PVC windows black, and it turns them into steel windows.
"Hanging cabinets lowered to the ground kind of changes the characters of the cabinets. It's about re-imagining things. It was great fun this year."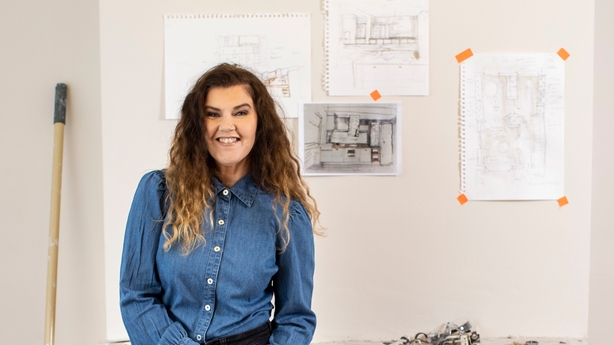 What was your stand out design of this series?
"The universal kitchen. We had a girl who is a little person and she lives down the country in Wexford and she inherited her family's house. We said we would do the kitchen and put a step in but, in actual fact, I just thought, that's not good enough.
"That labour of stepping up every day is very hard so we adapted. Myself and the Ikea kitchen designers adapted the kitchen design so that it is perfect for her height. We managed the keep the warranty on it - because if you change the Ikea kitchen, you lose your warranty on it - so it's without compromise and it will be the universal kitchen that they've ever had.
"This could work for older people, for people in wheelchairs, for lots of situations. It was amazing because it used standard equipment and adapted it. I was really proud of that because it's a bit of a game changer for people.
"It's the push that everyone should do because it wasn't that hard to re-think it and design it differently. I was also proud because it wasn't expensive, usually it's very expensive to get a modified kitchen. It's affordable and accessible as well as being a universal design."
Home Rescue – The Big Fix airs on Thursdays at 9:30pm on RTÉ2