As a young interior designer, Arlene McIntyre's office wasn't furnished with polished marble, metallic light fixtures and a statement desk. Instead, it was a humble shed down her garden, converted into a makeshift office.
A few years into devoting herself to interior design, she says: "I was on my own, working from my little shed in the back of the garden which we converted into an office at the time.
"I was working all hours God sent, just to get my quotes out, my proposals done, my mood boards done. And I was tired and I was alone. So then we decided we need to scale up."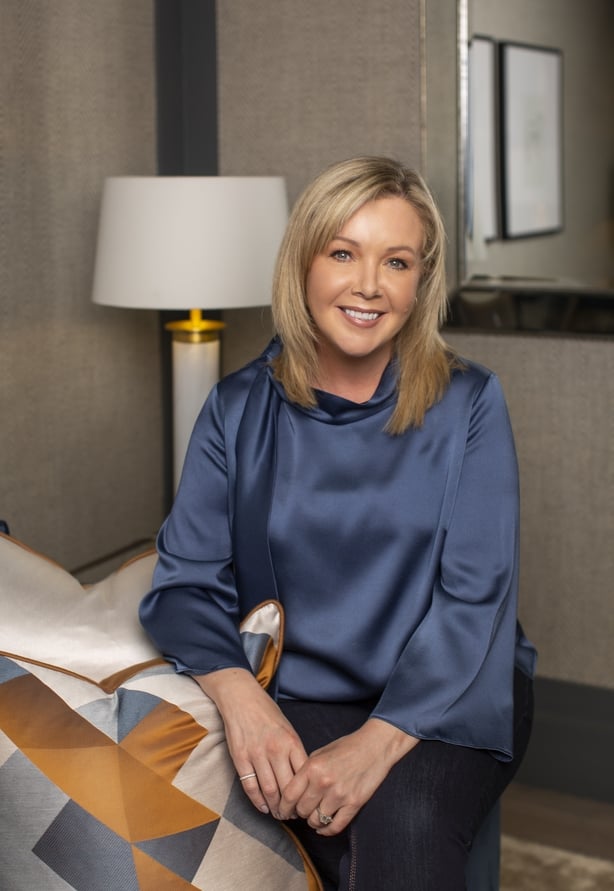 It's a far cry from the world-renowned interior designer she is today, and the host and brain behind RTÉ's Designed for Life, a new home makeover show which airs tonight and follows six projects from a range of budgets and backgrounds, from Dublin City urban living apartments to Victorian rooms and open plan houses.
McIntyre had just left eight years of administration work with the National Maternity Hospital in Holles Street. "But that was just a ways to a means", she tells me over the phone. "There was a really bad recession happening in Ireland at the time, there were no jobs anywhere.
"Interior design wasn't a buzzword, like it is now. It was just this thing that people did somewhere. But everybody is interested in interiors now."
Cut to a few years later – after hiring her first interior designer, which led to a showroom, which lead to an office – and Ventura Design has 60 staff members, over 100,000 followers on Instagram and a portfolio of impressive projects, including the makeover of Luttrellstown Castle.
The designer is now one of Ireland's most sought-after interiors experts, and has carried out major refurbishments and home design projects for everyone from Vogue Williams and Millie Macintosh, to most recently Pippa O'Connor.
We need your consent to load this Instagram contentWe use Instagram to manage extra content that can set cookies on your device and collect data about your activity. Please review their details and accept them to load the content.Manage Preferences
"I would fall very comfortably into the classic contemporary look", she says of her style. "I think it kind of taps into a lot of people."
If you think you don't know what classic contemporary looks like, you do: high quality furniture with plush, soft finishes, an understated but sophisticated colour palette, beds and sofas you want to sink into, polished surfaces and tasteful decoration on the walls and tables. It also happens to be what many of our favourite celebrities gravitate towards.
"I like interiors that feel can stand the test of time, that are definitely comfortable, that feel luxurious. I like working with investment pieces and building rooms around them", McIntyre says.
While keeping abreast of trends is key for any interior designer, she favours timelessness above trendiness. "I definitely love looking at trends and cool bars and restaurants, but I'm not sure I'd like to live in that environment.
"I wouldn't mind having a cocktail to on a Saturday night in that environment. My home is genuinely a big hug for me in the evening when I come home, and it is comfortable."
As for her clients, social media is proving to be the main source of inspiration: "Social media is a very powerful tool. It's inspiring everyone. Everyone that comes in to me has found me mainly through either word of mouth or Instagram."
But building an Instagram folder of inspiration is well and good, but it takes a trained eye to pull influences together in a way that is realistic. "Some people only know what they like when they see it. A lot of people have trouble visualising things on their own.
We need your consent to load this Instagram contentWe use Instagram to manage extra content that can set cookies on your device and collect data about your activity. Please review their details and accept them to load the content.Manage Preferences
"I would get different people and they're like, 'I've been in this new restaurant and I love these colours', and I'm like, okay, cool. And then we start with what they like and then it's only then you realise that maybe it can or it cannot work."
Wanting the statement modern sofa you spotted in a chic London restaurant is well and good, but does it work in a Galway flat? "We'd say, 'Well, is that sofa really comfortable or is that more like a cocktail bar sofa, or is that chair really where you're gonna spend every day, every evening sitting on?' You got to just make hard decisions and talk around things and try and understand what will work for them."
The unique appeal of Designed for Life rotates on this, that unlike other renovation shows it's about the interiors of the house rather than changing the structure of the home itself. Adding extensions and new rooms isn't feasible for everyone, especially renters, but switching up the interiors is a much easier way of adding glamour to your space.
Naturally, the pandemic has affected what clients ask for from McIntyre. "We've all been so burnt and stung by that experience which totally caught us all off guard", she says. "And what I'm finding a lot of is that people are using broken plan living, which is kind of the the new alternative to open a space where they're creating little nooks and crannies within the open plan space without totally closing it up."
Brand new show Designed for Life starts tonight with leading interior designer Arlene McIntyre working with homeowners to create their dream spaces 🏠✨

First up, it's the Smyth family looking to create a quiet and relaxing living room.

Tonight, 8.30pm | #designedforlife pic.twitter.com/wnW31fckFM

— RTÉ One (@RTEOne) October 12, 2021
A simple way of creating this, she says, is adding joinery or room dividers to create micro spaces within larger ones. "It gives you that bit of privacy. It brings you away from perhaps the kitchen area or the TV area."
The influence of the pandemic comes through in trends like the "rustic, modern look" popularised by celebrated company Studio McGee, McIntyre says. It's an easy look to emulate, she says, focused on "very natural, pared-back look to everything using lots of natural wood, natural materials, earthy tones. We're going to see a lot of chocolate browns, camels, hazelnut tones".
Keeping abreast of the changing tides in interiors, after 18 months that dramatically altered how we think about our homes, no doubt takes serious skill, but McIntyre has weathered more than enough storms in her career.
"It's so funny when I look back on how cold I was out in that shed some nights with my little electric heater beside me and a couple of coffee!" she laughs. "But it's a really cool story. And I am a grafter, and I have really, really worked hard and grafted very hard.
"That's what you need to have, is that graft in you."
Watch Designed for Life on Tuesdays at 8:30pm on RTÉ One.