We headed West to meet those taking part in the 2021 Red Bull Cliff Diving World Series. To find out what the judges are looking for, how divers cope with the cold water, and if they believe in superstitions, watch the video above.
No splash. That's what divers from around the world are aiming for when they hurl themselves off the ledge of a cliff, says RedBull Sports Director, Greg Louganis.
To most that sounds like an outright impossibility, but for a four-time Olympic gold-medalist, it's a sincere expectation.
Casually sitting on the edge of Downpatrick Head in Co. Mayo over the weekend, Louganis took in each dive of the World Series with an eagle eye and scrupulous interest. And he wasn't the only one.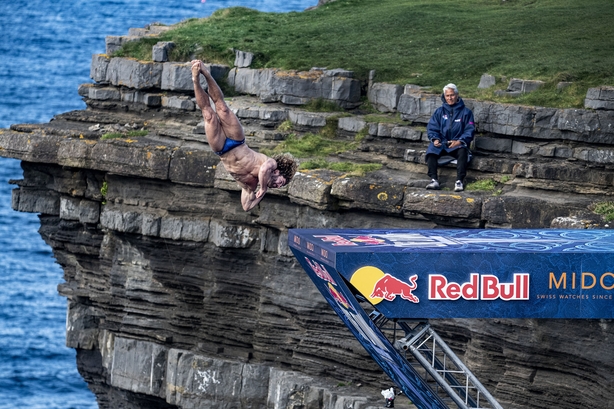 A willingness to throw yourself from great heights into unclear depths and being skilled enough to sculpt your body and mind into an aerodynamic instrument is a heady combination.
Attracting a live, online and TV audience, the world series delivered intense entertainment from the windswept West of Ireland.
On a weekend that will go down in cliff diving history, spectators saw a record 23 tens (top scores) handed out, with two perfect dives recorded in a single stop for the first time ever.
To top it all, Carlow Gimeno became the first diver ever to perform a handstand dive directly off the rocks during the first round.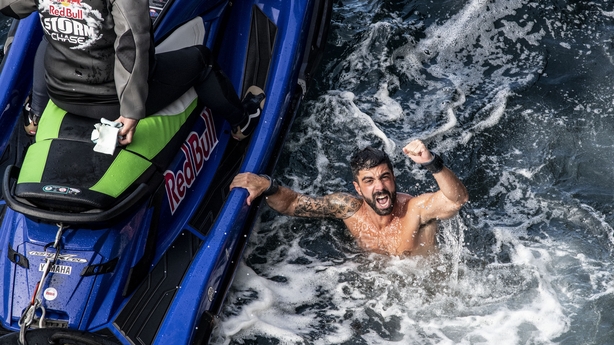 The small town of Ballycaste, Co. Mayo, became hosts for the fourth of the six stop 2021 Red Bull Cliff Diving World Series on Sunday, 12th of September at the picturesque location of Downpatrick Head.
Hailing from Australia, America, Romania, England, Mexico and Brazil, 24 of the world's best cliff divers somersaulted from heights of up to 27m and at speeds in excess of 85km/h, off beautifully rugged cliffs into the wild Atlantic.
Four-time World Series champion, Australia's Rhiannan Iffland secured first place in the women's competition with 391 points on her 11th consecutive win.
Rhiannan blew her rivals out of the water with a sensational 'perfect dive', earning five 10s from the judges for the first time in her career. The first woman to achieve this feat, she also surpassed her own record for the highest single dive score.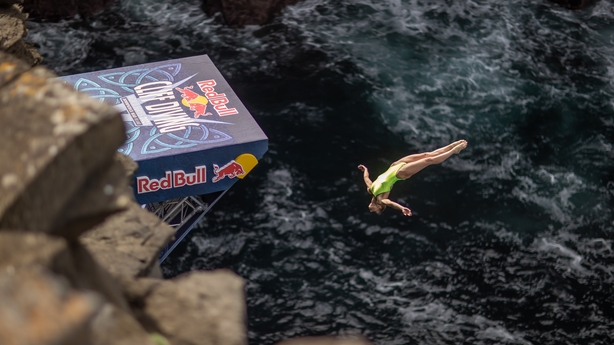 Today was a bit of a blur," Iffland told RTÉ LifeStyle. "I'm super stoked, it's a personal best for me. This morning I was feeling a bit strange down there [in the water], a dive didn't go so well, so I knew I had to give it my everything coming into the third and fourth round."
Shaking off a bad feeling on competition day is no mean feat, but Iffland says she gets by with a little help from the musical stylings of Van Morrison.
"It's really difficult, you know? I really feel like I have a switch. I was talking to the other divers and other friends and really making sure I was really leaning on people that are surrounding me, but I also find - every single time - that music is my therapy. Music helps me and switches my mood. That was my saving grace today."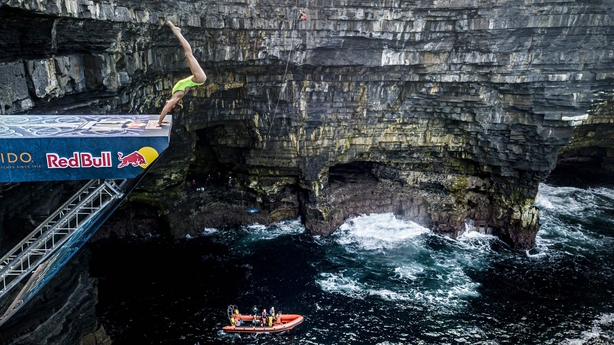 "One of my favourites to listen to is Van Morrison and a few other Australian artists," she said. "But, yeah, Van Morrison 100%"
Sadly, the divers didn't have the opportunity to celebrate an All-Ireland win with Mayo during their trip West, but they did have a round of tens and a Iffland's 30th birthday to cheers.
"There's definitely five tens to celebrate tonight so I'm hoping it's going to be a nice evening," she said, smiling. "I definitely want to enjoy what Mayo and the region has to offer."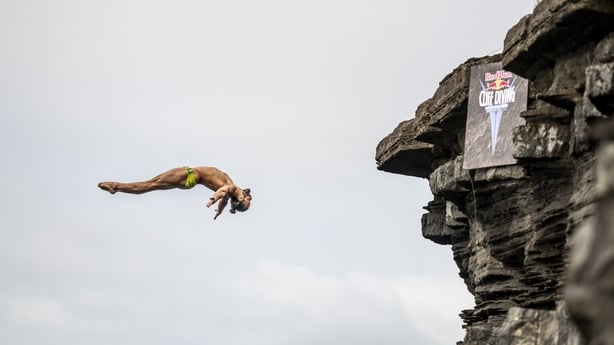 In the men's competition, Gary Hunt (an English man diving for France) secured his 41st victory in the Red Bull Cliff Diving World Series.
The eight time world series champion won with 442.50 points, while Romania's Constantin Popovici - Hunt's closest competitor this season - earned four tens for his third round dive.
In the final round, English prodigy Aidan Heslop grabbed two, Italy's Alessandro De Rose picked up three, while the Spanish wildcard Carlos Gimeno wowed viewers with a first-ever perfect handstand dive, becoming only the third man ever to receive five 10s from the judges.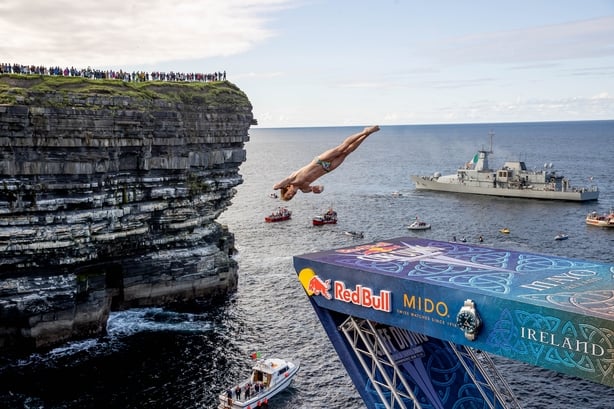 "I am thrilled," Hunt told RTÉ LifeStyle after his win. "It was a really tough competition; there were a lot of big marks being thrown around. It just felt great to stay stable, to stay level headed, and I managed to deal with the pressure."
"It's a very challenging event here," he added. "It's not easy when you're cold to stay relaxed and jump high and everything like that. It's a real mental challenge."
When it comes to getting in the zone on competition day, Hunt says he has no time for superstitions and instead puts complete faith in himself and his training.
"I try to avoid superstitions because when you have a favourite pair of trunks, or something like that, and you forget them, that can go downhill very fast. I like to just stay open, stay ready to react and try to stay free of everything like that."
We need your consent to load this YouTube contentWe use YouTube to manage extra content that can set cookies on your device and collect data about your activity. Please review their details and accept them to load the content.Manage Preferences
The divers will continue their fight for the King Kahekili trophy at the first stop of an Italian doubleheader in Puglia on 22nd September. Click here for more information.