As she takes the helm of Virgin Media's new reality show, The Big Deal, Vogue Williams talks to Janice Butler about why this is her dream job, how she deals with disappointment and the joy of family life.
After the year and a half we've experienced, meeting Vogue Williams in the 3Arena was a very nice departure from the world of Zoom and Teams and if I'm honest, a little bit of a sensory overload. The music venue – which has sat empty for nearly two years – was a hive of activity, all done with restrictions in mind, of course.
It's the filming location for Virgin Media's new reality TV offering for this autumn; The Big Deal. The series, presented by Vogue, features celebrity judges including pop legend Boy George; comedian and actor Deirdre O'Kane; Aston Merrygold, formerly of boy band JLS and recent finalist on The Masked Singer; the dynamic duo that is Jedward; and rising music star from Cork, Lyra.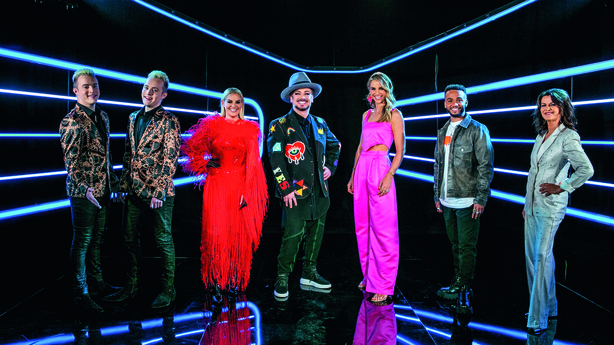 The premise of the show? After each act, the performers are offered a deal: they can either accept a cash buy-out and leave the competition with a useful sum of money, or they can reject the offer and hope they've impressed the judges enough to progress through to the final and the chance to win a nice pot of money.
It's setting itself up as the next big deal (excuse the pun) in the reality TV realm. FOX Alternative Entertainment, BiggerStage and Virgin Media Television have all joined forces for this unique partnership in the hope that it will be picked up by production companies around the globe to do their own versions, as happened with The X Factor and The Voice.
While there's great excitement surrounding the show, it's presenter, Vogue William, is the woman of the moment, and there's a line of journalist to meet her in the green room of the 3 Arena. Taking a break from filming, she's full-on glamour, perfect hair and make-up, in a technicolour dream-coat-type cardigan and an array of gold jewellery that she plays with during interviews.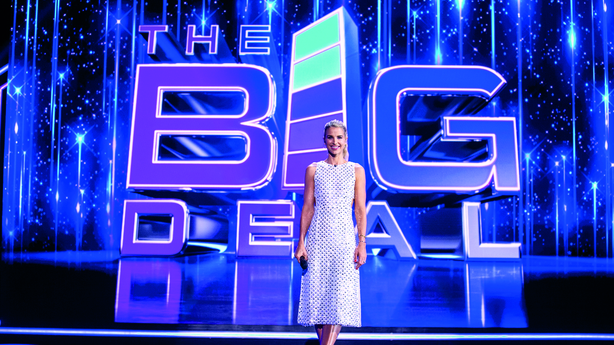 She's upbeat and after a long time back in her native Dublin, she's delighted to be back working in Ireland too. "I love it so much. It's a dream come true. I feel like this is what I've been working towards my entire career and this is the biggest thing I've ever done. It's such a huge production. To be given the chance to do it has been unbelievable," she enthuses. "It's only when I got here, to the 3Arena, and saw the production, that I realised how huge it actually is."
Vogue, originally from Howth in north Dublin, has been living full-time in London for seven years. Having divorced pop star Brian McFadden in 2015, she married former Made in Chelsea star Spencer Matthews in 2018, after meeting him on another reality TV show, The Jump.
The couple have two children, Theodore (3) and Gigi (1) and over the last few years, between her TV and radio work, tanning brand Bare, podcasts and fitness videos; Vogue has become the golden girl of social media.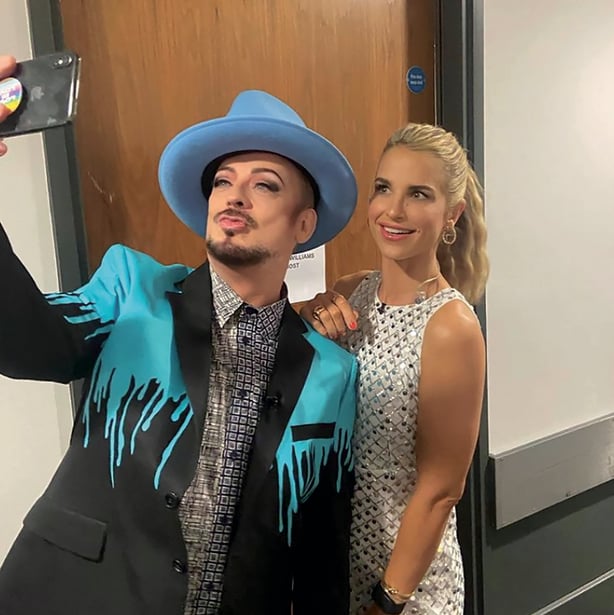 "The fact I'm able to do a gig like this is a real pinch me moment," she says. "All my work is so varied and I love that. But to be a TV presenter was definitely the goal. I think I've got my own little area, I think there's room for everyone. I never understand when people are weird about other people getting jobs. I don't work on trying to be relevant, I just work on myself. I'd never change who I am to do a job," she adds.
She began her career in Ireland as a model and a bit of an 'it' girl in the social pages of the papers. She remarks that those years helped her develop a thick skin, in what can be a competitive industry. "The modeling industry in Ireland is tough going. I've been in it since I was 16 so I think you get a thick skin and used to the highs and lows after that long."
She admits to experiencing disappointment throughout her career and taking it in her stride. "Everyone in this industry has dealt with disappointment. I've lost out on jobs that I wanted; I didn't get the Dancing with the Stars Ireland job. You can't expect to get every job that you go for – it doesn't work like that. That's what I've been trying to say to the contestants on The Big Deal. You can't give up when you get a knock."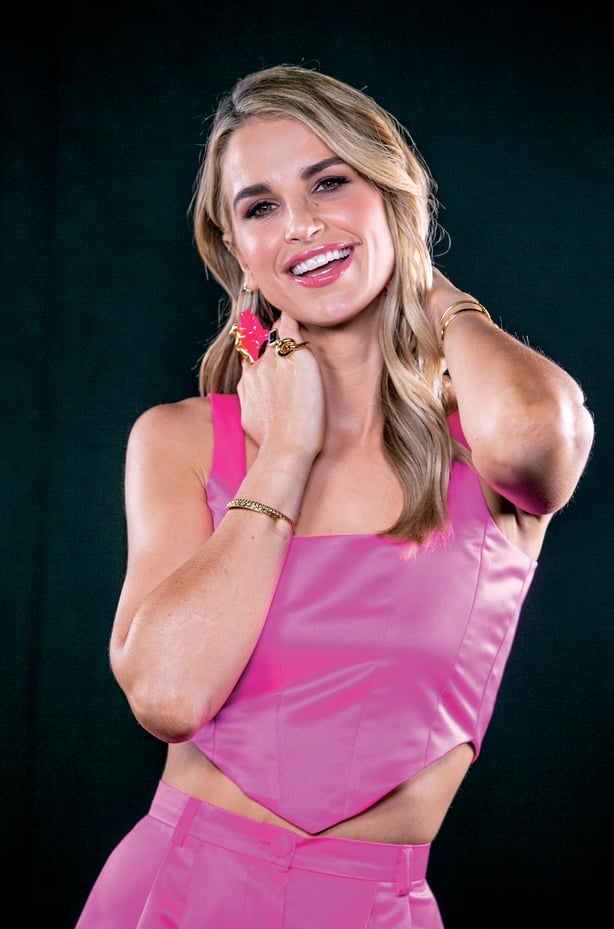 In London, Vogue says she stays true to her Irish roots, surrounding herself with a group of Irish friends, and her younger brother lives with her, Spencer and the children. This year, Vogue and her best friend, the comedian Joanne McNally, started a podcast, My Therapist Ghosted Me, and it's been a runaway success, with talk of the two touring with it.
"We have such a laugh doing it. I'm so happy that Joanne is doing so well now and selling out venues. She's worked so hard and she's done the hard graft, she deserves this," she says of her friend, who has a sold-out run at Vicar street Dublin next year.
"What you hear on the podcast, that's our friendship, that's what we're like all the time. Spencer thinks we're absolutely mad," she laughs. "It's great having her with me in London. We're hoping to bring it live and tour around. We're just working out how they would look or when we could do it."
Vogue's musings on the podcast have often been misquoted in the media, especially regarding her relationship with Spencer, but she doesn't let it bother her. "I get it: it's just click-bait and I don't want to start censoring myself.
"I'm less into explaining things now. I don't need to be concerned what people say so you just have to take a step back and I don't let it take over my life. I try not to read a lot of comment because it will bother me. This is the job that I do and let's be real; I need the media as much as they need me, so I'm not going to say I need full privacy when I'm so public with my life on social media and on a podcast," she adds.
She revealed in a recent episode that she and Spencer were hoping to try for baby number three soon. Is that still on the cards? "It depends on the week you get me and how the two of them have been," she laughs. "We would love more. I just love babies, there's nothing better. We always said we'd love four children, but I would have to wait until I had the third to decide on the fourth."
She admits to struggling with mum guilt but considers herself lucky to be able to work and spend time with her children during the day. "There's always that guilt, it's just always there. I spend so much time with them, I'm really lucky in that sense as I do a lot of work from home."
"We have someone to help us with them when we're working, but when I'm not I get all that time with them. I don't like being away from them too much but I love working as well. You can do both and you will always feel some guilt, but that's normal."
We need your consent to load this Instagram contentWe use Instagram to manage extra content that can set cookies on your device and collect data about your activity. Please review their details and accept them to load the content.Manage Preferences
As we finish our chat, Vogue is heading back to the stage to finish filming The Big Deal for the day, then it's a few drinks to celebrate and back to London, but, not before spending some time in the house that she recently bought and renovated in her beloved Howth – another dream come true?
"It feels really like home. I've my own space, the kids have their own rooms and it's just such a nice place to be, it's like a dream. I always wanted to have my own house in Howth. To be sitting in my bedroom and looking out at the sea, it's just so peaceful."