There are renewed calls for women to check their breasts for any changes following the death of Girls Aloud star Sarah Harding, who died at the age of 39 after a battle with breast cancer.
Following Harding's death last weekend, organisations like Breast Cancer Ireland have been flooded with calls, as her passing serves as a reminder that the form of cancer can still take lives.
Her young age added more shock, but younger women are getting better at checking for changes in their breast, Breast Cancer Ireland says.
"It is tragic that it takes a high profile case where people start to realise they know that something that is as prevalent of breast cancer and now is only now being talked about or is now getting a heightened voice", says Aisling Hurley, the CEO of Breast Cancer Ireland.
"We need to have women of all ages, not just those that generally people think, or we have to be on the age of 50 before you ever consider to be diagnosed breast cancer, because we see 30% of the case of diagnosed annually are under the age of 50."
We need your consent to load this Instagram contentWe use Instagram to manage extra content that can set cookies on your device and collect data about your activity. Please review their details and accept them to load the content.Manage Preferences
Early detection
With cancer treatments improving all the time, breast cancer is certainly more treatable than it once was, but early detection is key, Hurley says. "The actual evidence is that one in nine women will be diagnosed in their lifetime", she says. "What's key is that we have 3,700 new cases annually, the idea being that ideally if it's caught early, we can treat it and we keep people alive."
She adds that there are roughly 670 deaths each year from breast cancer, and as the HSE notes it is the second most common cancer among women, after skin cancer. For this reason, frequent checking of the breast is encouraged, and women should be examined by their GP if they're worried.
Younger women are starting to become more vigilant with checking for changes, Hurley says. "If you look at the statistics, younger women, while a lot of them tend to believe that it's an older woman's disease, they now are becoming a little bit more vigilant. Hence our numbers are increasing."
So while at first glance it can seem that there's a rise in cases of breast cancer, as the figures went from "2,700 to 3,700 annually", it's because more women are getting into the system thanks to early detection.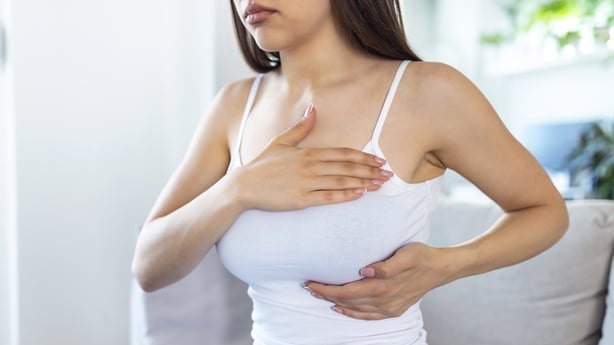 Get checked
While the government issues free breast checks and mammograms from the age of 50, Hurley says: "We're trying to say don't wait until you're offered a free mammogram.
"Take your own breast health more seriously and understand what's normal, download our free app, which is called Breast Aware, that sends a monthly discreet reminder to your phone, shows you how to perform a proper self exam and shows you the eight signs and symptoms."
Those eight signs are outlined below and include a change in the shape of the breast, puckering of the skin of the breast, a lump in the armpit or any unusual bumps in the breast. Hurley adds that knowing what your baseline normal is will help to spot any changes.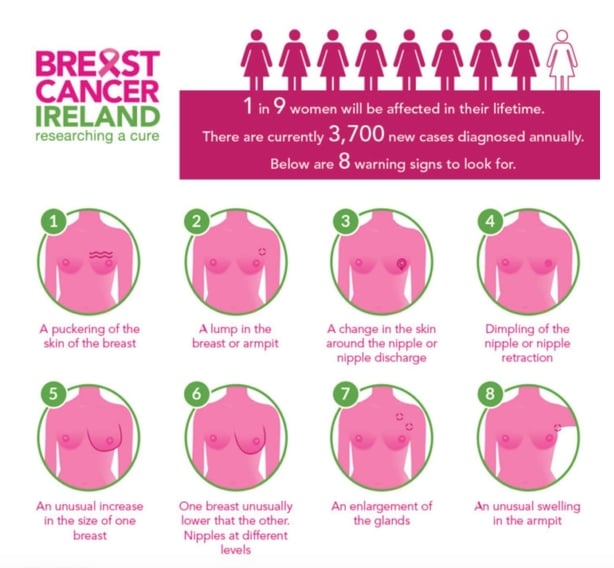 Wait times
Harding was candid about how fear and denial kept her from going to her GP sooner, once she found a lump in her armpit, and Hurley adds that fear is a definite obstacle for early detection.
"I think there's a nervousness, thinking that it will go away. I won't tempt fate. Let's not look into it. Let's give it another week. I'll give it another month. And this is where the problem is, because as I say, early detection is key in ensuring that there is a more positive treatment outcome.
She adds that there are fewer wait times for being seen too, stressing that "you will be seen by your GP". There's a "super efficiency that's now there in the breast clinics with massive safety protocols in place, whereas before, you might have a waiting room with 60 women who could be seen over for our period with massive delays because consultants were taking so much time with each patient".
Men & Women
While conversations about breast cancer still primarily centre women, men develop breast cancer too and Hurley says the protocols for checking the breast are the same for men as it is for women, with the statistics saying that one in 1,000 men will develop breast cancer.
One man taking part in Breast Cancer Ireland's Great Pink Run 2021, which launched yesterday and will see much of the proceeds from which will be channelled into research into metastatic breast cancer, is Darragh McDonagh, 59, who spotted a lump after a run one day.
"He subsequently went in, had a mammogram and biopsy and I've had a mastectomy and is undergoing treatment."
For more information, see Breast Cancer Ireland or the HSE guidelines.