To celebrate Glamour's College Women of the Year, Editor-in-Chief Samantha Barry sat down with First Lady of the United States, Dr. Jill Biden, to discuss the role that community colleges have to play in America's education system - watch it back above.
To celebrate the occasion further, we sat down with Barry to discuss the modern woman, her White House fashion choices, and her love of pulling off big surprises with First Ladies.
---
In 2018, West Cork woman Samantha Barry made headlines around the globe when she not only landed the role of Editor-in-Chief of Glamour, but immediately set about bringing the iconic magazine to new heights.
As well as incorporating affordable price points to her run throughs and launching an audio element to the brand through a series of podcasts, she introduced a 'digital-first' approach to a publication that has been in circulation since 1939.
While some aspects of the magazine were revolutionised, however, the pillars remain the same. Under Barry's leadership, the annual Women of the Year awards have continued to thrive, with the aim of celebrating "extraordinary and inspirational" women in a variety of fields.
Likewise, the College Women of the Year tradition continues, highlighting the efforts and achievements of students across the United States. Previous alumna include high profile personalities such as Martha Stewart and Amanda Gorman, the young poet who recently performed at President Biden's inauguration.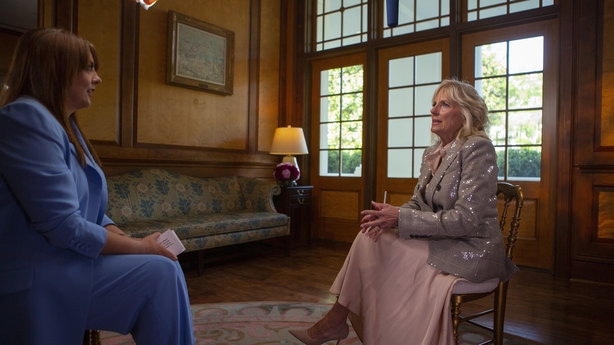 This year, Barry says that she and her team wanted to make a statement with their chosen crop of students, and ultimately decided to focus on those graduating from community colleges.
"One of the things that we as a team at Glamour thought was that there was such an emphasis in the world of COVID and isolation and staying at home that community became so much more important," she explains to me over Zoom.
"With College Women of the Year, it was just obvious to us to look towards community colleges - the unsung hero of the American education system."
"We have women in this group that are cross-generational, right? Over 60 or 19. They come from so many different life situations; some have been homeless, some have had drug issues, some have been in very traditional marriages and never thought education was for them."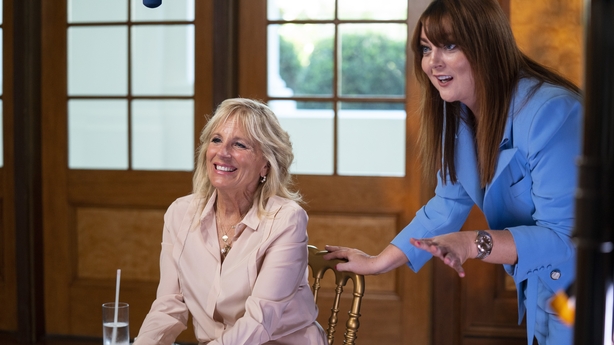 "We thought that there was an opportunity to widen the scope of who we celebrate as women in education, and in this thing that had been around for over 60 years."
"The themes are the same," she adds. "Themes of resilience, hard work, joy where there is joy. One of the things that is a true line is that they found the confidence in themselves to make that move to go to community college. For some it was easier than others, for some it was life changing."
"One woman was valedictorian at her community college and now has her pick of Ivy League colleges. That woman was homeless, had issues with drugs, and for her to now – through that pipeline of community colleges – have the Stanfords and the Browns of the world want her, that took a lot for her to get there."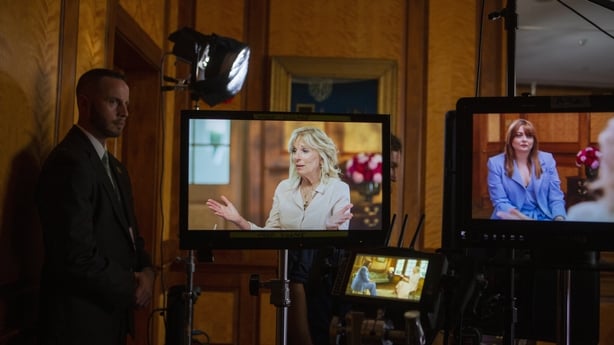 Historically known as being for "the girl with a job", Glamour magazine is famed for its beauty and fashion tips but also for its service journalism. The publication was the first of its kind to have a Black woman on the cover and one of the first magazines in America to talk about domestic violence.
These days, the tag line reads: "Redefining fulfilment for women". So, what does a fulfilled woman look like in 2021? What topics are most important to them?
"The things they care about are what we all care about," insists Barry. "From education to finance to what's the best thing to binge on Netflix. You can be a complex character as a woman. I think sometimes when people think about Glamour, especially when they don't read or engage with it, they think we only talk about fashion and style."
"Of course, we talk about fashion and style – we care about that – but women are multi-complex, layered human beings with lots of different interests. They can care as much about who is in the White House as they can care about what they should be streaming or the one beauty thing that they need. It's ok to have that mix."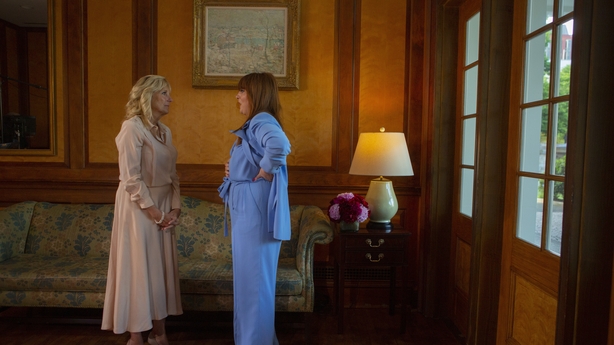 As part of this year's celebrations, Barry sat down Dr. Jill Biden to discuss the role that community colleges have to play in America.
Despite having a career based on drive, ambition and the remarkable ability to make big moves, the 39-year-old would be forgiven for having a few butterflies when approaching the White House to sit down with the First Lady of the United States.
Nerves, though, are not something that Barry has time for.
"I don't necessarily get nervous with those things because I'm always very well prepped," she explains.
"Preparation is key for not being nervous, even if it is as lofty and as reverent as the White House. I knew exactly what I was going to talk to her about, I knew we would be talking about education, I knew that was something we both cared about so that made me less nervous."
"She made me less nervous," she adds. "I had lunch with her daughter, Ashley, years ago and when she walked in, before the cameras started rolling, she said 'I just got off the phone with Ashley, she's a big fan of yours so that makes me a big fan of yours'. She put me immediately at ease which is a real testament to what kind of woman she is in a room."
"You only have a limited amount of time," she continues. "I knew I had limited time and I wanted to make the most of it. Letting nerves get in the way means you waste time in a situation like that."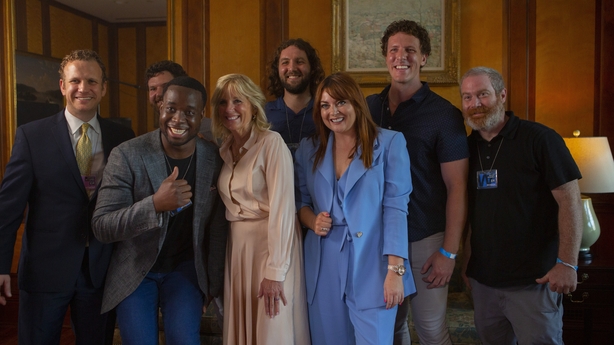 During their sit down, Dr. Biden discussed the important role that mentorship has to play in young women's careers. When looking at Barry's impressive rise the top, it's easy to forget just how young she is, but the Ballincollig native insists that she is still more than happy to call on the sound advice of others.
"I'm still getting mentored," she assures me, "I still have bosses that I reach out to and I talk to all the time including my boss at CNN, who is an amazing Editor-in-Chief, Meredith Artley."
"I'm still in that lovely space where I'm still getting mentored, I still get advice from people I have worked with and for and around. There's a gang of us in the BBC together who were Irish – Ciara Riordan, Anne-Marie Tomchak – we still talk to each other."
"There's such a thing as peer mentorship that is often undervalued. When I was at RTÉ, I was doing overnights with a woman called Niamh Sweeny who runs policy for WhatsApp. I turn to her for advice all the time 15 years later."
"People should look for mentorship in three different ways: those people that are in positions above you or where you want to go, peer mentorship, and then you should definitely be paying it forward."
"No person is an island in business," she adds, "the best thing you can do is build those relationships early on and continue to water and flower them and let them grow."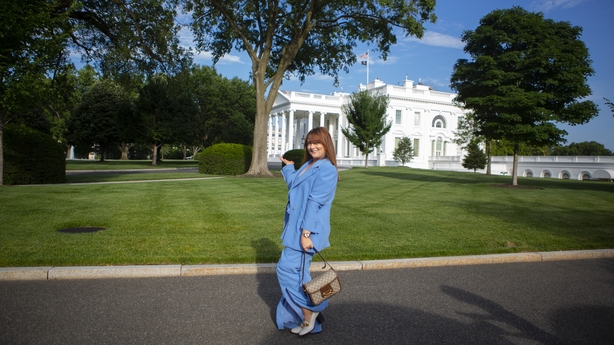 Speaking on her decision to reach out to Biden for the event, it appears that Barry has retained her dogged interest in politics from her time on the election trail with CNN. First Lady or not, the Editor-in-Chief had an eye on the professor's career from early on.
"If you watched Joe Biden and Dr. Biden on the campaign trail, education was really important to them," she notes. "When we made this call at Glamour, they hadn't yet been inaugurated."
"She was the first First Lady to keep her job and that job is at community college," she continues. "You could not ask for a better advocate for the role of community college in American life than a First Lady that still teaches at one."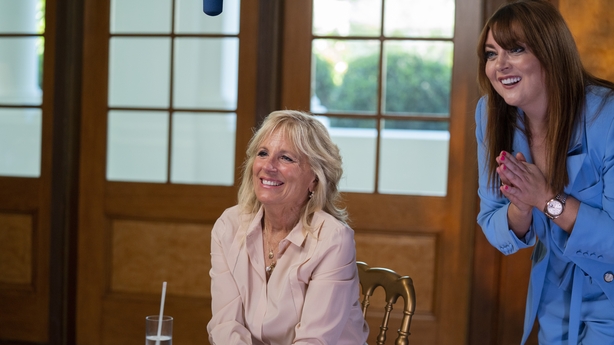 As well as a sit-down interview, Barry managed to pull off a surprise Zoom call from Dr. Biden to two of the chosen students, a surprise that the 39-year-old says will stick with her as a career highlight.
"To be able to go to the White House and sit down with her was such an honour, but to surprise those women – who thought they were getting a Zoom with me – with the First Lady telling them that they were College Women of the Year? That moment will stay with me forever."
Surprising someone with a First Lady appearance may seem like a once in a life time opportunity but, for Samantha, it's become something of a signature move. For her first Woman of the Year Awards ceremony in 2018, the Editor-in-Chief called on former First Lady Hillary Clinton to make a surprise appearance on stage.
"I love a good surprise," she admits cheerfully. "And to orchestrate a surprise at the White House via Zoom – there are a lot of logistics that go into that."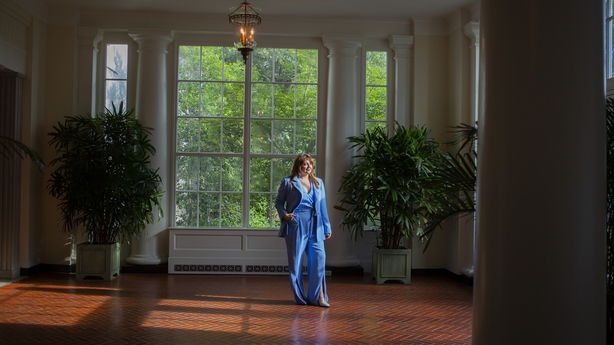 And sure, what's one more First Lady related surprise while she's at it? During her sit down with Dr. Biden, Barry wore a beautiful blue suit from Burnett New York who had no idea their design was being worn in the presence of a First Lady.
"We called them and said I was going to a dinner so they won't know until Tuesday what it was for, which is a fun surprise for them," she smiles.
Just another day in the office for Samantha Barry.