Cinemas are reopening and one of the first children's movies out of the blocks is Peter Rabbit 2. Its star, Domhnall Gleeson, spoke to Jess O'Sullivan, who also visited the film's London set before the pandemic struck.
Domhnall Gleeson may not have set out to win the hearts and imaginations of younger fans, but his roles to date have won them none the less. In the Harry Potter series, he played Hogwarts Head Boy Bill Weasley, before switching to supervillain General Hux in Star Wars. However, his role as Thomas McGregor in Peter Rabbit lies somewhere in the grey area between hero and bad guy.
"Thomas is a bad guy, kind of, but he's funny so kids like him," explains Gleeson. "There's a weird energy there in terms of his effect on kids." He recalls an incident with a young Richmond resident, the west London borough where the cast stayed while shooting the second Peter Rabbit film.
"I was walking down by the river, and I looked kind of scruffy instead of the suits I would wear in the film, but I've got the red hair, and I heard a kid say, 'Mummy that man looks familiar, he looks like he's from Peter Rabbit.' It was the sweetest thing. Now if he has said he'd seen me in Mother! I'd have been slightly concerned." [Mother! is the disturbing 2017 horror film starring Jennifer Lawrence].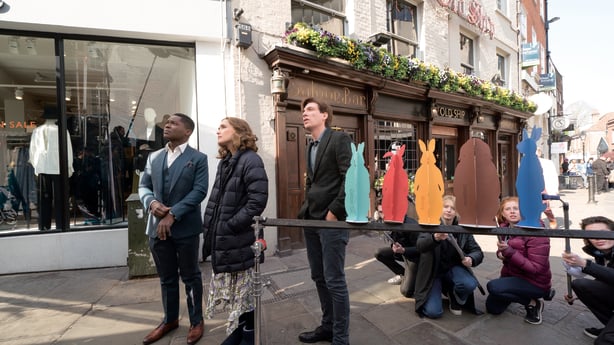 There is one young fan in particular who is completely smitten with Gleeson and that is his co-star David Oyelowo's eight-year-old daughter Zoe. Oyelowo is new to the Peter Rabbit cast and plays the conniving Percy McGregor, this movie's resident bad guy. Oyelowo admits that his daughter Zoe was totally starstruck when she met Domhnall, which really tickled the Dublin actor.
In Peter Rabbit 2, Domhnall finds himself in somewhat of a role reversal. In the first movie, Thomas clashed with Peter Rabbit and his cohort of pals in the battleground of his vegetable garden. However, the sequel sees Thomas in a very different headspace, having formed an entente cordiale with the animals that are so cherished by his new love, neighbour Beatrix Potter. "He's still pernickety, but he's evolved. He's in love and someone else loves him back – a great place to be."
Domhnall is also in a great place this time round, at the centre of the unseen magic that makes a film like Peter Rabbit 2 possible: "At the end of every set up, they have to come in with the grey ball and the mirror ball and the fur thing, they call it the 'kebab.'"
Watching the visual effects team working while the cast are doing their thing makes it difficult to imagine the end result, but Gleeson says that it's all about trusting that everyone is very good at their job. "There's this really weird bit in post-production where you're looking at this bit where it's just drawings and it looks so sh*t. You think, 'This was a mistake, I'm going to talk to my agent and tell them they're gone.' But you can still feel the energy is right, so you just have to trust it. When I finally saw everything together [on the first movie], it was amazing."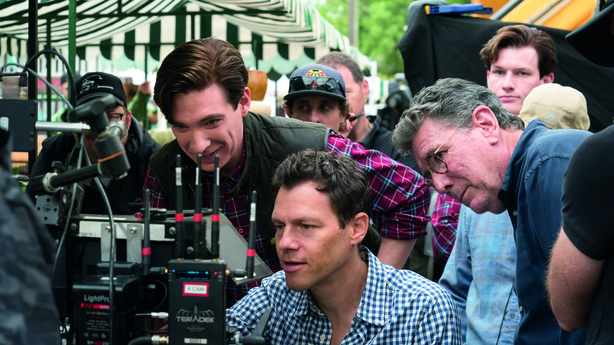 With Gleeson's breadth of work over the last decade, it's easy to assume he never stops. He averaged three movies a year, pre-pandemic, while also fitting in a successful turn in a production of Enda Walsh's The Walworth Farce alongside his father Brendan and brother Brian. There's also TV work on hit shows like Black Mirror and Catastrophe, and of course, the recent Channel 4 comedy series, Frank of Ireland, that he co-wrote and co-starred in with his brother..
However, Gleeson insists it's not as gruelling as it looks. "I've stopped a lot. I've done very little the last couple of years. I've taken a lot of time off and I've really enjoyed it. I think it's just wanting to turn up fresh and ready to go."
He admits there was a time when he challenged himself to take on whatever work he could. "I wanted to see if I could go back to back, and I really enjoyed it when I did it. But you can only go to the well so many times. You do run dry and the last thing you want to do is turn up empty. Running on fumes at the start of a project, that is not a good place to be."'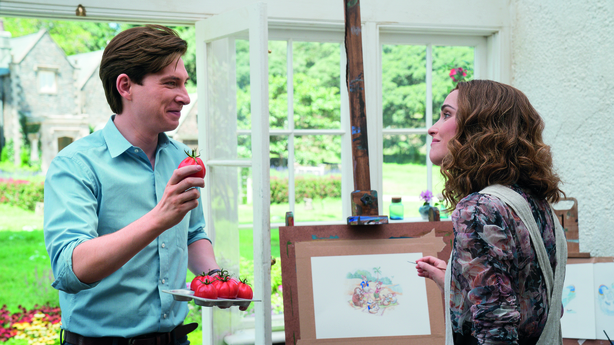 Has that ever happened? "It's come close to happening. You finish a job and you think, 'I'll go find another one now.' But I would be in trouble. I took time off before I did Little Stranger with Lenny [Abrahamson]. I like a little bit of prep time now." For Gleeson, hitting the refresh button involves very little other than being in the city he grew up in and around the people that matter most. "How do I recharge? Dublin. I spend time with everybody that I love."
It's easy to see why Gleeson was attracted to the part of Thomas. The character grew up alone, and evolved into an uptight workaholic. Eventually, he fills that emotional gap with his love for Beatrix and his begrudging fondness for the animals.
"The notion that Thomas grew up without a family and he starts this movie with a family –- that's a lovely thing and more importantly, it's a lovely thing to tell kids. You don't necessarily change your nature, but you can be a better person."