From dancing in the kitchen to quiet chats with his late parents, Neven Maguire talks about his love of dance music, the ghosts of the past and how Cavan made him. Donal O'Donoghue visits him at home in Blacklion.
"I cried the whole way home," says Neven Maguire of the night he was interviewed by Tommy Tiernan. On that winter's evening in RTÉ, as a guest on Tiernan's unconventional chat-show, the celebrity chef and author went to places he didn't expect. And if social media lit up with Maguire's unlikely passion for dance music, some ghosts also emerged.
"We spoke about dad and mum and so many emotions that were buried came to the surface," he says. "It was the most powerful thing I ever did. Amelda (his wife) and the twins were in bed by the time I got home around midnight. My head was spinning, my mind was churning. I couldn't watch the show afterwards and I haven't watched it yet."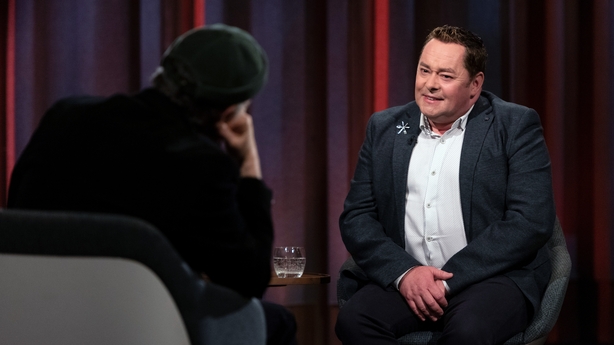 It's late April and I'm on the road again to Maguire's home place of Blacklion on the western extremities of Cavan. Sunshine bounces off the tarmac, reflecting the mood of a country starting to ease out of lockdown. On the radio, people talk about playing golf and tennis for the first time since Christmas and north of the border, they are counting the days to outdoor dining.
Weaving in and out of Fermanagh, I motor past signposts for local attractions: Florence Court House and Gardens, the magnificent Marble Arch Caves and the Cuilcagh Mountains, with their dramatic karst landscape. On the rolling road towards the border village of Blacklion, with the radio signal dipping in and out, it feels good to be alive.
Neven Maguire has put this corner of Cavan ("It's West Cavan" he corrects me when I say north) on the map with the award-winning MacNean House and Restaurant. Like all other such premises in the country, it has been closed since Christmas. Yet there is anticipation in the air as we sit in a deserted courtyard, a space orchestrated by Amelda ("She's the one with the business brain and the design ideas").
To the rear is a building with two garage-style doors. "Cars?" I wonder. Nope says Neven. Behind one shutter is a wine cellar while the other houses his collection of cookbooks. "He'll never get rid of those," Amelda tells me later, adding his studio is home to the 2,000 or so dance records which were hauled out of the darkness and onto the decks in December.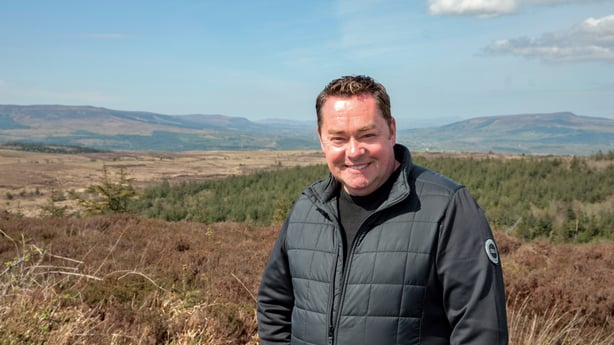 "I reset myself," Maguire says of the past year. "I used to travel to Dublin twice a week but I can do so much via Zoom and online now. I don't want to go back to where I was." So there's more time with Amelda and their nine-year-old twins, Connor and Lucia. "I found it quite stressful," says Neven of the home-schooling.
Did he not just tell the twins (reportedly quite handy in the kitchen) to read his book (Neven Maguire's Home Economics For Life), I ask? He laughs. The restaurant had 3,000 cancellations but two staff are still taking reservations Monday to Friday for the post-lockdown trade.
He did online videos, including cook-a-long sessions for various charities and culinary advice for those negotiating the boom in home-cooking. "More people are now cooking at home and that's a good thing," he says. But isn't that bad because they won't be booking your restaurant, Neven? "Hopefully, they will, we all need special treats now and again," he says. And the man who first cut his teeth on the small screen at the age of 21 (Open House) has also been on TV a lot in the recent past.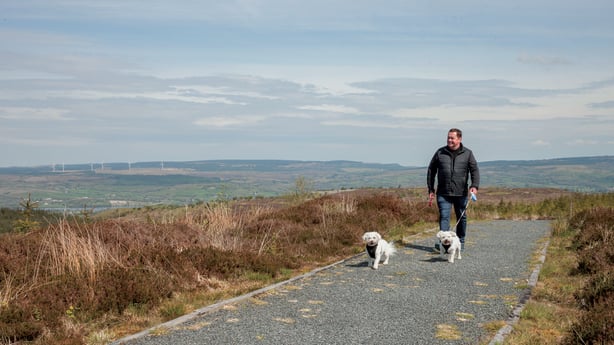 "All repeats," he says blithely. Not really. There was the perennial Christmas Special in December and a new season of Seafood Trails. And that appearance with Tommy Tiernan, which generated over 400 messages of support as well as clocking up 50 restaurant bookings in a single day. Maybe they wanted to come and see Dancemaster Neven doing the Funky Chicken?
"It all started when I was 16 or 17 in college," he says of his love of dance music. "On a Wednesday and Friday, I'd go into Enniskillen and play the last hour in a nightclub there called Mirage. I'd also got to Dublin every few weeks to buy vinyl. I spent all my wages on vinyl and cookbooks. Then for my 21st birthday, my mum and dad bought me two Technics decks and a mixer.
"After restaurant service, we used to put on the music and dance in the kitchen. We had this dance called The Funky Chicken. Last Christmas, Amelda got the decks revamped and we brought all the records from the attic. I've had a lot of fun. Although the twins sometimes come out to the studio when I'm playing and wonder if I've lost the plot."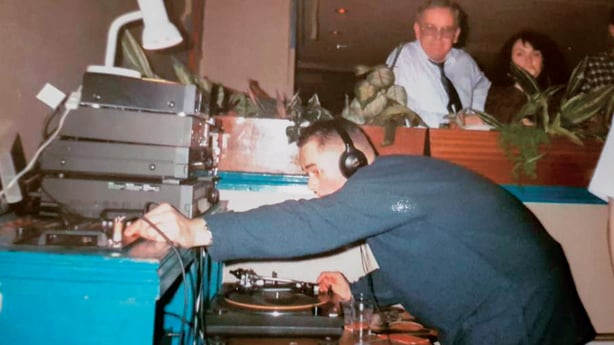 Later, we go for a walk in Cavan Burren Park with its way-marked trails, megalithic tombs and panoramic views. It's a 10-minute drive from Blacklion and not far from the Shannon Pot, where Ireland's longest river bubbles into being. We are joined by Amelda and the Maguires' two pooches, Roxie and Benjy.
From here on a clear day you can see across five counties (Cavan, Fermanagh, Leitrim, Roscommon and Sligo) with Ben Bulben on the horizon, while closer by, Lough MacNean glitters in the sun. "There's a lake for every day of the year in County Cavan" says Neven, who goes fishing with Connor but admits he's not great in that department. Talking of his children takes him back into his own childhood.
There were nine of them with Neven born on November 25, 1973, one hour after his twin, David. Those early years were lived outdoors: hanging in the tree house, football after school. "We used to play Robin Hood as well," he says. So who were you robbing Neven? "We're from Cavan so everyone," he laughs.
In the winter of 1987, seriously ill with jaundice, he was transferred to Our Lady's Children's Hospital in Crumlin where he would stay for three lonely months ("dark moments you bury in the back of your mind"). Cooking was his passion: the first boy in his school to do Home Economics, the son who returned home after honing his skills in Berlin (The Grand Hotel), Luxembourg (Lea Linster) and San Sebastian (Arzak) to run the family business.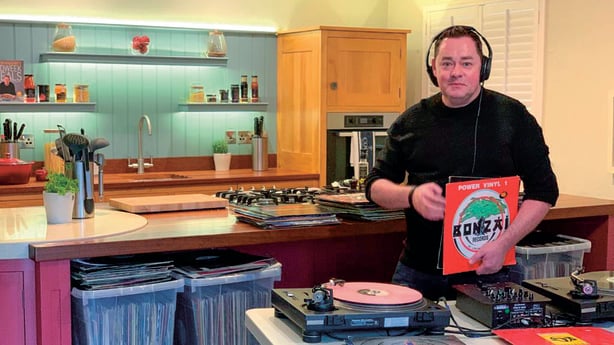 Of course, there were tough times too. MacNean House and Restaurant was badly damaged by a Loyalist bomb in 1973 and remained closed until 1989. In 2001, Neven's father, Joe, was killed in a car accident on the way home from Sligo and in 2012, Amelda got dangerously ill during the birth of the twins (the couple were subsequently unable to have any more children).
Later that same year, his mother, Vera, died from lung cancer. Yet Neven Maguire always seems to consider the glass half full, believing himself to be lucky, blessed even. Even the pandemic hasn't knocked the optimism out of him: he says how fortunate he and his family has been with their health and how he's planning another family reunion when restrictions allow.
And the show goes on, with another TV series in the pipeline, another book on the backburner (Learn to Cook with Neven Maguire is due in autumn). Yet it all comes back to this corner of Cavan, to his family and where it all began: the Maguire Pot, as it were.
A religious man, he still chats with his late parents. "We talk about family, food and life," he says. "Maybe not the music that much, haha!" It keeps them alive, you say. And Neven looks about the courtyard, chairs leaning empty against tables, the ghosts of times past, the promise of brighter days soon to come.
"To me, my parents are always alive in this place," he says. "Their motto was 'a stranger is a friend you haven't met' and that has become my motto too."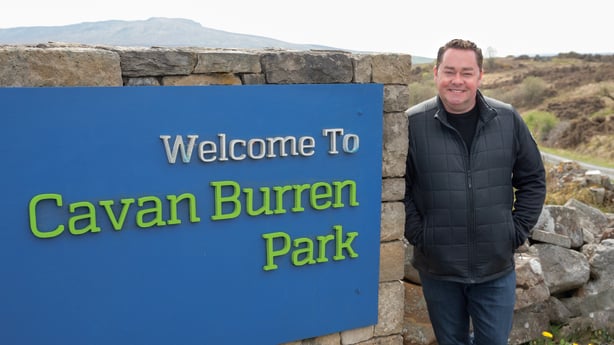 Maguire Country
Cavan Burren Park
The Park, which is open all year round with free admission, has five way-marked trails. There is also a visitor's centre interpreting the archaeological, geological and cultural history of a park dotted with monuments, megalithic tombs and hut sites from pre-historic times.
Florence Court
Beautiful 18th Century Georgian residence set on a sustainable estate and gardens, is the former home of the Earls of Enniskillen (Cole Family) and one of the most important Georgian houses in Ireland.
Marble Arch Caves
Regarded as one of the finest show caves in Europe, this labyrinth of caves, sinkholes and subterranean rivers is a wonder, a UNESCO designated site where a short underground boat ride takes you into another world.