Lovingly known as Ireland's Godfather of Gay, Tonie Walsh is a historian, writer, activist, and renowned DJ. Here he writes about co-curating the Living With Pride programme at the National Library of Ireland.
---
Christopher Robson, a trained architect and lifetime civil rights activist, spent many years documenting LGBT Pride festivals in Ireland and abroad.
After his death, his husband, Bill Foley, donated his sizable collection of slides and prints to the National Library, a selection of which forms the basis for the exhibition, Living With Pride, which is open to the public from 9 June, and run until Sunday, 21st November at the National Library's Photographic Archive in Dublin's Meeting House Square.
I got a sneak peek of the exhibition and the first thing that hit me was the huge scale and riotous color of Robson's prints.
Indeed, "Riotous Colour" could so easily apply as an alternative title to the exhibition and to the evolution of Pride protests and festivals that were the subject of Robson's eye for several decades and which are also documented in other deposits at NLI's Irish Queer Archive collection.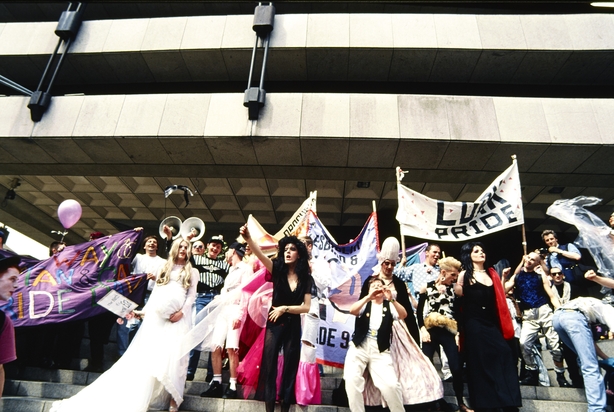 We may take LGBT Pride festivals for granted, especially post-Marriage Equality. Each year, another one pops up with queer abandon in the most unexpected of places (Clonmel, Tipperary anyone?) but there was a time - just two lifetimes ago - when trying to get people out on the street to protest our pride seemed like an impossible task.
Just ask the 10 brave men and women, who risked enormous social opprobrium (and worse) to mark Ireland's first Pride Day on June 27, 1974, marching from Ballsbridge to the Department of Justice on Dublin's Stephen's Green.
LGBT Pride is the most visible expression of a once invisible, hugely victimised and oppressed minority asserting its rights. It's about us reclaiming a previously hostile space, marching to our rightful place at the centre of Irish society. And doing it with noisy conviction and a lot of colourful glamour. Christopher Robson's photographs capture all of this in spectacular and intimate fashion.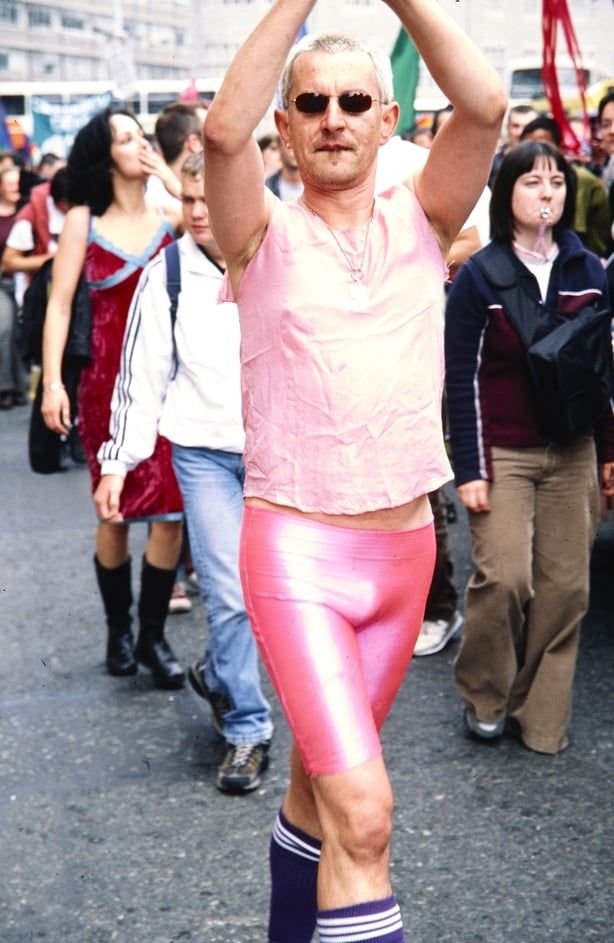 Two years ago, the National Library approached me to help curate a cultural sidebar to the Robson exhibition. I jumped at the opportunity to explore the current "state of the queer nation" and especially remind people of the riches that form the Irish Queer Archive (IQA), one of the largest LGBT collections of its kind in the world.
It was such a big deal when the IQA special collection was transferred to NLI in 2008. Here was the state finally taking ownership of LGBT heritage, both symbolically and physically.
As Ireland's primary memory keeper, the National Library has a duty of care to all the citizens of Ireland, including those of our sexual and gender minorities, whose lived experience has too often been willfully ignored and excised from our formal historical narratives.
The Living With Pride photographic exhibition and cultural programme not only reinstates some of that queer lived experience but has much to say about the type of modern, outward-looking and, most importantly, compassionate society we've been building these recent years.
Enjoy the journey.
'Living With Pride: Photographs by Christopher Robson' at the National Library's National Photographic Archive, Meeting House Square, Temple Bar, will close on Sunday, 21st November 2021.