As she looks forward to getting back to her beloved Inis Mór, Maura Derrane tells Claire O'Mahony about presenting the Today show during the pandemic and rediscovering the joys of cycling.
TV presenter Maura Derrane has always had a grá for travel. She and her husband, the former Waterford TD, John Deasy, enjoyed a lot of holidays before their son Cal was born, and he was just three months old when he went on his first trip, to Sardinia. Although adventures abroad are unlikely to feature on her itinerary this summer, Maura has plans to head to an envy-inducing destination that tops many people's domestic travel bucket lists.
"I'm very lucky because I'm from Inis Mór in the Aran Islands, so for me it's almost like the best stay-cation in the world," she says. When Today, the afternoon show she co-presents with Dáithí Ó Sé, goes off air for the summer and once seven-year-old Cal finishes up in school in June, the family will go west as they do each year.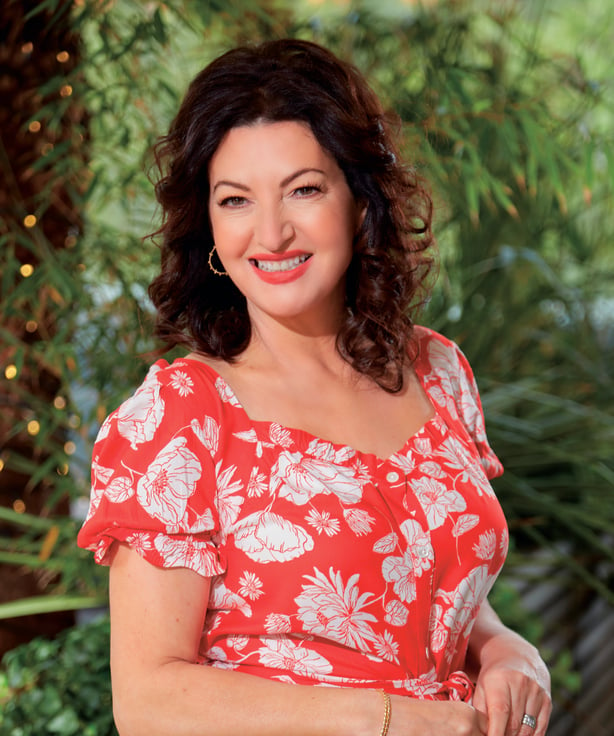 Island life, as Maura presents it, sounds idyllic. "Nature is at your fingertips. I look out the window and the sea is right in front of me. We're surrounded by fields and we grow our own veg. We're a very self-sufficient kind of family," she says.
"My mother lives there still and I stay with her. My sister Barbara lives there too and she's got a son who goes to school there so it's great for Cal – he's only two years older than him – and it's just ideal for us. We would be a very close family; we all hang out together, so for us it's very natural. I just love being at home. Barbecues, having a glass of wine in the evenings, walking, going for a swim – I just find every day so busy. We just get up in the morning and we're going all day."
While she's eager to meet with friends and catch up over meals, she's anticipating that her summer socialising is mainly going to be of the al fresco variety, until she's vaccinated. "In my job, we're extremely careful. We're just a bubble of three – John, myself and Cal – and that's it really, to be honest, because we live in Dublin and we don't have family here so we have been extremely careful," she says.
"I just feel that personal responsibility and I think for me, I would be happier dining outside and sitting outside, even when restrictions lift, than inside. That's how I feel now, but we'll see how things go. I always think everything is based on the vaccine getting rolled out in time, everyone getting vaccinated, everyone having that herd immunity. For me, that is the most important thing."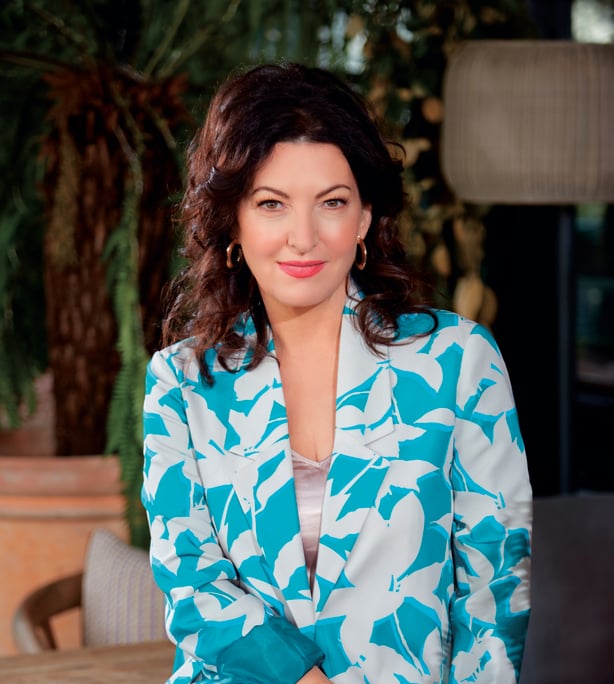 Reflecting on the past year, the presenter has found that despite the pain and uncertainty the pandemic has visited upon so many people, there been positives in terms of her work. "Since the pandemic, the show was more relevant than ever and more needed by people than ever before, as a getaway from the devastation that was happening in the world, as a safe, happy place to go to every day," she says.
"I feel that as much as we informed our viewers every single day of what was happening with the pandemic, we also gave them other options in the sense of we brought them to other places, we showed them new crafts, we helped them with health and beauty and things like that."
Last September, she changed her work hours and moved from presenting five shows a week to presenting on Wednesday, Thursday and Friday in order to make more time for family life and especially Cal, who is in senior infants at school.
This move saw Sinéad Kennedy join as a new presenter, and there's been a roster of rotating presenters, including singer Una Healy taking up the baton when Sinéad went on maternity leave. Stepping back a bit and presenting the show three days out of five is something that happened organically because of her changing lifestyle and Maura believes that Today has benefited as a result.
"Sinead coming on board added another facet to it and I think it was brilliant. It was just at the right time to change things a bit; I think it's really added to the show," she says.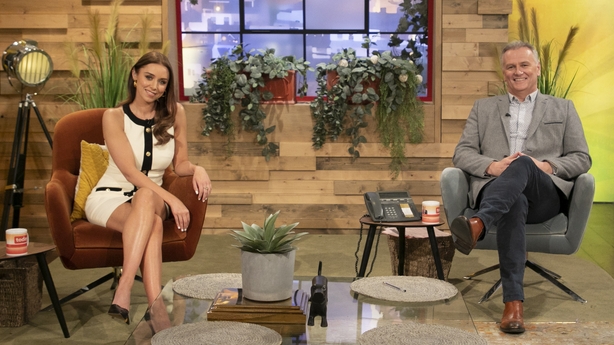 Because she's been working throughout, the main effect the pandemic has had on her life is that it's quietened it down. Recently, she has been rediscovering the joys of cycling. "I cycled so much as a child on the island; the bike was our mode of transport for getting around. I gave it up for a lot of years and I didn't cycle and now, I'm starting to cycle again and I think it's great."
There's a seat on the back of her bike for Cal and when she picks him up from school, they'll go for a spin. "It's a good work-out for me," she says. She describes herself as "the most unsporty person that ever lived; to be honest, I could not kick a ball to save my life or do any of those sporty things. I hated all that stuff."
Growing up in a family of four girls, she was always interested in things like make-up and fashion, and still is. "I've been so lucky that I got to be almost in the real world with my job, dressing up every day," she says. "People are like, 'I'm dying to dress up' and loads of my friends are saying they're dying to put on a pair of heels and some lipstick and I'm like, I do that every day. I would probably be a mess, I have to admit it, I'd be a complete slob if I didn't work on television."
That said, she will endeavour to put on a tinted moisturiser and lipstick before she leaves the house when she's at home. "I love red lips, I love a bright lipstick, it just makes me happy."
We need your consent to load this Instagram contentWe use Instagram to manage extra content that can set cookies on your device and collect data about your activity. Please review their details and accept them to load the content.Manage Preferences
The presenter admits that she's never been one for planning and that applies to work. "I've never had a plan in my life for anything and I'm not going to start now because it's worked so far," she says.
"To be honest, I don't know if somebody had said to me will the show be on for ten years, would I have said I'll be in Cork for ten years. Because you don't know when you start something new."
Over the course of her RTÉ career, she has been both co-presenter (The Afternoon Show with Sheana Keane) and a solo presenter (4 Live) before joining forces with Dáithí to present Today in 2012.
There's pride when she speaks of the show's 10th anniversary next September. "Really, it's a lovely story, the Today show because it just grew from a very basic show to this big dynamic show that we now have, which is two-plus hours every day that we're on air, live," she says.
"It's a big machine to feed every day and kudos to our team behind us and our great guests. The chefs are part and parcel of the personalities of the show now and are specialists in different things, and really, people identify with our guests as well as ourselves. So I'm looking forward to ten years. I think it's no mean feat to do this."