Baz Ashmawy and his mother, Nancy, are the country's most famous mammy and son double act: their close relationship forged out of honesty, openness and fun. Donal O'Donoghue talks to them.
Baz Ashmawy is reeling in his childhood. "I saw this photo of myself from years ago," he begins. "I was in one of those harnesses children are sometimes strapped into." The TV star is seated near his mother (and fellow small screen celebrity), Nancy, who pipes up to set the record straight. "Oh I had to have the harness!" says Nancy.
"Baz was always running away." Her son smiles, his mother, as ever, ahead of him. "Now in this photograph, the harness was fully extended, the mother was hanging onto it and I was trying to run away, legs pumping, arms extended. That image is so symbolic of our relationship at the time. I was wild as a goat and Mam was always trying to rein me in.
"'Baz and Nancy' – sounds like some sort of punk dynamic duo. Of course, anyone who has seen this mother and son combo on such reality TV shows as the award-winning 50 Ways To Kill Your Mammy or Baz and Nancy's Holy Show (in which they both travel to the Vatican after Baz has promised herself an audience with Himself), will know there is some truth in this.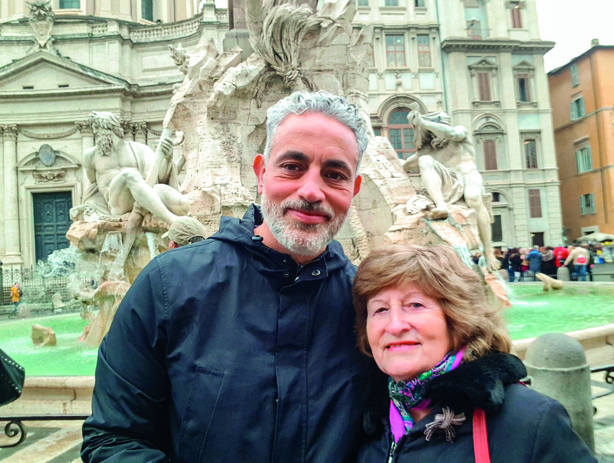 Together, they are a tonic, the wind-up merchant Baz and the straight-talking Nancy, a double act that works so well, not least because they are the real deal. Interviewing them, you sometimes feel like a redundant umpire in a tennis match as mammy and son volley and return to each other with wit and warmth.
Today, Baz is in his mammy's house for a Zoom chat. He visits Nancy every so often while they talk most days. "Normally, I'd be very tactile with Mum, swinging out of her," laughs Baz who is sitting on a couch at a remove from Nancy. "So it's very hard to sit near her and not give her a squeeze." Awww. But before you get too comfy, their relationship, like most others, hasn't always been wine and roses.
"Of course we fought a lot as well, didn't we?" says Baz, an only child, of those early days..
"Oh yeah," says Nancy. "I used to run up the stairs after him and he'd get into the box room. I'd be outside with the wooden spoon but he'd have hurled himself against the door." "Hahaha!" laughs Baz. "I remember one time she found me with a pack of cigarettes and locked me in the bedroom for a day. So I was smoking out the bedroom window, but then she dragged me downstairs and out the front door. The cigarette butts were all over the bonnet of the car! So that was it. I was locked in the bedroom for a week!"
"Ah no, it was never a week," says Nancy.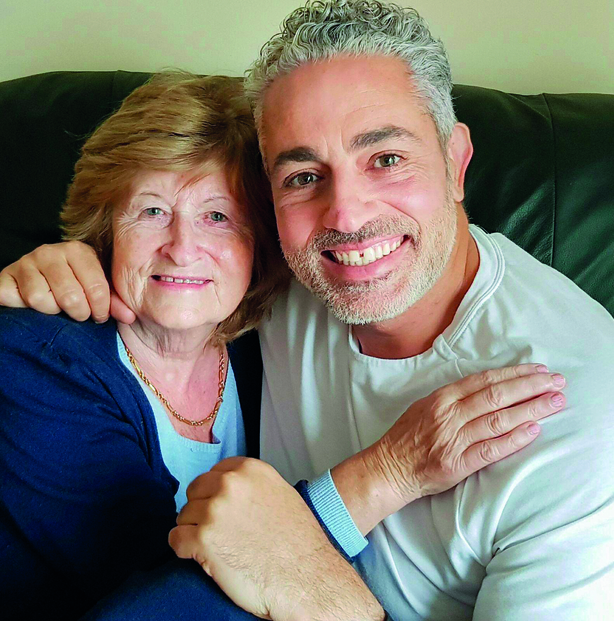 Today, Baz (45) is all grown up: star of TV and radio, partner of Tanja and dad to six. "We have one lad doing the Leaving Cert, a girl in Fifth Year and two little ones in primary school," he says of what must have been a helter-skelter few months.
"I went to five different schools so I'm the worst person to be trying to manage home-schooling. I'm there in the toilet, Googling Irish translations, so that I won't look like a complete gobdaw in front of my eight-year-old. Now my Irish has improved beyond the cúpla focail, but hey you can only do your best. During the first lockdown, I really beat myself up, feeling that I was failing as a parent. Now I don't. My kids are happy, everyone is tipping along and we have a laugh."
I bet. Baz as a dad must be great craic (he has two children with Tanja, who has four children from a previous relationship). Perhaps this is partly because he knows what the alternative was like, 'heartbroken' (as he recently told Tommy Tiernan) when his father walked out on the family when he was eight.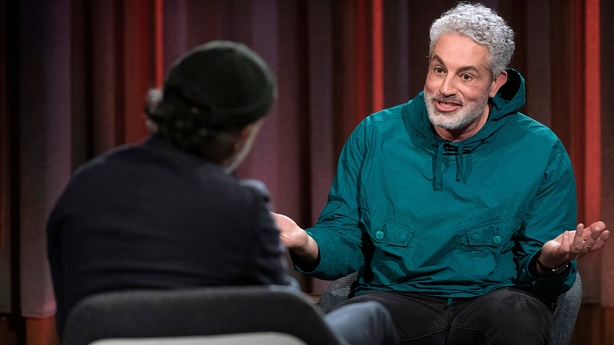 How did Nancy feel as she watched her son on The Tommy Tiernan Show, talking about those years when he used to lie and say his father was dead just to deflect the inevitable questions?
"I felt sad watching it and maybe was I a bit hard on you, was I?" Baz shakes his head. "He was heartbroken and that but you have to get on with life don't you? And what Baz said was the truth and I always say that the truth's the truth and that's that."
Honesty and openness has long been the bedrock of their relationship. "My mother knows me, warts and all," says Baz. "I laugh when I tell my kids how Mum used to sit me down as an eight-year-old and go through the ESB bill with me. She was all members of my family. Do you get me? She was my mum and my dad and everything else. That comes from being an only child as well. And while a lot of men wouldn't talk about their emotional scars, seeing it as a weakness or something, I've never been like that. My Mum made me face things head on, helped me to deal with them. So I don't feel embarrassed by those things. They have made me what I am."
"You have to be honest with your children," adds Nancy. "For example, if they're looking for a toy and you can't afford it. I would just say to Baz, 'The money isn't here. We don't have it. So you have to make your children aware of the cost of things as well. And the wooden spoon! That was very important too. Did you get the wooden spoon?"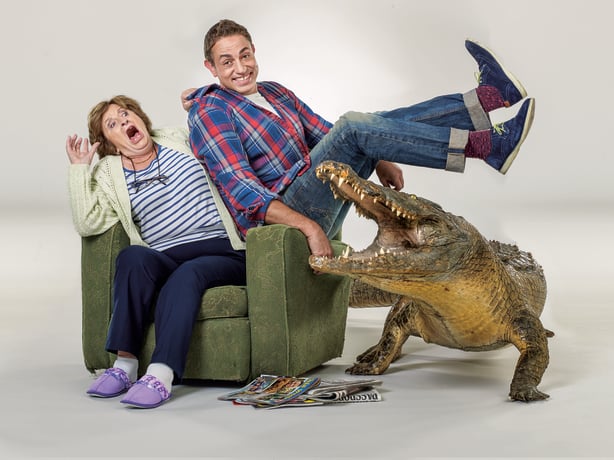 What was Baz like to rear in those early years? "He was like any other child, I imagine. He'd tell the few lies until I found him out. Like 'What happened to your coat?' 'Oh such and such stuck it down the toilet' Then I found out later that he did it himself. You catch on very fast when you have kids!"
When we spoke, Nancy (78) was due to get vaccinated within two weeks. Baz was also on the priority list, diagnosed with a degenerative lung condition, following emergency surgery in 2011. Typically, the man who wrestled alligators on TV downplays his condition. "People around me were very anxious but I don't really live like that," he says. "But yes, I have to be keep careful and I got a note from the doctor that I'm up to play first, as it were."
Beside him, Nancy makes no bones about her concerns. "You are high risk Baz!" she says. "Sure don't I jump off buildings on TV and all?" he counters. "No, you're still high risk," says his mammy. And that's the end of it.
Did they learn anything about each other from working together on TV? "I was clueless when I started out on the shows," says Nancy. "There was nothing scripted, it was just like I'm speaking to you now. But I caught on pretty fast didn't I?"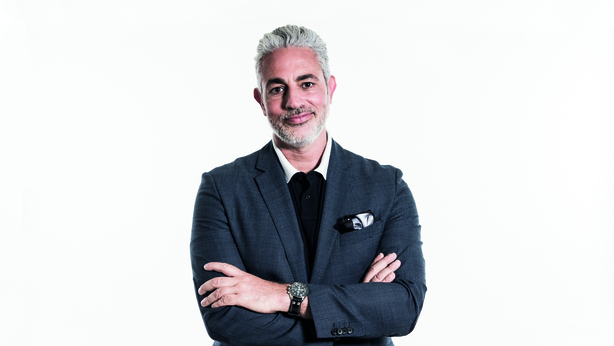 She sure did. 50 Ways To Kill Your Mammy won the International Emmy Award in 2015 with Nancy the star of the show, which took the pair around the world doing daredevil feats (skydiving, meeting alligatprs, Tasering Baz!). "I always loved travel and to be paid to travel, who could refuse that?'" she says. "We did eight countries in three years and Mam still goes on about the Canaries," says Baz. "I'm like 'But I brought you to the flipping Amazon!' and she's like 'No, I love the Canaries!'"
Nancy will be 79 on her next birthday: still sharp as a tack and resiliently upbeat. "If you're not living, what are you doing?," says her son. "Everyone needs a bit of adventure in their lives. For me, doing those shows with my mum was such fun and it will be with me to my dying days." Any plans for a sequel? Nancy laughs. "That was more than seven years ago," she says.
Surely Baz, who has his own production company, has a few ideas? "I'm still on for making that movie, Mam on the Moon," he cracks. "Seriously though, if it was possible I'd work with my mum for the rest of my days. But we'd have to travel in different cars and I'd have to be restrained from her for four hours a day."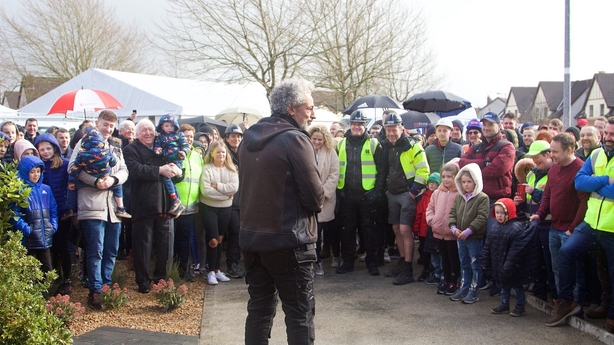 He still makes TV with a big heart, from the 2019 buddy show, Wingman or last year's DIY SOS: The Big Build Ireland, one of the most uplifting, at times heart-breaking, home-grown reality productions of 2020 with Baz, the big softy in the hard-hat, at its centre, co-ordinating an army of volunteers to change the life of a deserving family.
In a dark time, it made many realise that sometimes our worries are not so terrible and people are mostly decent. "On paper, it might have sounded gooey, all these people travelling across the country to help someone, but the reality of that was very powerful to see," he says. "I loved that show: the fun, the people and getting to know the families."
A second season of DIY SOS will film later this year, but this week, Baz hosts a virtual celebration of St Patrick's Festival. He has long been a fan of the national day and its significance. "Maybe because I'm mixed race, I've always been very proud of my Irishness," he says. "It means a lot more when you have to fight to be Irish."
Plus he has the most Irish of mammies to seal the deal. "My mum would be baking brown bread in the morning, saying the rosary at night and putting holy water on the car whenever I'd be going to a festival. And Paddy's Day was always a big day for us. I remember you putting a big lump of shamrock on my jumper, there was half a plant stuck on there."
Today, the scéal remains the same: Baz will always be Nancy's son just as she will ever be his mammy. "That's it," says Nancy. "And I know he gets mad when I ask why he's wearing such and such and he'll say 'Ah for God's sake Ma, I'm 40-whatever." But ultimately, they're always on the same page.
"What I long for is to have my grandchildren staying over," says Nancy of her post-pandemic plans. Baz smiles. "Isn't that ironic? I can't wait to get rid of my kids and send them to Nancy. So everyone's a winner! You know I saw an old interview recently where I was asked if I had a dead body, who would I call to get rid of it? I said Mam. Her answer to the same question was Baz! So sometimes we have those moments of synchronicity."
More than sometimes I suspect.