Remote learning is about so much more than course work for teacher Kevin Shortall, it's about the welfare of the students and the wider school community. Kevin is Deputy Principal at Old Bawn Community School in Tallaght and a member of the pastoral care team, looking after the needs of 1000 students.
He spoke to Ryan Tubridy about supporting students at home, and the positive impact of Tech2Students, which provides laptops to some whose only connection with school work was via mobile phone.
Kevin says that under normal circumstances, teachers can pick up on students' issues spontaneously: a quick word in passing, then a follow-up if the student needs it. This spontaneity is absent with remote learning. Things that come up in a chance meeting at school can be missed on a screen. Kevin says he and his colleagues talk about this a lot:
"We all think about the big issues, but there are hundreds of small issues all the time that you can fix, and you can help, and you can work on, you know? We've been doing that over the phone and by video call an awful lot with students. It's been great too, you know, you'd ring a student and they'd say, 'How are you Sir?' and I'd say, 'How are you getting on?' You know, they're so delighted with the phone call and with the contact."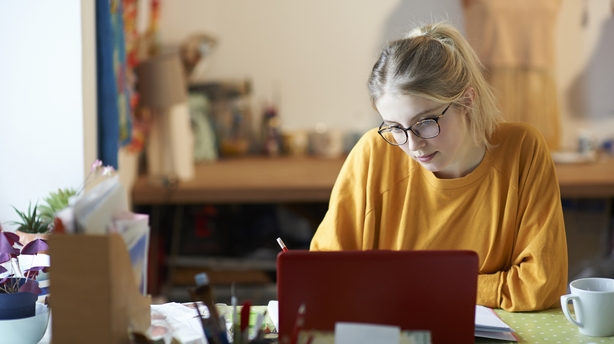 Some students can only access their online course work via their mobile phone, and Kevin says this is far from ideal. Students naturally interact with each other, he says, and this can highlight the tech inequalities between students:
"You remember yourself in school and somebody beside you and you say, 'Did you get number 6 done?' or, 'What did you get for the geography question?' Now, imagine you're sitting in your room and you get a message from someone 'I got that work in,' and you're trying to connect to the internet. And the panic of trying to get your course work done on a screen that's only 4 inches by 3 inches, you know?"
Students may be struggling with older phones that can't process the tasks at hand as well as the newer models. Kevin says the teaching staff are constantly asking students what they need:
"It's a real worry. And it's something that we've had huge conversations with our students about and we've tried really hard to undo that problem."
Many students are competing with other family members for access to technology. Kevin says there is a huge demand for devices with all the studying and working from home going on. He says his own family is no different, with three kids at school and two parents at home, there just isn't enough tech to go around:
"What household has 5 laptops? I mean, it's not even a money issue, it's just because it's been brought upon us so quickly. And then you have parents as well who'd been working perfectly up until the pandemic and they're now on the PUP payment, so even if they wanted to go out and buy three laptops for their three kids that are in secondary school or primary and secondary school, it's a non-runner for a lot of people."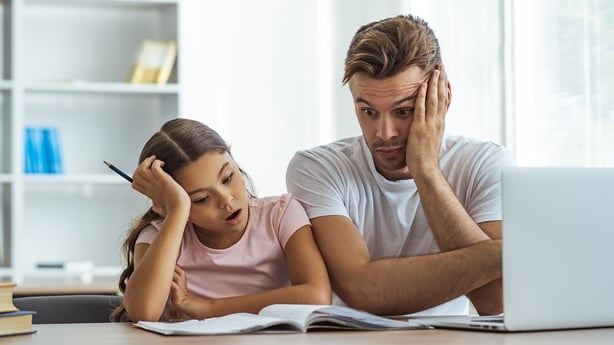 But help is at hand. Old Bawn Community School has access to a scheme called Tech2Students, that provides re-conditioned laptops through a company called Camara. Kevin explains that Camara source high-spec second-hand laptops and refurbish them for distribution to students around the country:
"Up until yesterday, we have given out 88 laptops to students. It started off in 6th year and then down through the years. It's a real privilege to do it. Some families come and collect them. But we've also delivered quite a few as well."
Kevin says the Tech2Students laptop programme has had a very positive impact all round and has made life a lot easier for the students who get them:
"There's one lad in particular, a little bit shy to ask, was working from his phone, trying his best. He had one or two communications from teachers saying, 'Why isn't that done?', did his best, but just couldn't get it together with his phone and the whole lot. We made a video call and organised to bring the laptop down to him. Delivered to him there a couple of weeks ago and the smile on his face. But you'd want to see the difference in communication and the work that's going on. Just changed his life."
For parents for students who don't have access to a laptop to do their school work, Kevin's message is to reach out and ask for help, because, he says the solution might be easier than they think. Being solution-focused is part of a teacher's job, Kevin says, and he loves it:
"There's no space for grumps right now. We've got to lift people's spirits, we've got to get behind young people and tell them they're great."
Kevin talks more about his parents' influence on his teaching career, his family's connection to Johnny Cash and how his rescue dog Biden became a school celebrity; that's all in the full interview which you can listen back to here.
And you can find out more about the Tech2Students programme here.