"We don't have to come close and personal but we have to make love happen" - these were the words Maitre'D Mateo used to inspire his colleagues, master-mixologist Ethan and servers Alice and Pete, upon opening the First Dates restaurant during the COVID-19 pandemic.
Instructed to smile with their eyes à la Tyra Banks, the team set off on a mission to bring romance back to Ireland, armed with pink social distancing sticks, lashings of hand sanitiser, colourful masks, a spaced out seating plan, and background diners from family bubbles - some of whom were related to the daters.
The show saw a number of singles enter the restaurant including the bubbly Amy sitting way down the table from reformed party-boy Sean; Game of Thrones actor Tim auditioning for a place in the heart of outgoing painter decorator Rory, and redheaded Rob from Cork gingerly attempting to woo Tracy from Dublin. However, the biggest success story of the night had to be Shane and Avril.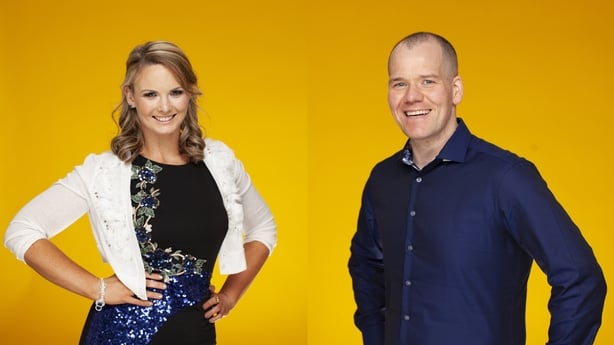 Encouraged by his sister Yvonne - who was also sitting in the restaurant - Shane applied to First Dates Ireland as a way to re-enter the dating pool. Having spent the last 14 years putting his life back together after a severe head trauma, the 35-year old said he was out of practice when it came to affairs of the heart.
"Obviously, nerves might make me a bit socially awkward because I don't know if I'm confident to know what to do on a date or know what to do on a date, basic things like that," he told the cameras, "It's literally going to be a first date for me."
The Meath man was paired with Avril, a level-headed single mum from Dublin who says her last date was going back ten years. Sparkling from head to toe, Avril was as nervous as Shane was while entering the restaurant but, before long, the two were deep in conversation.
Avril and Shane on @FirstDates I am absolutely sobbing. What a beautiful couple. Shane is just something else. My eyes are raw from crying...... #firstdatesirl pic.twitter.com/jBQU8qMkrA

— Fran_tastic1 (@Fran_Tastic1) February 11, 2021
From mental health issues to weight gain, Shane told Avril about the various obstacles he had overcome since his head injury. In return, Avril opened up about how her own background and how she fought to go back to college and get her degree after having her daughter.
Both Avril and Shane made the brave decision to vulnerable with one another and were rewarded with an incredibly wholesome date that led to the first success story of First Dates Ireland 2021. Speaking to the camera after, the two looked smitten, awarding each other a ten out of ten.
At the end of the programme, it was revealed that the two stayed in touch through lockdown and eventually began dating when restrictions eased. Then, just this week, Shane rang in to Ray D'Arcy to confirm that he and Avril are very much still togehter.
To say viewers were thrilled for the two is an understatement....
I thought Shane & Avril were great together. I'm so glad it's still going well. Good news is more important than ever these days! #FirstDatesIRL #rte2 https://t.co/yFa4NNuvDF

— Nuala Carey (@nualacarey25) February 11, 2021
Me when Avril said yes to Shane on First Dates!!! So happy! #FirstDatesIRL pic.twitter.com/ZJ1eyFyBFX

— Pamela Kiely (@_pamelakiely_) February 11, 2021
I literally screamed for joy that Shane & Avril are now dating!! We all needed that boost ??#FirstDatesIRL

— Anna Callaghan (@_annacallaghan) February 11, 2021
Oh man, I did not realise how much I NEEDED Avril and Shane to work out #FirstDatesIRL #loveinlockdown

— Dr Sarah Hayes (@SorchaNiAodh) February 11, 2021
Good news alert ?? #FirstDatesIRL update:
Shane from episode 1 has just told @RadioRayRTE that he and Avril are still dating ?? ?? pic.twitter.com/B9Ci6Etffg

— Jennifer O'Brien (@Jen_OBrien1) March 2, 2021