StaidAir le Bláthnaid Treacy aims to bring students bang up to date with their Irish on her new bilingual show on 2FM. We caught up with the presenter to find out more.
"This is an entertainment show that just happens to be bilingual," Bláthnaid tells me over the phone. "We have lots of contributors on, it's two hours long, it's going to run for a couple of weeks but may go on longer - it all depends what's happening in schools."
According to the radio presenter, StaidAir came about as a response to the schools once again closing due to COVID-19. With many students facing big exams this year, Bláthnaid and the team at 2FM wanted to give students a chance to maintain their Irish in a conversational and casual way.
In saying that, Treacy insists that this show is for more than those planning to sit the Leaving Cert. The Bray woman believes that the language has an unfair reputation, and hopes that her new show will act as a "safe space" for those who want to dip their toe in the water.
"People tend to have a little bit of fear when it comes to the Irish language, they tend to think 'oh God, I'm terrible at this, I can't speak it'. The objective of this show is to be a safe space where it's OK for someone to come on the air and make a little mistake."
"Most of the country have the cúpla focal but they lack the confidence to use it."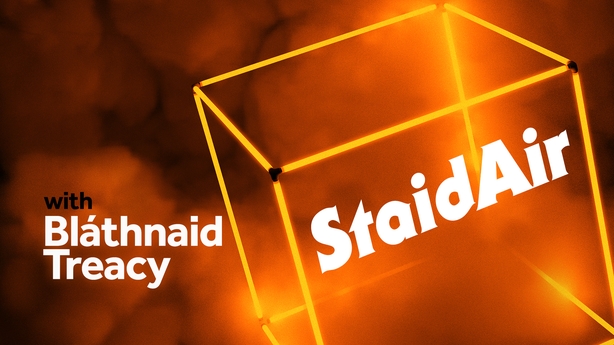 With a mission to inspire and encourage people to use whatever Irish they have, the show will be on hand to provide a phrase of the day for listeners to add to their vocabulary, and for students to put in their back pocket for when the Irish orals come around. 
"The Irish language is full of phrases and metaphors so we'll have a phrase a day that we'll bring into conversation so people know how to use it in different ways and I'm also trying to introduce terminology, phrases and words that students will be using in their scrúdú béil."
"The aim is to make it as inclusive as possible and allow people to own the language," she continued.
"We all own it. Even if you can't speak the language, it still belongs to you. If you're Irish, this is your language. It's about making people feel proud of it and feel comfortable around it and confident speaking it."
Bláthnaid and the team want to hear scéalta from you, your school or your múinteoirí. If you'd like to feature on the show, email 2fm@rte.ie 
StaidAir is live from 8pm to 10pm on RTÉ2FM and will run from Monday to Thursday for four weeks.