Tommy Tiernan is back with his unconventional chat show. He talks to Donal O'Donoghue about the art of chat, the stress of stand up and the wonder of Derry Girls.
Lately Tommy Tiernan has started going to his garden shed to talk to himself. Not that 'The Henhouse', as his wooden 'bothán' is called, hasn't been a haven for some time. It is there, armed with a pot of caffeine, that the comedian and actor records his weekly podcasts with Hector Ó hEochagáin and Laurita Blewitt as well as his own solo productions. It also where he pitches, to himself, potential material for future stand-up (his 2020 tour got axed by Covid). He works off ideas and notions, jotted down in moments of enlightenment or inspiration. And thus, the word becomes flesh, sort of.
"I pitch my ideas at an invisible audience," he says. "It's my way of staying fit until I get in front of a crowd again."
There's no tell-tale burr when I phone Tiernan at home in Bearna, County Galway. His voice is just there, as if by some supernatural intervention. "You're coming through a machine that doesn't ring," he says by way of explanation, before we go down the rabbit hole: not so much an interview as a meditation or rumination that veers into all sorts of places including the grace of prayer, getting the giggles on Derry Girls, the stress of stand-up, and Irish as spoken in Cois Fharraige.
"I've a fierce curiosity and respect for the Irish language and I live on the edge of the reservation," he says of that part of the Connemara Gaeltacht where he lives with his wife, Yvonne, and his brood.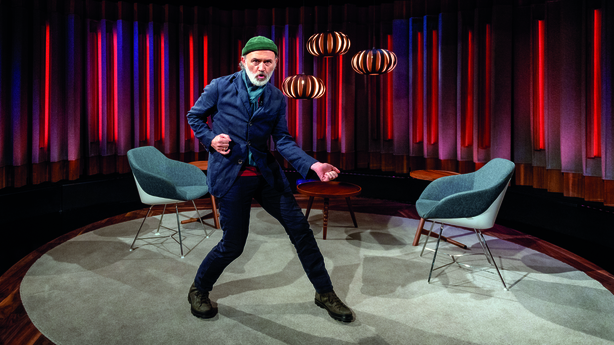 Tommy returns to TV with the fifth season of The Tommy Tiernan Show, the chat show where the host doesn't know the identity of his guests until they walk out to be interviewed. A critical and popular hit, 21 of the show's interviews featured in the recent book, Winging It. There between the covers we got Bob Geldof talking about grief and sex, Paul McGrath on why he drank and Róisín Murphy on falling in love.
"You have to be careful that you don't turn into a vampire sucking trauma out of people," says Tiernan, who, in the absence of prepared questions, puts his faith in an 'approach', whether imagining a white light coming out of the interviewee's chest (something a psychoanalyst once said to him) or simply "just trying to get to know somebody."
Getting to know Tommy is a mission in itself. Asked if he has ever contemplated an autobiography (Winging It was his debut publication), he gives, as he often does, the long answer. "Stand up is kind of autobiographical. I tell a lot of lies in stand up. I love the invention of lying and what truth might exist in a lie."
He cites the 'creative biographies' of Bob Dylan's Chronicles and Martin Amis's novel, Inside Story. "It would be interesting to go back and reimagine the past," he says. "For example, me in St Oliver Plunkett's National School, Navan, in 1977. I only remember one sentence from then where the teacher said: 'I believe we have a new boy in the class today'. And I put my hand up. The fun would be to write four or five pages based on that memory."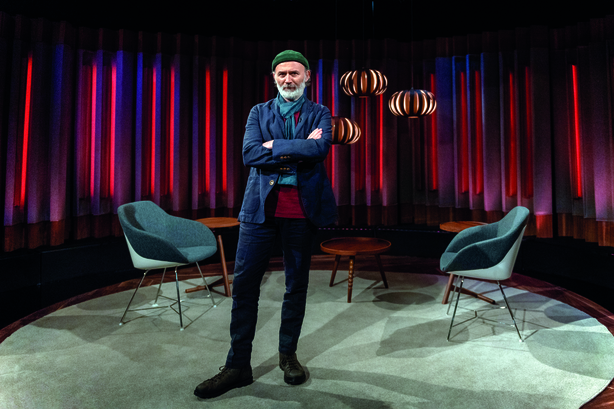 His own beginnings were nomadic: living in three different countries (Ireland, Zambia, England) before he was seven and clocking up at least ten different schools. His relationship with his mother, Helen, who died in 2010, was complicated ("I wasn't very close to my mother" he said some years back). He was 16 (at boarding school in Galway) when he had his previous relationship. It was also when he turned to prayer, a consequence of being obsessively, hopelessly, in love with a girl.
He became a dad at 24 (he now has six children, three with Yvonne, three from his first marriage) and a grandfather at the end of 2019, and has long spoken of his love of fatherhood as well as the guilt it can bring when work demands its pound of flesh.
He still prays, sort of. "Do I pray?" he asks, chewing the meaning, before talking of the various ways of praying, of Buddhist and Christian rituals as the wonder and release of silence (he 'celebrated' his 50th birthday on Bloomsday 2019 with a ten-day silent retreat at the Buddhist Centre in Co Clare). And he still goes to therapy now and again, relieving himself of those things that would not be fair to foist on Yvonne (it's bad enough that he roars in frustration at the TV).
"On the low days I need company to be drawn out of myself," he says. "It's never about putting on a brave face or looking at yourself in the mirror and willing yourself to be more upbeat. It's in the company of others that I become light."
In Winging It he writes of the anxiety that precedes each stand-up shows as well as the euphoric release afterwards. He tells me he has a recurring dream. "It's always exactly the same. I'm on an airplane which crashes. I survive. But the bizarre thing is that I only go and get on another plane." He laughs at the obvious interpretation.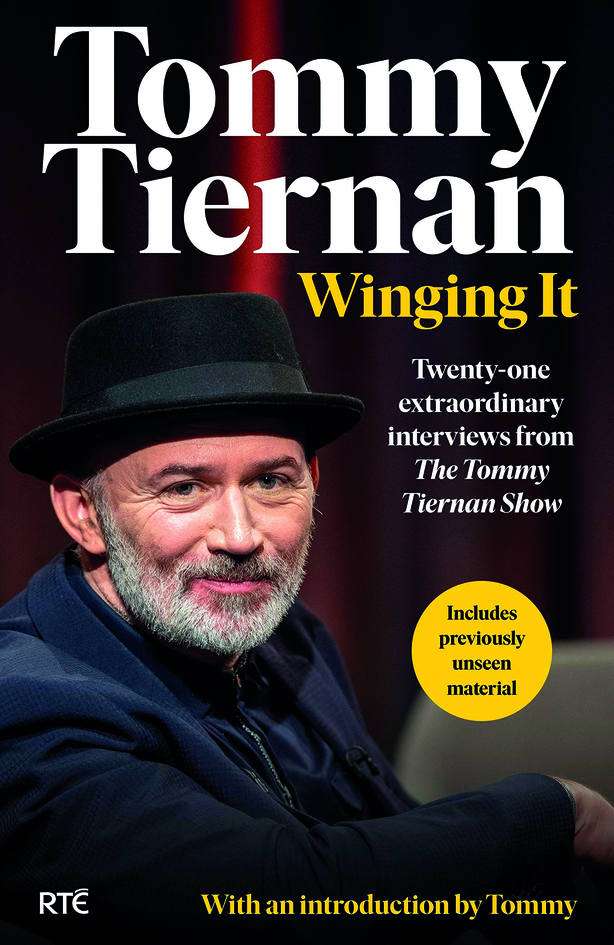 Has his chat show influenced his stand-up? "Maybe the only thing is that it gives me more leeway to be serious on stage because the chat show isn't comic. The thing that has influenced my stand-up is the acting, which I did with Druid a couple of years back. Other things that can affect it are the music I'm listening to at the time, storytelling, poets and poetry too. But the thing that affects it the most is the audience."
Following his superb turn as Thomasheen Seán Rua in Druid's Sive in 2018, Tiernan also showed his acting chops as the hapless father, 'Da Gerry', in Derry Girls. "On a practical level it affected numbers for my gigs in England where people didn't know I wasn't a stand-up," he says of the show, with season three ready to roll once filming restrictions ease in 2021.
"I went from playing 300-seater theatres to 1000-seater theatres and I just loved being in the show, the camaraderie of it all. I used to get the giggles a lot especially when I looked at Aunt Sarah. I just could not maintain eye contact with Kathy (Kiera Clarke). I had a plan how to play Gerry in season one but had no idea what I was doing in season 2."
He can stir controversy: accused of blasphemy, racism and more, all of which he rejects. Stand-up is tightrope. "You sometimes come off stage and think 'Jesus, Mary and Joseph what did I just say?' So stand-up can be more than just lightness, there is a destructive element to it as well. I've had audiences laugh at stuff that if you told them the next day in front of their family or parish priest or whoever they'd swear blind that would never laugh at such a thing. I think the only limitations in stand-up are those imposed by the performer. There are some amazing comics out there and often the wilder ones don't become well-known because they are too wild. But it's the ones that you can't trust are the tricksters incarnate."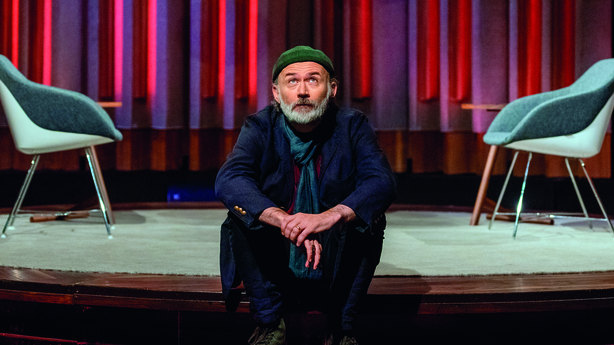 Of course Tommy Tiernan is a trickster too, a mischievous man-child with an impish curiosity. "I used to think it was a sign of immaturity to be childish in your fifties," he says. "But I met someone recently in their seventies and they are a delight to be around because of the light in them. That made it easier for me to accept the fact that I'm not quite grown-up. Of course I can go through periods of low mood and inertia but I also know that I carry within me a lightness and skittishness. Admiring it in someone else gave me permission to tolerate it in myself. So maybe I'll never grow up. It's a bit late now anyway."

Yet he is still looking ever forward, citing Samuel Beckett's line of having nothing to say but being compelled to say it. On the night he got the idea for his chat show, in a 'beige' hotel in Hull, he also had a great notion for a sitcom about a detective looking for someone who may not exist.
"There is another sitcom about tramps living under a bridge and a feature film which is a comedy version of The Gospel According to Mark set in 1990s Ireland." All are unfinished. "I sometimes fantasize about going to prison so that I can get some work done," he says and laughs. And then Tommy is gone. Perhaps back to his work shed, practising for his finest hour, whenever that might come.

* Winging It by Tommy Tiernan is published by Penguin Sandycove