Ireland's Fittest Family is set to return on Sunday, January 3, 2021 with host Mairead Ronan and coaches Davy Fitzgerald, Anna Geary, Derval O'Rourke, and Donncha O'Callaghan.
Each year, the competition begins with a group of 15-20 families, all of whom will be put through extreme endurance challenges in new locations around the country, from steep sand dunes to airports to Irish bogs and a180-metre ski slope.
This year's series of Ireland's Fittest Family was filmed over the course of three weeks in August at the new hub at Hell & Back in Kilruddery, Co Wicklow. Set across acres of land at the foothills of the Wicklow mountains, this is the perfect location to put our families through their paces.
The Allens from Tipperary
James (17) is going into Leaving Cert, he is an avid rugby and handball player. He got to the All-Ireland hurdle final at the Community Games when U10.
Tom (15) is going into Junior Cert. He is an all-round team sports player. He loves rugby, hurling, football. He got to Munster School's Games in shot put.
Ruth (19) is a UCD Radiography student. She is also a 100m and 200m county Champion; placed at Munster level and competed at All-Ireland level in sprinting. She is also a keen soccer and camogie player
Ticey (50) is a full-time farmer, who took up running in his 40s and has completed marathons and elite adventure races.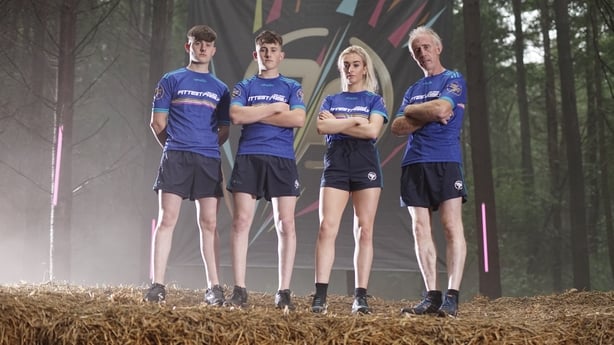 The Brackens from Westmeath
Ruaidhrí (18) was in sixth year this year and was, therefore, one of the students who didn't get to complete their Leaving Cert. His main sport is Gaelic football but he also played soccer up until recently.
Ailbhe (16) is going into sixth year in school this year. Her hobbies include Gaelic football and she is also a member of the Arts Centre in Mullingar in which she sings, dances and does drama.
Eoghan (20) is the eldest of the children. He is studying Science Teaching in Limerick and is about to go into his third year. His hobbies include Gaelic football and running. He was captain of the Westmeath U20 Gaelic football team and Kinnegad Seniors this year.
Andrew (52) is a farmer. He has a passion for running and is a member of two running clubs. He took up running six years ago. He now runs marathons regularly and hoped to run a couple over the Summer but due to Covid-19 they've been put on hold so he wants to take on Fittest Family as a replacement challenge.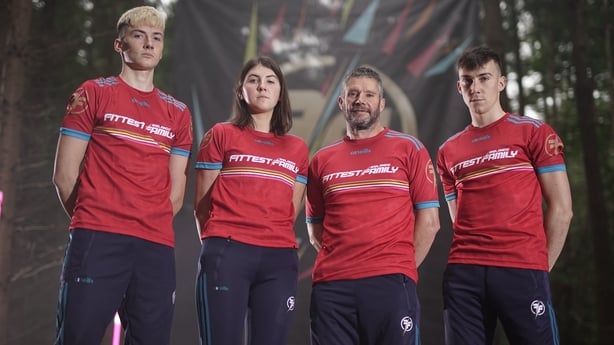 The Codys from Kilkenny
Pat (55) is an assistant racehorse trainer. He loves hurling and watching any sport. He runs his own stables and has passed on his passion for horses to his children.
Paddy (14) is going into third year. He lives for horseracing and aspires to be a champion jockey someday. He breaks in ponies for people and loves the challenge of riding "mad ones".
Emily (19) has just finished school and is hoping to do Veterinary in college. She plays Gaelic football, running, show jumping and rides out racehorses as well. Her family describe her as "dangerously competitive."
Debbie (42) works breaking in horses. She is a former amateur jockey who rode winners beating Ruby Walsh on occasion. These days, she enjoys running, Gaelic football and competing horses.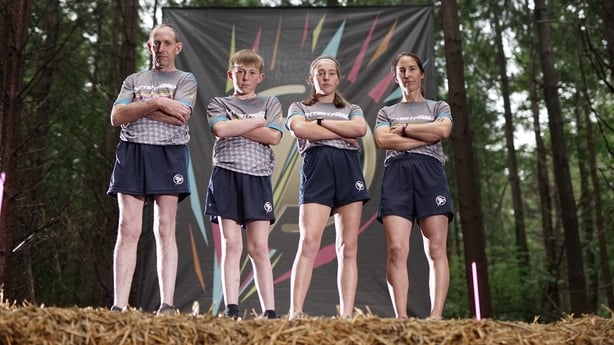 The Cullens from Wexford
Paddy (21) is an apprentice electrician. He has done Hell & Back three times and was entered to do the All-Ireland OCR race this year until it was put off. He's been hurling, boxing and riding horses for as long as he can remember. He has boxed abroad in Wales, Lithuania and Latvia where he came home with gold.
Katie (15) is going into Transition Year. She is an active person. She likes all sorts of sports including gymnastics, horse riding, hurling and football. She normally spends her spare time riding the horses or doing flips in the garden.
James (18) is in sixth year. He has played sports alongside his brother and is on the same hurling team. He has won several medals with his local hurling and football club and was the captain of his boxing team that went to Latvia. He has won multiple horse riding competitions and has participated in the RDS Dublin Horse Show three times.
Thomas (46) grew up riding horses and made a living out of it for years until a few years ago when he re-skilled and is now a metal worker. He played hurling for Oulart The Ballagh and won a senior title with them. When he was younger another passion was boxing and he is still a trainer in the local boxing club where he trains his sons.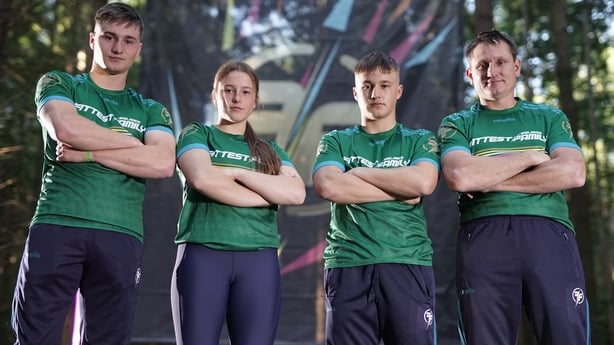 The Donnellys from Longford
Adam (16) has just completed third year. He is a very active young man and enjoys all sports. His favourite is Gaelic football. He's on club, county and his school team. He also loves to cycle.
David (48) is a father of four, he is a sergeant in the Garda and would consider himself as a fit person. He runs 3/4 times a week and use the gym. He used to play GAA and has managed underage teams to great success. He admits he has a big problem staying away from the fridge!
Sharon (46) is a mother of four and works as a school secretary. She loves to keep herself active and loves the gym. She attends her local gym, 'The Fitness Factory', where she spins twice a week and does circuits and TRX on the other days. She is also a keen runner and loves to swim.
Jake (19) is the eldest sibling in the Donnelly household. He has just finished his first year in DIT studying Science and is working in Dunnes part-time. He plays Gaelic football. He's played football for his club at a senior and minor level, as well county U20 and on his college freshers team.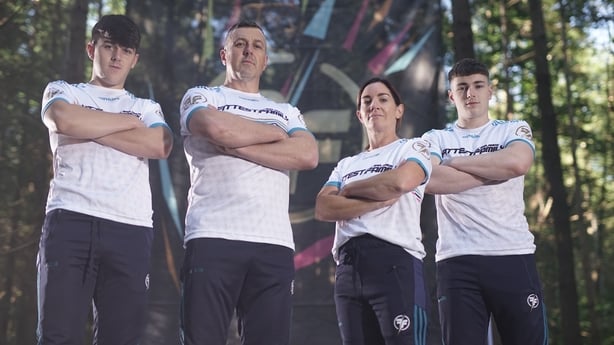 The Doyles from Derry
Niall (19) is a full-time joiner. He loves to play Gaelic football and hurling. He played for Derry U20 football last season. He also loves to play golf and go to his local driving range
Michael (52) is a farmer/joiner. He keeps a herd of cattle and flock of sheep on the family farm in the Sperrin Mountains. He says, "when the weins aren't running away to football and hurling in the evenings they are out helping on the farm."
Aoife (16) is going into her final year of school in September. She participates in both Gaelic ladies football and camogie. This year she captained her school camogie team to an All Ireland final title. She also plays camogie at county level as well as playing for Ulster.
Ciaran (20) works parttime in a chemist. He is currently studying to be a pharmacist. He competitively plays Gaelic and hurling for his club but would try his hand at any sport.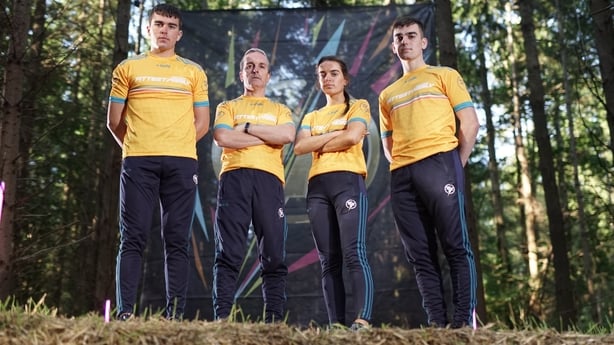 The Doyles from Longford
Ben (21) is into triathlons. He is studying Sports Science & Exercise Physiology in AIT. Cycling is his favourite sport. He works part-time in a local petrol station and off licence. Other than sport his biggest hobby is online shopping.
Madeline (50) is an avid runner and part time run coach. She loves food/cooking, so she exercises a lot for balance. Describes herself as an outdoors person. She works in a volunteer centre.
Emily (20) has finished a two year course in beauty therapy. She works with Ben also. She likes running, but her biggest passion is swimming.
Molly (17) is going into her final year in secondary school. She loves the gym and running. Molly is the biggest motivator in the house. When she wants something she won't give up. She works part-time in a hairdressers.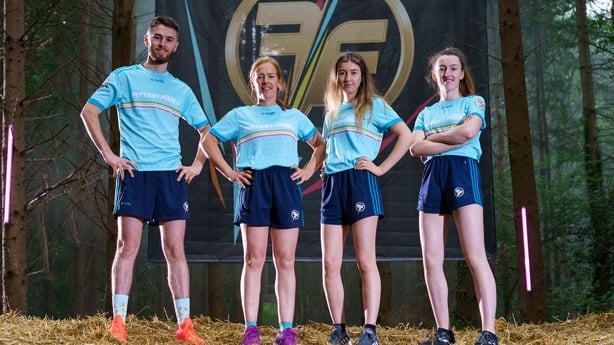 The McDonaghs from Mayo
Paraic (19) is going into his third year of college. He is studying Computers in Sligo. He has an All-Ireland boxing title and he represented his country at the age of fourteen. He also plays football in his spare time.
Pat (52) is head coach for Geesala Boxing Club in North Mayo. He has trained all of his children in boxing and martial arts. He built a gym in their garage which the whole family use. He is a farmer and constantly has the kids out helping him on the farm.
Leah (16) is a fifth year student in an all Irish school. She plays football for her local team but boxing is her main sport. She too has an All Ireland title in boxing.
Matthew (20) works as an assistant project manager on a building site in Galway. He boxes in his spare time and jokes that he's the only one of his siblings that doesn't have an All-Ireland title.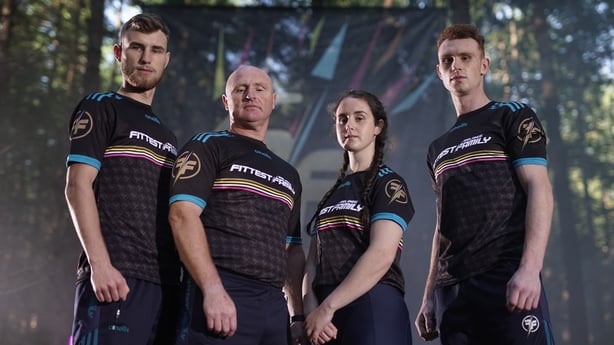 The Mileys from Kildare
Liam (59) is a self-employed lorry and crane driver. He is an ex-Kildare footballer from 1988-1993, played for St. Laurence's club until the age of 53 and won his first championship at the age of 51. Admits that he is not the best swimmer.
Jean (25) is a trainee accountant. She is described as being as strong runner. She used to play football and won a club Leinster medal as a part of her local team.
Niamh (19) is a student in LIT studying Early Childhood. She admits she is the least athletic of the family but is stronger than her older sister. The family describe her as a "the comedian of the family".
Darragh (22) is an electrician. He is six foot and is described as "the powerhouse of the family and a man of few words." He plays GAA football for his local club.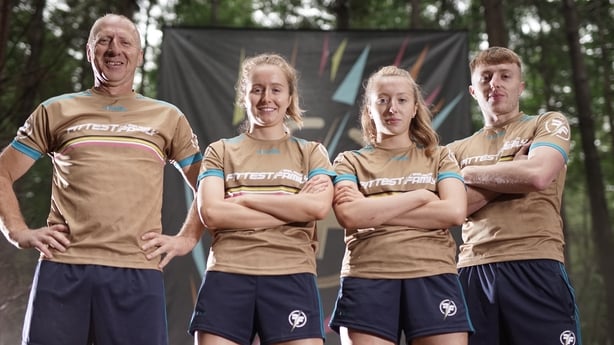 The O'Hallorans from Clare
James (54) works as a plumber. He played county hurling and soccer back in the day and still plays 5- a-side soccer. He once played against Davy in a county hurling final and lost.
Leanne (18) works in childcare. Horse riding is her passion. She won the title of Munster's Young Leading Rider. She played camogie and football growing up but horse riding has taken over.
Clodagh (24) works as a teacher. She currently plays rugby with UL Bohs and Munster Womens. She goes to the gym a lot and likes to keep fit and strong. Before she started her career in rugby, she played camogie for her county and soccer. Self-proclamined, "superstar of the family."
Jamie (23) works as a plumber alongside his father. He played a lot of soccer growing up in Clare district and hurling but now keeps fit by working out in the gym. He also has started training in Muay Thai.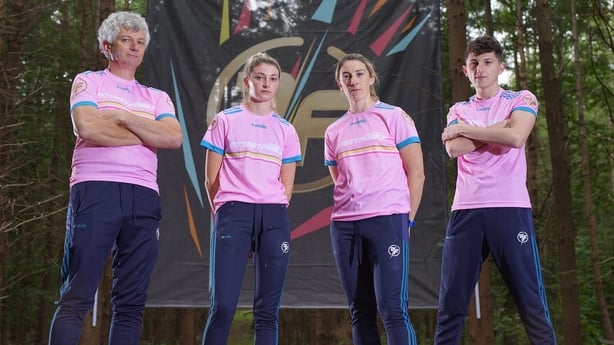 The O'Neills from Meath
Adam (19) is studying Law and Business in college. He currently plays Gaelic football for his local club and used to play basketball. He describes himself as very competitive.
Carol (54) works parttime in St. James' hospital and spends the rest of her time looking after her family. She admits she isn't as fit as her family but she still keeps active by walking and running.
Daniel (23) graduated from DCU last year having achieved a degree in Business Studies. He is currently on a student graduate programme with Smurfit Kappa. He was a member of Meath senior football team for three years. He now just plays club and trains in their gym in their garage.
Cian (22) has just finished in DCU. He had planned to go travelling to Canada this Summer but his dreams were scuppered when Covid-19 hit. He has played football for Meath minors and Meath U20s, he was also big into basketball in school. He keeps fit by going to the gym.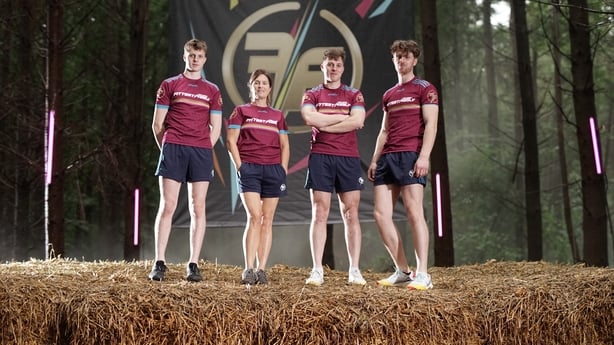 The O'Rourkes from Galway
Having travelled through Australia and South America for two years, Dara (28) returned home and currently works as a postman. He is a senior club footballer. He's also a strength and conditioning coach for the Ladies club team.
Aoife (17) is going into sixth year in secondary school. She has played county and provincial football with Galway and Connacht.
Fiona (22) is heading into her final year at NUIG studying Primary Teaching. She plays club football and is also the club photographer and PRO.
Tomás (55) is a fireman with Galway Fire Brigade which he says requires him to maintain a good level of fitness. He would have played a lot of GAA for his local club growing up. Nowadays he is a coach for his local club's Junior Bs.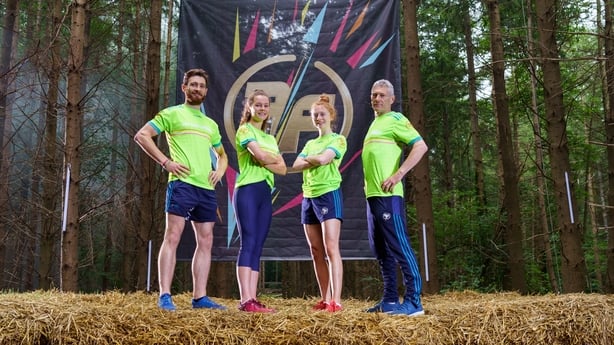 The Thompsons from Wicklow
Dylan (17) either plays or trains in hockey six days a week for his school and club. When he's not playing, he's umpiring and coaching hockey at the club. He loves music and to make TikTok videos for his 15,000+ followers. Family describe him as an all-round funny guy with a big heart.
Originally from California and living in Ireland for over 24 years, Wendy (51), first met Ross in San Francisco in the early 90's while he was there surfing. They have been happily married for 23 years. Runs her own HR and Recruitment firm, enjoys working out with a regular fitness regimen.
Grace (15) is going into third year in school, she plays hockey and has started trail running with her Dad during lockdown and also working out with her Mam in the back garden. Is a member of a local drama society and loves to perform.
Ross (49) is a keen outdoorsman - kayaking, surfing or trail running. After doing a few marathons, he started Ultra Running. completed the Wicklow Way Ultra, 132km in under 21 hours. Training to run 240km in 3 days for charity. His nickname is "Sarge" because of his bossiness.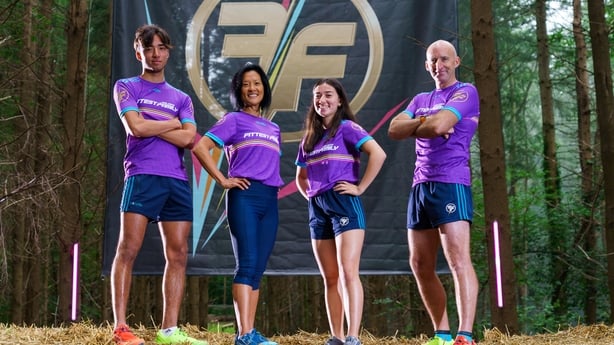 The Kulczynskis from Clare
Elite junior triathlete, Sabian (18) has multiple national titles in triathlons, aquathons and duathlons. Represents Ireland across Europe. He's a swimmer, mountain biker, road biker and used to run cross country. Built his own gym in quarantine out of pallets and got a swimming pool in the back garden to keep up his training.
Luca (15) is an Enduromountain biker, adrenaline junky, skateboarder and has started running a lot during quarantine. Described as a "science lunatic" by his family. His motto is "if it don't burn it goes bang!" Has a pet ant farm.
Nicola (47) is a yoga and Pilates enthusiast. Takes part in fitness programmes and also likes to run, hike, swim and cycle.
Originally from England, Leroy (49) started training for obstacle races last September despite never running in his life. Now runs minimum 40km a week. He has worked as a cycling instructor.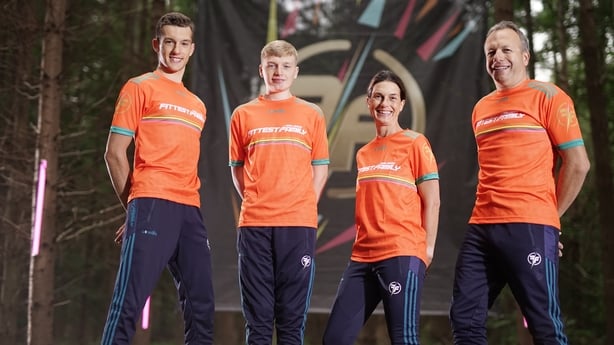 The Kellys from Antrim
Barry (48) is a Maths teacher with his wife Una. Until Maeve left they all attended the same school at one point. At underage level, he had successes at Ulster and All Ireland. He played rugby in the All Ireland league while also playing Gaelic football. He is still called on to come out of retirement to play an odd game or two. Himself and his wife both coach camogie and hurling for their local teams.
Maeve (19) has just completed her first year PE course at St Mary's College in Belfast. She is a keen sportswoman and represents Antrim at Senior Level in camogie. She has numerous Ulster and AllIreland successes at underage both with her county and club. She is most proud of her Ulster Colleges All Star awards. She has part time job as a lifeguard in a local swimming pool.
Fionnuala (17) has just finished her GCSEs. She is a talented sportswoman and represents Antrim throughout underage in camogie. She has numerous Ulster and All-Ireland successes both with her county and school. She is a very determined girl and has shown this with her rehab from a severe cruciate knee injury and is looking forward to the end of 'lockdown' for her comeback.
Darragh (15) is moving into KS4 in school, choosing to study Technology, PE and Business Studies for his options. He is a fantastic athlete, playing soccer while hurling for club, school and county. He is always on the go with his friends and is described by his family as "always up for a challenge" and "competitive and fearless."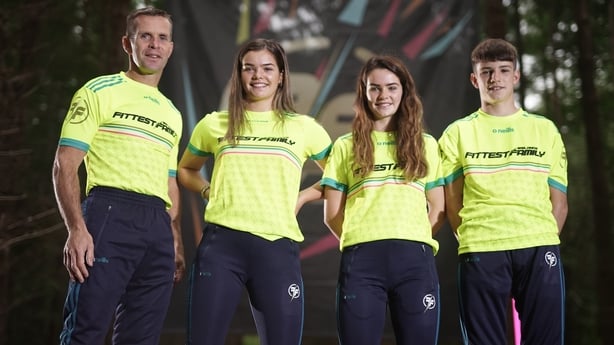 The Mahonys from Wexford
Conor (19) is on the U21 Wexford hurling and football team. He is just finished secondary school. He describes the family as extremely competitive with each other. He wants to win the show to put the money towards going to America.
Joanne (53) has been a gymnastics coach for thirty-two years. She runs her own gymnastics club and has coached gymnasts to compete at a European Gymnastic Championship level.
Alan (17) is on the Wexford minor football team. He is going into 5th year in school. Having watched the show for years, it was Alan's idea to submit the family for this year's series. He would spend the prize money on a car for himself.
Kevin (23) would have played football and hurling growing up but his main focus at the moment is the gym. He set up a home gym during quarantine and trains pretty much every day. The family agree that Kevin is the leader of the team as he's a good organiser and motivator.