What is it, Ryan Tubridy wants to know, that daughters do to dads, that's like a magic spell they cast? He puts the question to Elle Gordon, staff editor of VIP magazine.
Elle's dad Trevor died earlier this year and she spoke to Ryan about dealing with grief in general and dealing with grief during a pandemic. Ryan's question arises from Elle's memory of an ill-fated teenage trip to Oxegen, when she ended up in the festival's hospital tent and had to decide which parent to call. 
"The thought of calling Mum – I couldn't do it. So I rang Dad and I was just like, 'Dad!', you know? And the next thing he arrives down to Oxegen and he just came into the tent and I just remember seeing him and the tears just burst out of me and he was just so like, 'What are you doing? What are you doing in bed?'" 
Trevor didn't give out to Elle, he just brought her home. He minded her, as Ryan says. Elle has a lot of good things to say about her father and it's lovely to listen to her talking so fondly and lucidly about someone who died so recently. In May 2019, Trevor was diagnosed with pancreatic cancer. 
"And it just came out of nowhere. Like, he was just – you know, up until this point, he'd never so much as had a cold, you know? He was such a healthy man, such a healthy lifestyle. You know, he never drank, he never smoked in his whole life."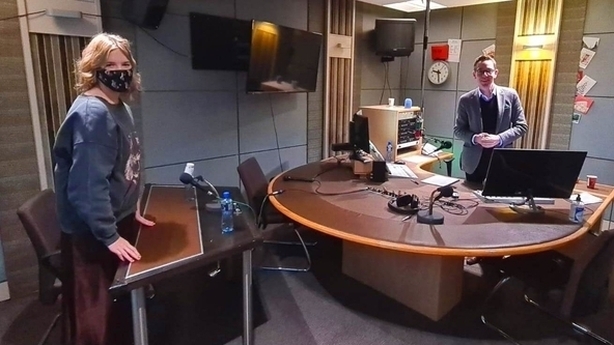 Probably the fact that Elle's father didn't have the risk factors that can sometimes be associated with some types of cancer, the diagnosis was almost as bewildering as it was devastating to the family.
"It is literally like people say. It's like a bomb going off in your life. It's like an explosion because it's just – the shock, you know? Even now, I can remember my sister went to that appointment with Dad to get the first kind of, I suppose it was the first kind of inkling that, 'Ok, there's something here.'" 
Trevor had been so healthy and his family rallied around him when the diagnosis was delivered and Elle told Ryan that she genuinely believed and expected that her dad would pull through.
They encouraged him through the harrowing chemo and radiation treatments, anticipating that he would start to show signs of improvement: "But unfortunately, as the oncologist put it, nothing just went his way, treatment just wasn't effective." 
In February this year, the family were told by Trevor's doctors that his treatment options had been exhausted and there was nothing more they could do.
They didn't give Trevor an estimate of his remaining time, and Elle's dad passed away just two months later. But during those two months, Elle, her dad and her mum were together nearly every day because Elle had had her hip replaced and was recovering in her parents' house.
"It was a really special time and we used to just have lunch together every day and we'd kind of laugh about it because it was so unusual for all three of us to be home together, but it was really special." 
You can hear Ryan and Elle's full conversation by going here.