2020 was the year of unprecedented events and many of us took to Twitter to share stories, ask questions and document our time in lockdown. As the year draws to a close, the social media platform is reflecting on how we spent our #YearOnTwitter.
Top hashtag of 2020?
It's no surprise that #Covid19 and #Coronavirus were the top used hashtags of the year. 2020 was the year when we came together to get through the trials and tribulations of the pandemic.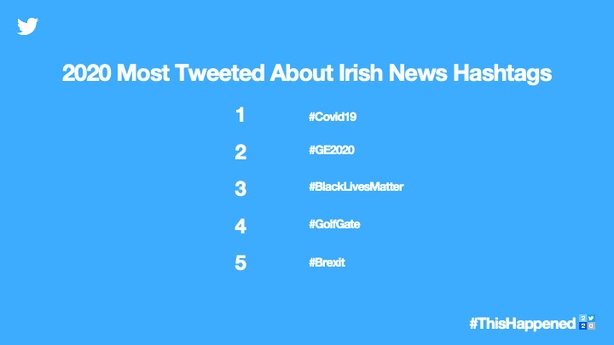 Ireland's favourite tweet
In a year when TV was one of the best forms of getting through it all - Tiger King and Love is Blind were as popular as banana bread and sea swims - Ireland sat down to watch Normal People.
Before long, Liveline was buzzing as Paul Mescal (and his GAA shorts) shot to fame, and the country thirsted over #ConnellsChain.
In fact, the show was so popular that some UK media outlets wanted to claim Mescal as their own when he was nominated for an Emmy. However, the actor's succinct "I'm Irish" post put everything right and it became the most liked Tweet on Irish Twitter in 2020.
I'm Irish.

— Paul Mescal (@mescal_paul) July 29, 2020
Volunteers
It seems that acts of kindness were a top trend this year. TV producer Helen O'Rahilly used Twitter to coordinate volunteers in her vicinity, but the hashtag #SelfIsolationHelp caught on nationwide with thousands of people across the country signing up to help.
Not to mention keeping us all laughing as she shared the hilarious, poignant and emotional experience of caring for her elderly aunt in #StairliftAscends. 
The Aunt is in good form: this is what awaited me when I walked in with her Saturday shopping…. #stairliftascends pic.twitter.com/2kBB8pnd1U

— Helen O'Rahilly 🇮🇪🏳️‍🌈🇪🇺 (@HelenORahilly) December 5, 2020
Movie night
Irish comedian Alison Spittle entertained the nation by creating her #CovideoParty community. After seeing gigs cancelled she needed to keep busy and what better way than to watch movies with thousands of virtual friends.
Some of the movies people came together to watch were Clueless, Matilda and Jumanji. Alison even encouraged people to dress up as characters from the films, Tweeting pics of her costumes.
Haven't seen this one so I'm very excited, I hear it's good. Join us tonight for covideo party. Dress up theme is school. X pic.twitter.com/Y3SajlLhnR

— Alison Spittle (@AlisonSpittle) April 8, 2020
Trending topics
In addition to #Covid19 and #Coronavirus, Irish Twitter was actively following and talking about #GE2020. It was also the year when the world and Ireland discussed #BlackLivesMatter and #GeorgeFloyd.
Other topics Ireland's eyes followed this year were #GolfGate and the continued ups and downs of #Brexit.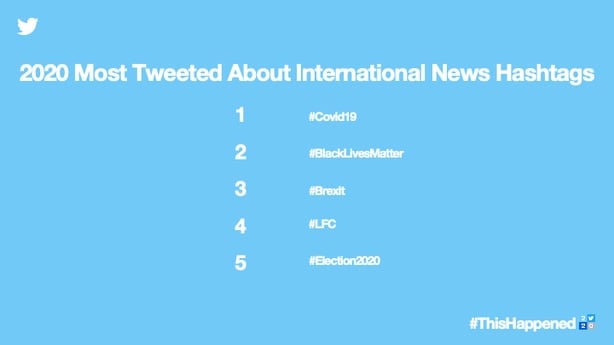 When it came to international news stories Irish people were talking about #LFC becoming Premier League champions and, of course, #Trump and all things #Election2020.