It's not easy going against the herd. But for Tom and Norma Dinneen, who live on a farm in east Cork, their decision to be different has secured a prosperous future for their farm, and given them a work / home balance that makes their daily lives more content than they could have ever imagined.
Their story starts in 2009, when Tom inherited the 100 acre family dairy farm. At that time, dairy farmers were limited in the amount of milk they could produce - 'milk quotas', they were called - and so he made his living from keeping 70 cows.
Norma had a top job in a multinational company and she spent her days on the road to Limerick or Dublin, or in the air to countries like China or America.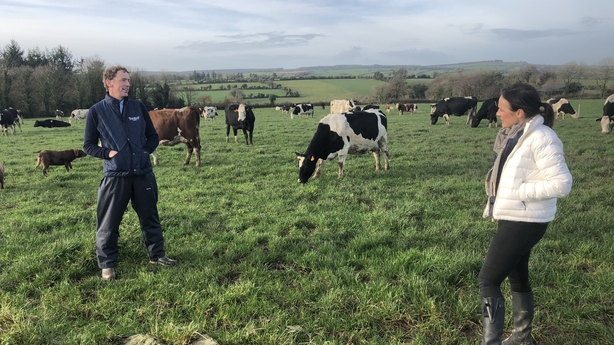 By 2010, a decision was taken by the EU to scrap milk quotas by 2015. Farmers were told that the shackles were off and the future was about expansion and quantity. Tom responded like nearly all dairy farmers did at the time - he increased the size of his herd of cows. He sold his milk to a processor who exported it around the world as dairy ingredients. 
Tom soon realised, though, that the new quota was land. If he wanted to increase his cow numbers, he needed more fields, but they weren't available.
 "Land around here - not much of it comes up," he says. "There's a lot of young farmers in this parish who are looking to expand." The price of land rocketed upwards, and when some fields near his home came up for rent, the asking price was too high.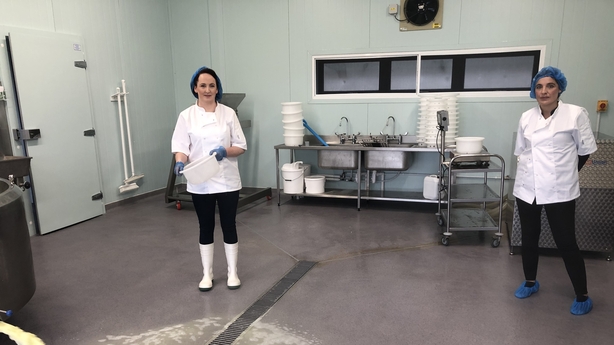 Looking back, it may have been a blessing in disguise. By that stage, the Dinneen's had started to have children and managing the farm, along with Norma's demanding job. forced them to ask fundamental questions about what they wanted from their lives.  
Norma remembers the pressures with a shudder. "I had returned to work after our second daughter, Aine, was born. I realised that I had a customer I should really visit in Shanghai. And I was thinking 'oh my God, the logistics of this!' How could I possibly make that happen?  And so it kind of really focused the mind," she says. "So it was at that point I decided I want to take the plunge."
Tom recalls the many chats they had about what could be done. "The conversation was - 'what am I doing this for?" The Dinneen's soon realised the answer: they wanted to create something they could call their own.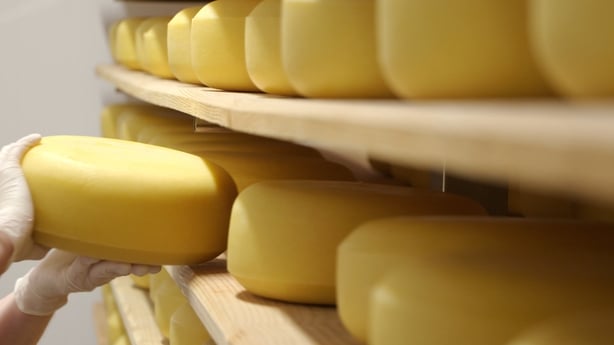 By 2017, they settled on the idea of making cheese from their milk. Norma completed a food diploma in UCC which gave her the skills - and confidence - to become a food producer, and she decided to resign from her job. An EU grant helped them to fund a small-scale cheese dairy that was built beside their family home.
Their first day of making cheese was in 2018 and Tom remembers it well. "The two of us milked the cows early and got the milk into the vat. We were both looking at it thinking 'can you remember what we're supposed to do next!?". Their first block of cheese was made. 
The name of their cheese, Bo Rua ('red cow'), takes inspiration from their Montbeliard cows - a red and white breed from eastern France that have been used for generations to make cheeses such as Comté, Reblochon, Morbier, and Mont d'Or.  Their rich milk, says Tom, is ideal for making cheddar.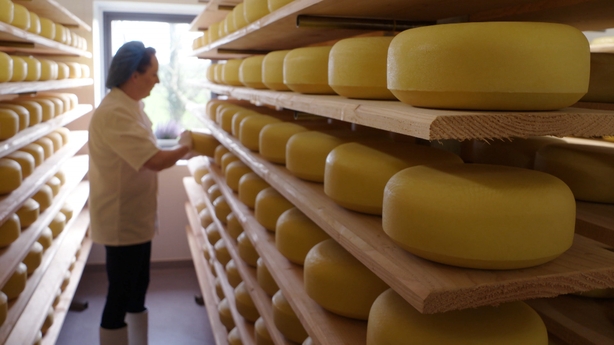 Alongside the cheese business and dairy farm, the Dinneen's are also part of the well-known 'Bride Project' which was set up by their neighbouring farmer in the Bride valley, Donal Sheehan. It is a biodiversity initiative that helps farmers to work with ecologists to make space for nature.  
"We have put in 4,000 trees on the farm in the last 5 years," says Tom. "We appreciate nature. Before we were too busy growing grass and milking cows,". 
For Norma, daily life has improved exponentially. Instead of a three hour daily commute, she walks three minutes from her home to the dairy.  "We are ambitious and driven and we wanted to do more here on the farm," she says. "We wanted to do it together."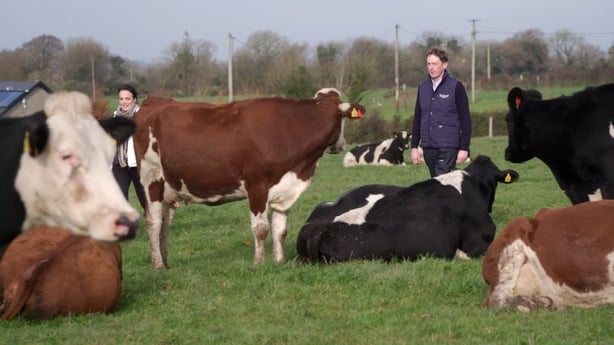 The Dinneen's story is about a couple who took back control of their farm.  In doing so, they've now created two businesses to pass on to their children -  the farm and the cheese operation -  but most immediately, they've found a way to balance work and home life.
"I've a clear focus on what I'm doing," says Tom. "I can manage the herd of cows I have, I can put the free time I have into the cheese business and I can focus on that.  It's making me a lot happier."
Their Bo Rua cheddar has won awards at cheese competitions in Ireland and the UK, and they are also selling their fresh milk in traditional glass bottles to local neighbours.  
"It's very rewarding. For a dairy farmer to see your milk transformed into this beautiful cheese or even just to see it going off in a bottle of milk -  there's great pride in us," says Tom.
Watch Ear to the Ground on Thursdays at 8.30pm on RTÉ One #ettg.