Across three consecutive nights, Future Island curated Ireland's most exciting and inspirational stories and voices into a family-friendly celebration of our nation's experts and innovators. Catch up on RTÉ Player now.
Presented by Liz Bonnin, a science, natural history and environmental broadcaster, this show dug into questions that will decide Ireland's health, wealth and happiness. How will science help us to keep well in the future? How will science drive Ireland's future prosperity? How can science allow us to rediscover the joy in our life?
Broadcast live from Explorium, Liz was aided by both her former mentor in Trinity College, Professor Luke O'Neill, as well as Phil Smyth of Weather Live and Home School Hub. Guests included Ireland's leading scientists such as Cara Augustenborg, Ian Robertson, Suzanne Little, and Arlene Gallagher not to mention the celeb appearances by Brian O'Driscoll and Dara Ó Briain.
Here, we have shared our top three highlights from this year's show.
1. Medical Technology
One of Ireland's greatest sports stars, Brian O'Driscoll, joined Liz to talk about future-proofing our health and wellbeing. Throughout his career in rugby, O'Driscoll saw medical technology evolve as he attempted to keep his body in fighting fit condition.
"When we started out, there was hardly any tech. Then the GPS units came in and the amount of data they provide for pre-season, games, earmarking load, identifying potential injury threats," he explained.
"The AlterG [Anti-Gravity Treadmill] is a really interesting piece of equipment from NASA. It's a re-introduction to training when you have soft tissue injuries, like calf muscle or hamstring issues, where it can take a certain percentage of your body weight so it minimises the amount of load with every stride. The more progress you make, the less bodyweight it takes and you incorporate yourself back into running."
When retirement came knocking in 2014, O'Driscoll was conscious of keeping up his conditioning and still trains five or six times a week. His interest in health and wellness remains peaked and has recently involved himself in some startups involved with mental and physical health.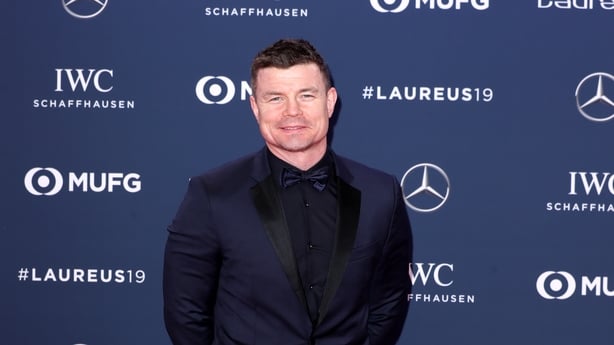 2. Autonomous driving
Petrolhead and comedian PJ Gallagher took a Tesla for a spin as Future Island explored the technological advances that are changing our world.
Sitting behind the wheel of an autonomous car, Gallagher seemed both nervous and amazed by the machine's ability to take control of the journey. And although he took hold of the wheel when the car attempted to take on a roundabout, he admitted that it was his nerves that failed, not the car: "It was me that panicked. The car was totally fine. lost faith! "
"It's unbelievably intelligent," Gallagher admitted after his test drive. "I kind of feel like I should be dressing up to sit in it. I feel like I've disappointed it," he joked, "the only downside is that it let me participate at all. It pretty much has the technology and 'brain' - for want of a better word ' to do it itself."
Before we write off manual driving all together though, Technology Entrepreneur Bobby Healy says that anything to do with autonomous technology must be treated carefully and cautiously. However, he believes it will take off quite quickly.
"It is going to be pervasive in the next five to ten years - autonomous drones, autonomous cars - there's a lot of things coming on at the same time. People will have heard about the hyperloop recently as well, Elon Musk's brainchild. You'll be able to get anywhere in Ireland in less than ten minutes, and that's going to enable a complete change of the organisation of society."
We need your consent to load this Instagram contentWe use Instagram to manage extra content that can set cookies on your device and collect data about your activity. Please review their details and accept them to load the content.Manage Preferences
3. William C. Campbell
Did you know that the work of an Irish scientist changed the lives of millions of people afflicted with river blindness? On the final episode of Future Island, the team paid tribute to Irish-born scientist William C. Campbell, who won a Nobel Peace Prize for his involvement in the research to develop and discover a drug called Ivermectin.
A native of Ramelton, Co. Donegal, the Nobel Laureate studied at Dublin's Trinity College before moving to the United States. In the 1970s, Campbell was involved with research surrounding the drug Ivermectin, which has been used as a treatment for river blindness.
River blindness is a disease that causes skin problems and sight loss but thanks to the use of Ivermectin - and the scientists who researched it - it is now considered eliminated from many parts of the world.
Joining the show via Zoom, the 90-year-old spoke about his work and, particularly, his interest in parasites: "They're such wonderful creatures, in many ways. For one thing, they have a tremendous variety in their appearance. To me, they're much like flowers. Secondly, they're so important in human medicine, in veterinary medicine and, beyond that, they are important in nature."
We need your consent to load this Instagram contentWe use Instagram to manage extra content that can set cookies on your device and collect data about your activity. Please review their details and accept them to load the content.Manage Preferences