"The black and mixed-raced community in Ireland haven't really spoken to each other about their experiences," says Femi Bankole. "I haven't even shared my experiences with my sister."
"As much as we are black, we are also Irish," he adds, laughing.
"We have that inherent trait where we don't talk about our feelings and we don't talk about our issues, and it's the 'ah yeah, sure we'll be grand', head down and power through kind of mentality."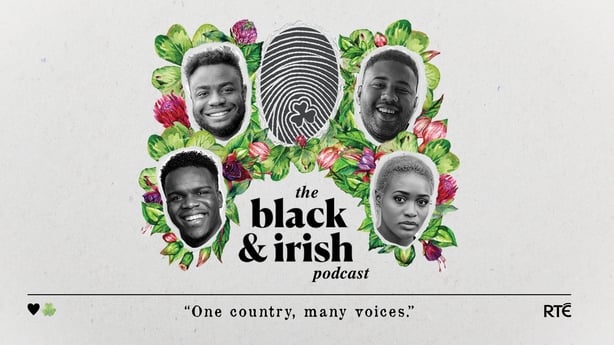 With a Bachelor's Degree in Physics from DIT and a career as a Senior Consultant in Risk Services behind him, the 26-year-old has recently added another string to his bow by co-founding Black and Irish, a platform dedicated to sharing the stories of black and mixed-race people living in Ireland.
It was the death of George Floyd and subsequent Black Lives Matter protests that spurred Femi and his friends - Boni Odoemene and Leon Diop - to create the page as conversations surrounding activism across the globe quickly led to discussions about their own experiences of racism at home in Ireland.
Before long, shared stories of micro-aggressions, verbal abuse, and feelings of isolation poured out between them. Before long, on Leon's suggestion, the three created the Black & Irish Instagram account.
So far, the page has garnered an impressive 45k following and has ultimately led to the creation of The Black and Irish Podcast on RTÉ, with the welcome addition of Amanda Ade.
We need your consent to load this rte-player contentWe use rte-player to manage extra content that can set cookies on your device and collect data about your activity. Please review their details and accept them to load the content.Manage Preferences
The Black and Irish brand is all about sharing stories, experiences, and messages of hope. With this in mind, to mark the second episode of the podcast being released, we spoke to Femi about his own story.
"I am the child of two Nigerian immigrants who are Yoruba from Lagos," he explains, "they moved here about twenty years ago when I was about six years old. I grew up in Dundalk and would have spent all of my life there."
As a child, Femi says that Dundalk had quite a large African community, which he believes made growing up in Ireland a little easier as he felt he fit in there better than he did in school.
"You stand out because of your accent, your food, your values. You stand out for a million and one different things," he says. "Everyone gets teased at some point but being picked on for things that you have no control over and something that stands out, like the colour of your skin... it puts people of colour at a disadvantage growing up."
As well as navigating his way through school, Femi was tasked with a balancing act at an early age. On the one hand, he had his African heritage and his parent's values to uphold. On the other, he had an Irish life and culture to adapt to.
"It was always quite interesting to see the fusion of the Yoruba culture versus the Irish culture," he muses. "The two cultures, as great as they are, can be quite conflicting in some ways which led to some inner issues as I was growing up - trying to navigate the two.
"In one way, you're feeling a lot of pressure because you're aware that your parents had sacrificed for you and you're a black man in a foreign country so you need to be the very best you can be and focus on your studies, and always be your best. You have to represent your culture wherever you are.
"Whereas Irish culture has more of a laissez-faire approach... which I love," he adds laughing, "it's a brilliant way to be."
We need your consent to load this Instagram contentWe use Instagram to manage extra content that can set cookies on your device and collect data about your activity. Please review their details and accept them to load the content.Manage Preferences
Speaking about the reaction he has received following the release of the podcast and his intention for the Black and Irish brand, Femi says that by building a community of inclusion and diversity in Ireland, he hopes to see a zero-tolerance approach to racism.
"For me, this is about being a lightning rod to bring the black community together whether you're an African immigrant, African Caribbean, or whether your lineage has been brought up in Ireland."
"Once we come together as a community, we realise what our issues are and we can come together as a group to find solutions and act on those solutions. That in itself will breed quicker results."
"The racists in this country are very much in the minority but the point that I always make is that, yes, they're in the minority but that's still not good enough. These minorities still have an effect on people of colour."
"Our aim should be to attain a zero-tolerance approach to xenophobia and racism in this country. We need to get to a stage where we can gauge those perspectives, challenge them, get to the root of them, and hopefully change them for the better."
The Black and Irish Podcast
Join Amanda Ade as she speaks with Sophie Okpara about her experience of being a minority student, her feelings on completing the first Black Studies module at an Irish university, the importance of her faith, and how education is essential to bring about change. Listen to episode 2 at the top of the page.