You could say that what Claire and Thomas O'Connor decided to do, thirteen years ago, was slightly crazy.   They both had solid jobs - Claire worked as a computer programmer and Thomas was a publican.  But in 2007, they spotted a farm nestled in a majestic glen known as Gleann na nGealt - the 'valley of the mad' - just outside Tralee.
It's a verdant spot with a history: it's thought that those who were suffering from insanity would come to the valley to drink water from the local well and be cured.
Although they weren't farmers, the minute the O'Connors spotted the 25-acre holding, they knew it was for them. They sold their pub, left their jobs, bought the land, and turned to farming - and they've never looked back.
"I never thought I would be a farmer!" says Claire. "But yes, it's a great life, I really love it and I wouldn't change a thing."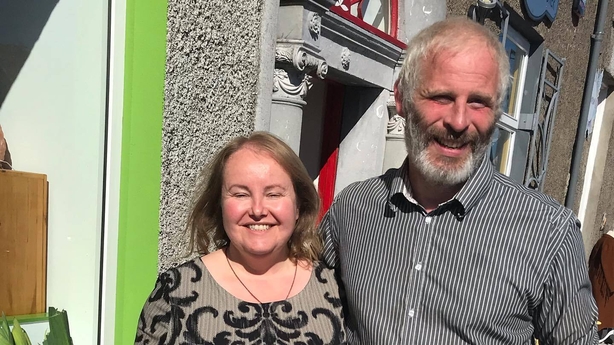 The farm had been used to keep beef animals, but when they took it over in 2007, the O'Connor's decided to transform the land into an organic enterprise with fields full of a range of vegetables and polytunnels for soft fruits. They also decided to plant fifteen acres of native Irish trees, and four acres of fruit trees. 
"We came to the farm as environmentalists and we wanted to create a good healthy and diverse landscape," says Thomas. "We knew once we did that, any animals we raised or crops we grew on it would be healthy.  So we put in plenty of diversity, plenty of hedgerows to create shelter and microclimates. It's amazing how you can transform a place in a short period of time."
Thomas was clear from the start that they would operate a mixed farm. "We bought a place that we could show we could use an appropriate type of farming with the landscape and a mixed farming system. Everything we learned was that mixed farming systems have always been the best farming systems throughout history." 
All of the produce is sold in their farm shop - Manna Organic Store - which is in Tralee.  "The two businesses work really well together, the farm feeding into the shop" says Claire, who manages the store.  "A small farm on its own can be really productive, you just have to pick something and work with it."
The range of vegetables that grow on the land, such as lettuce, cucumber, turnips and kale, are harvested by hand by Thomas, packed into a van and immediately brought into the farm shop to be sold.
"There's no middlemen, we take as much of the margin as possible," says Thomas. "We cover our bills and we keep going, but we have a great quality of life. We eat good food, we have good friends, we're in a space we want to be in - that's kind of what's important. "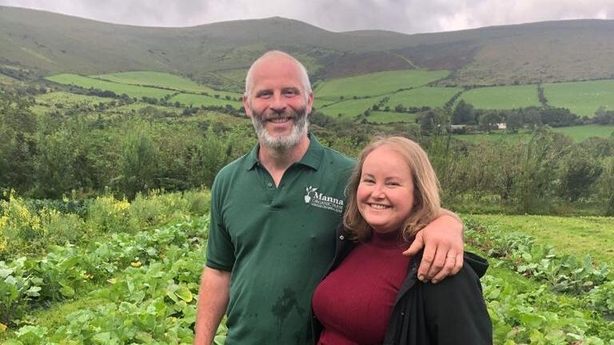 During the first Covid-19 lockdown in March, Thomas and Claire experienced a surge in demand for their produce.  "People really do want to have more of a connection with their food but they're so busy they didn't really have the time," says Thomas.
"When lockdown started, people went to their gardens. There was an initial sale of seeds but what you'll see is that the year after people to grow their own stuff.  they'll have more appreciation of the food the farmer is growing."
The O'Connor's farm isn't just about fruit and vegetables - they also farm ducks, geese and hens.  "Having animals on the farm in a mixed system has a lot of dynamics to it," says Thomas. "There's much better systems when systems are integrated and there's multiple levels from the grass, to the animals grazing to the trees over the top of it."
With their 25 acres, Claire and Thomas have created a productive, nature-rich and economically successful enterprise. "There are so many really good organic farmers who are doing similar stuff to what we do, " she says.
 "There is a huge demand for it, there really is.  There should be a shop like manna in every town in ireland." 
Watch Ear to the Ground on RTÉ One, Thursdays at 8.30pm and catch-up on the RTÉ Player.