Supermodels aren't the most relatable of people – after all, their job is to be stunningly beautiful and their faces are on billboards all over the world.
However, Adwoa Aboah is using social media to show she isn't some otherworldly human and like so many people, she suffers from acne. She bemoans her breakouts in a recent Instagram post, including unfiltered pictures of her skin.
We need your consent to load this Instagram contentWe use Instagram to manage extra content that can set cookies on your device and collect data about your activity. Please review their details and accept them to load the content.Manage Preferences
As anyone who has suffered from skin problems knows, blemishes can have a huge impact on your mental health. Particularly as we're constantly inundated with Photoshopped images of perfect, clear, glowing skin, it can be easy to believe spots are bad – even though they're a natural part of life.
That's why it's so important for famous people to open up about their experiences with acne – showing it's normal and shouldn't be shameful. Aboah, 28, isn't the only celebrity normalising breakouts…
1. Kendall Jenner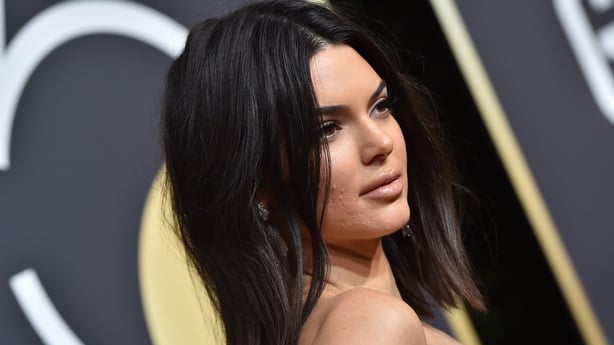 Kendall Jenner, 24, is another model who has opened up about her struggles with spots – even becoming the face of Proactiv, a skincare brand focusing on acne treatments.
In January 2018 Jenner walked the red carpet of the Golden Globes and her skin became the target of criticism online. Jenner wasn't going to let this get to her – when one Twitter user wrote: "Ok but @KendallJenner showing up and strutting her acne while looking like a gorgeous star is what every girl needs to understand", the model replied: "never let that s*** stop you!"
She spoke to Bustle about her skin's journey, saying: "I experienced [acne] in two different times in my life. One being high school, when all you're trying to do is be accepted and be part of something, and I wouldn't even look people in the eyes when I would speak to them.
"The next time it came around, I was supposed to be this model who has everything together. That's never the case, first of all — good skin or not. But the whole world is looking at you, and it's like a magnifying glass on everything that you do and what happens to you."
2. Lili Reinhart
Riverdale star Lili Reinhart, 24, struggles with cystic acne, and makes a point to draw the link between mental health and skin. She told Teen Vogue in 2017: "The first time I got acne, I was in seventh grade and it made me develop a form of body dysmorphic disorder. Actually, there is a specific kind of BDB associated with acne.
"Every time I have a big cystic pimple or something, it very much triggers that part of me where I don't want to look at myself in the mirror. It's hard to take pictures of myself, I don't want to go out in public, and I want to hide my face. But, as I've gotten older, it's a matter of realising that I can't let a pimple on my face decide what I do and where I go."
One of Reinhart's top tips for dealing with her acne is to avoid overloading the problem areas with too many products – something many of us are guilty of doing in a bid to get rid of the breakout as quickly as possible. Reinhart doesn't shy away from sharing the realities of cystic acne on social media, and is often seen on her Instagram stories wearing pimple patches.
3. Mindy Kaling
There's a strange misconception that acne is only something teenagers suffer from – but famous faces like Mindy Kaling are here to remind you adults get spots, too.
Back in 2015 she posted a candid picture on Instagram of her wearing acne cream. Now 41 years old, last year Kaling told The Fashion Spot: "I have really oily skin and actually still break out if I don't take care of it." She also told Who What Wear: "I break out less than I did when I was a teenager, but it's never gone away, and I don't think it ever will."
4. Zendaya
My hormonal breakouts popping up every month unwelcome, just when I think I got my skin on lock pic.twitter.com/LZt4XMbE9O

— Zendaya (@Zendaya) August 8, 2018
Zendaya, 24, is known for her luminescent skin – a glow she credits to a love of shimmer powder – but she's not immune from hormonal breakouts. She posts about it on social media, and having a really good skin week disrupted by hormones is something many of us can relate to.
5. Katy Perry
Sometimes it's not just the acne itself that can affect our skin, but the marks it leaves behind as well. This is something Katy Perry, now 36, has spoken about. She told Refinery29: "When I was 23, I had really bad skin — I think it was stress, and just all of the attention and stuff like that," and this left scars she still deals with today.
Perry told Elle Australia: "One of my insecurities is that I have acne scars. I'm self-conscious about that so sometimes I wear too much makeup to cover them up. When you suffer with blemishes, you don't feel very free."