When I speak with Siobhán Cullen, she's busy showing me her broken ankle and twisted knee, both bound up in a cast - a product of her new love for stand up paddleboarding. 
"If I wrote a book nobody'd believe it", she laughs.
And she's not far wrong. It's been a tough 18 months. 
Her mother, Eileen O'Neill, was the third person known to have died from Covid-19 in Ireland, the virus sweeping her away in less than a week.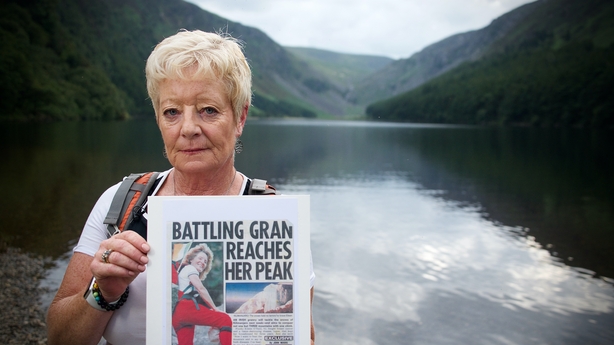 It's just one notable – albeit sadly so – detail of her fascinating life. Measuring just 4'11" at her full height, she ran three full marathons and climbed Mount Kilimanjaro with her husband. Fiercely independent, she lived on her own and happily so.
When you ask Siobhán about her though, the first thing that comes to mind was her style and her sass. 
Lived life to the full
"Mum was amazing", she tells me over the phone. "She was very feisty, she lived her life to the full. She was extraordinarily glamorous. She'd ran three full marathons so when she was out training she was in her training gear, but even that would have been the latest styles. 
"That's why it was so hard when she had her stroke. It was her whole right side that was affected, she couldn't put on her makeup, she couldn't get to the hairdressers. Her hair was her pride and joy."
Siobhán's is just one of seven stories of grief during the pandemic, shared in a moving new RTÉ documentary Love and Loss in a Pandemic. 
"My father was my everything"

Dr Sammar Fatima Ali pays tribute to her beloved late father, Dr Ali, in a powerful new documentary.

📺Love And Loss In A Pandemic | Tonight 9.35 PM | @RTEOne and @rteplayer#Loveandlosspic.twitter.com/g0eNVicNqK

— RTÉ (@rte) September 7, 2020
After suffering a stroke in April 2019, Eileen's passing became the topic of difficult but necessary conversations. She was resolute that she - when the time came - would go in her own way: "She wanted to be buried in the dress she wore to my wedding", Siobhán says. 
When you plan a funeral, there are the details that make the day – a surreal, seemingly inhumane moment of suffering for many – that little bit more bearable, a little more human. 
Relentless
But when Covid hit, it was relentless. After testing positive on the Sunday, she'd developed a wheeze by Monday, and by Tuesday she couldn't catch her breath. She died soon after, the sixth patient to test positive and the first to die from the virus in St. Vincent's Hospital in Dublin.
"I couldn't believe it. She'd only seen five people in the previous two weeks."
"For some reason, I took on board the seriousness of Covid as soon as I heard it. More so than SARS years ago. Instinctively. I physically see on the world map that it was getting closer and closer and closer and I had a sense about this." 
Eileen had asthma and COPD, Siobhán says. "I also knew that if she got it she was going to be in big trouble."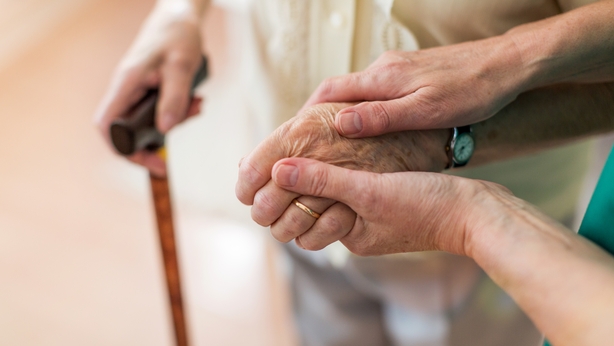 Siobhán was always her mother's "primary carer", with Eileen. taking the approach of "talk to my daughter" whenever matters of her health arose. "It was killing me that she was there on her own, because any time she got sick I was there to answer the questions or explain things to her. I was a buffer."
To see her mother, Siobhán and her brother had to wear layers of PPE, a surreal and disorientating experience. "When I went in, she didn't know who I was because all you could see was my eyes behind a shield", she recalls.
"I was so aware of how lucky I was to get in and terrified that I'd do anything wrong and be told to leave. I didn't want to frighten her."
It was a struggle to the end for Eileen, a hard death. "She just couldn't catch her breath. She was fighting so hard to catch her breath. She said to me at one stage, 'I've the thirst of death on me'. They had to take down her drip because, otherwise, she would have drowned. Her lungs couldn't have coped."
Difficult circumstances
But then again, she'd been through similar trauma before when her father went mountain walking in 2002 and never came home. Twenty four hours of a search later, they brought him home, after he'd suffered a heart attack and died. 
"I've always been the coper in the family", she says. "I know how to organise a funeral, under very difficult circumstances.
"I was keeping the house really clean, I would have had caterers in, I talked about what hotel we'd book for her meal, maybe we'd go to the Merrion." The death notice would read "The dress code for the day is 'glamorous', in keeping with Eileen's style".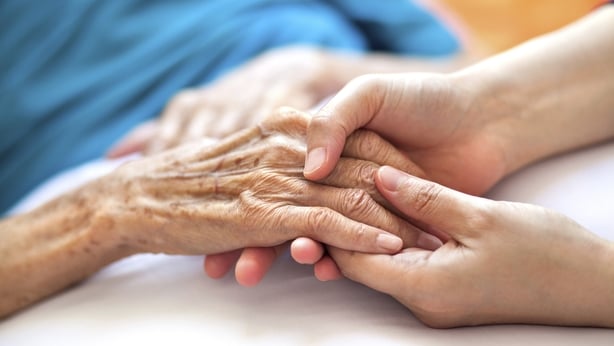 Grieving becomes more difficult when you don't know how to do it.
"It was so early, there were no proper protocols in place", Siobhán says. "It was agreed that we could see her but not in the morgue, it was in the post-mortum area. We had to have PPE on and we were allowed just a few minutes with her and we weren't allowed to touch anything. They just unzipped her face."
Because a church wouldn't take her, four members of the family met at the funeral home for a short mass and proceeded to the graveyard. "I had asked for some piece of music to be played, which was done. We left and we had to wait in the car park for her coffin to be re-disinfected before it could go into the hearse.
"We had to stay in the car while the gravediggers put the coffin in the ground and they moved away, and we were allowed out. 
All in all, the funeral took just an hour. 
Grieving during a pandemic 
"It was very very hard originally, especially when lockdown came in", Siobhán says. "Until [the travel radius] went to 20km I couldn't visit her home, I couldn't visit her grave.
"That just prolongs everything. You're not visiting the place that you know the person should be. I was still getting messages on my phone about mum's appointment on such and such a date, and going 'I'll have to ring her'.
"I wasn't experiencing her absence. On an intellectual level I knew she was gone, but … It was still too unbelievable."
It wasn't until she got to visit relatives away from Dublin that Siobhán started to come to terms with what she'd experienced. "I had two massive breakdowns out there. It was a really hard weekend but, for me, it was a turning point."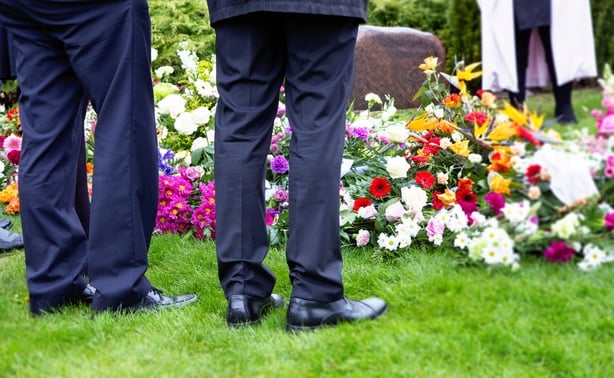 Still, she's nervous about watching the documentary tonight. "I'm honoured to be part of the documentary, we're really thankful for it. For me, it's a way of mum not being a statistic anymore. There are families, in-laws, friends, neighbours, associates, grandchildren behind every death."
"Hopefully it's a really good tribute to mum, almost like a eulogy would have been if I'd be able to have a funeral."
A different kind of grief
If the Irish do one thing well, it's a funeral, and Siobhán isn't the only one missing that boisterous, warm, heartfelt celebration of a loved one's life. "I really missed companionship", she says. "I missed having family around me, I missed the stories people tell about people when they die, stories that you didn't know about that happened years ago. 
"Meeting mum's friends. Mum was extremely independent, very active and she had very good friends. A lot of them I wouldn't have met since my dad's funeral but that was her life."
"People have said to me about bereavement counselling. But this is a different kind of grief. There's no bereavement counsellor who's counselled somebody who's been through this before."
We come back to that ever-present, earnest question we've all come to appreciate these past few months: How are you now? 
"I don't know", is her honest answer. "I've kept really busy all summer. I bought a stand up paddling board so I've been on that three times a week. I love the sea, I find the sea very healing. It helped me after dad died.
"And maybe I've just been doing too much, because this has put a stop to me. Maybe this is my time to start reflecting."
Watch Love and Loss in a Pandemic on the RTÉ Player here.