Back in April, it was announced that - along with so many other events - the beloved Rose of Tralee festival would be canceled in 2020. The iconic event has been on the go since 1959 and has given us some of the greatest television moments to date with Irish women singing, dancing, and repeatedly saying no to wedding proposals on live television.
Having hosted the festival for the past ten years, Dáithí Ó Sé suddenly had an empty schedule and decided to make the most of his free time by exploring the country with his family.
Still, though, he'd miss roasting the escorts all the same.
"It's so strange," Dáithí tells me over the phone. "We had a show out the other night [Dáithí's Decade of the Roses], and everybody really liked it and we probably missed it even more when we looked back on all the happenings that were going on over the last couple of years and having no show this year."
"It's a very strange time for everyone but we're just saying: 2021, bring it on."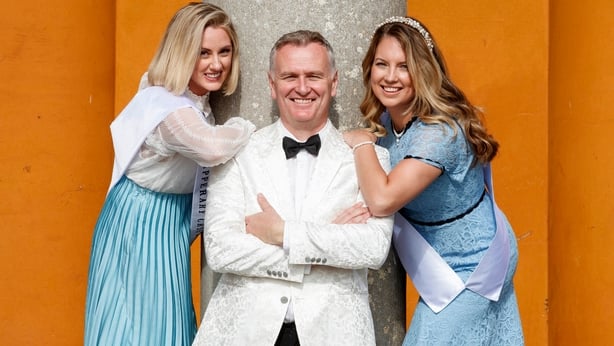 With the colourful event canceled and Dáithí's regular slot on The Today Show with his co-host Maura Derrane on summer break, the Kerry man took the opportunity to head North with his wife, Rita, and son, Míchael Óg, for a staycation in Belfast.
"It was great because, usually, Rita would go to America for six or seven weeks and I would go join her for a week or so and that would be the holiday. We didn't get a chance to go anywhere in Ireland for a long time, even going down to Dingle, I'd only get down once a year," he explained.
"A staycation in Belfast came about and it was brilliant. It was what we needed. I hadn't been to Belfast in about 10 years and Rita was never there so we just thought it was a good opportunity to go."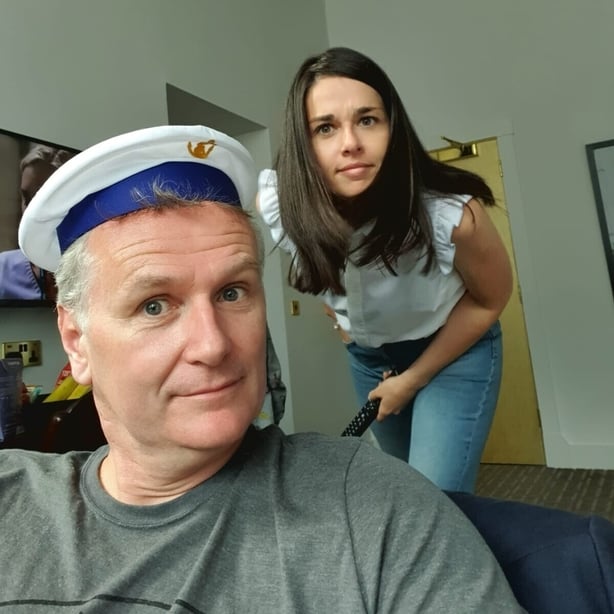 Although he had his sights set on the incredible Titanic quarter, the presenter says he was blown away by the city's "continental European" atmosphere complete with alfresco dining spots.
"There was a really cool vibe around the city during the day and in the evenings. I did eat my own weight in food while I was there. As in three meals a day. As in three courses each," he laughed. "I wouldn't have fit into the Rose of Tralee tux after Belfast."
"There was just this really good vibe," he continued. "It really felt like you were in a European city with people eating outdoors with the sun shining and everybody in good form."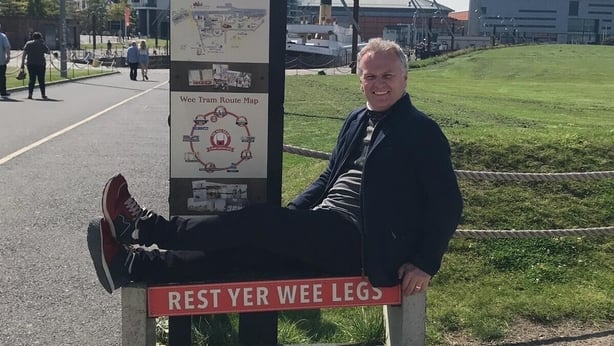 Hosted by Discover Northern Ireland, the trio were treated to a jam-packed schedule of arts, culture, history and adventures. To get things started, they enjoyed a Black Cab Tour with tour guide Billy Scott, who highlighted some of the city's murals and peace walls.
The tour takes visitors around the areas of North and West Belfast synonymous with the years of conflict where murals are used to relate events from a historical perspective.
"Unreal. The tour was unreal," said Dáithí. "I took the Red Bus tour the last time I was there but the Black Cab tour brings you to all the places you would have heard on the news all the time, you know? Places that you couldn't have gone to in the 1980s, you're now being brought to them and you can hear all the different stories from all the different areas."
We need your consent to load this Instagram contentWe use Instagram to manage extra content that can set cookies on your device and collect data about your activity. Please review their details and accept them to load the content.Manage Preferences
Of course, no trip to Belfast is complete without a trip to the Titanic Museum and, according to Dáithí, the experience did not disappoint.
"You get a full picture of the Titanic story and the story of Belfast at that time. You really get a sense of what it must have been like to work on the boat, and the sense of joy and pride that would have been going along with this 'unsinkable ship'."
"We also went to the Ulster Museum," he continued. "It was was a really fascinating place. Everything there was very interesting, especially for kids. Míchael is only six and he was loving it, looking at the dinosaur skeletons and everything."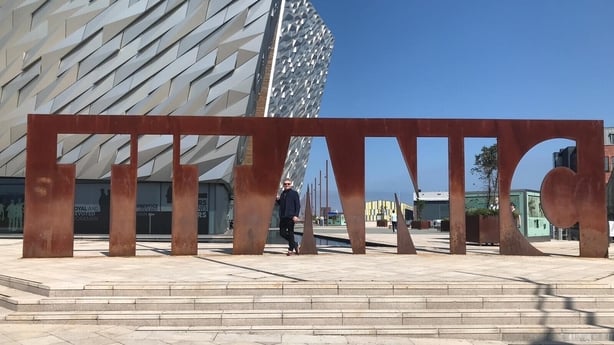 With the unprecedented events of 2020 set to continue for the foreseeable future, families will likely be planning staycations over trips abroad, and Dáithí says that his family is no exception. With Belfast ticked off the bucket list, he has moved on to his next adventure.
"I'd love to take a boat up the river Shannon if I could get the few days. It just depends on the weather but it's something I did a few years ago and would love to do it again.
"Rita hasn't done it and Míchael hasn't done it so I'd love to bring them up the Shannon. We might sneak in an old weekend before I go back to the Today Show."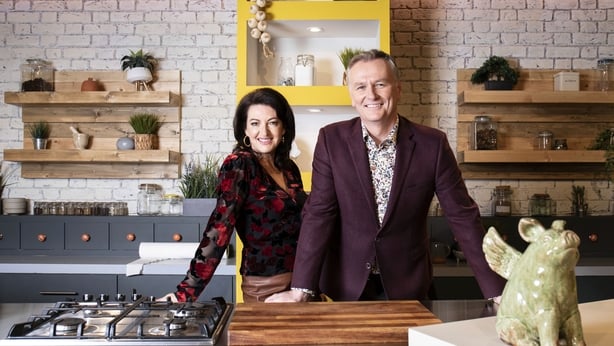 Set to return in mid-September, Dáithí says the Today Show will look similar to how it did in June with social distancing measures in place and plenty of craic thrown in for good measure.
"There's a bigger emphasis this season on just having a bit of fun and trying to bring a bit of normality to people. We'll have more quizzes and more surprises and giveaway. The Today Show is going to be a place where people can just forget about things, enjoy themselves, and get away from what is happening in the big bad world for a small while.
"We're really looking forward to getting back. We had a fantastic season last year, the run was extended and I think we did 175 shows, which is crazy. We're going for a big long run again now but I have some time left to enjoy before we get back.
"We've had a great time at home as a family," he continued. "Getting to go to Belfast was great but even just hanging around at home and taking it easy has been great."