?With 18 hours of new Irish-produced drama, the return of Fair City, a bumper sporting calendar, new investigative programming, as well as exciting new documentaries, arts and children's programming, RTÉ is inviting viewers to spend time at home with RTÉ this autumn.
In keeping with this theme, and to celebrate the new season launch, Photographer Ruth Medjber from Ruthless Imagery took a suite of images of some of RTÉ's biggest presenters and actors in homes at dusk. Click through the gallery to see the results.
We caught up with Ruth to find out how the idea came about, how she is staying creative during Covid-19, and the celeb she would like to shoot at home most.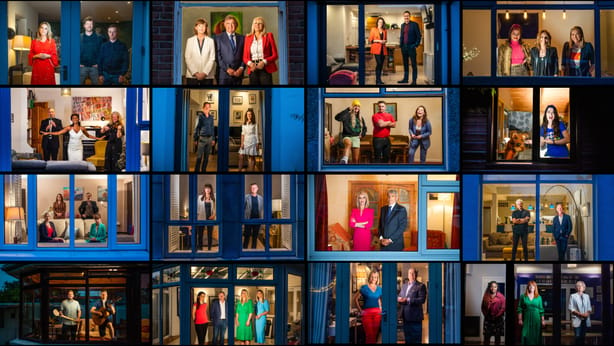 1. How did the idea for photographing people at home come about originally?
I actually had the idea of photographing through people's windows years ago, but I never really had an excuse to do it. I'd often walk the dog on a winters evening and would love peering into people's homes when the big light was switched on, I think we're all a bit nosey like this. There's a real cosy, Christmassy feel to that time of night. When the cold, twilight blues mix with the warm golden glow of the home. When the pandemic hit I had endless amounts of time and the idea just came back to me.
2. How does the shoot work in terms of having people pose and getting the lighting right?
I'd send a fairly detailed email in advance to everyone asking them to position some lamps in the corner of the room, and turn on the big lights (people hate turning on the big lights!). That way, the room would be bright enough and they'd be well lit. I couldn't enter the homes because of Covid, so I'd shout basic lighting instructions through the window. I never asked anyone to pose or gave any direction there, I just let them be the versions of themselves that they wanted to be. We had to shoot it over a few weeks, as each night you only get about 30 minutes of twilight which would quickly run out.
3. The lockdown series led to a book, how did it feel for your work to be recognised?
I don't quite think I've fully processed that I have a book coming out! Let alone that it's with Penguin Random House. I've always had a loose plan for my first book. It would have been full of rockstars from my time shooting Glastonbury and the like, so to have a book full of windows has totally thrown me. It's lovely to see my work being shared, not only in Ireland but globally. So many Irish diaspora have been in touch to say they were using the photos (and the stories I told with them) as a way to quell their homesickness during the pandemic. I'm honoured that my work can be used in such a way.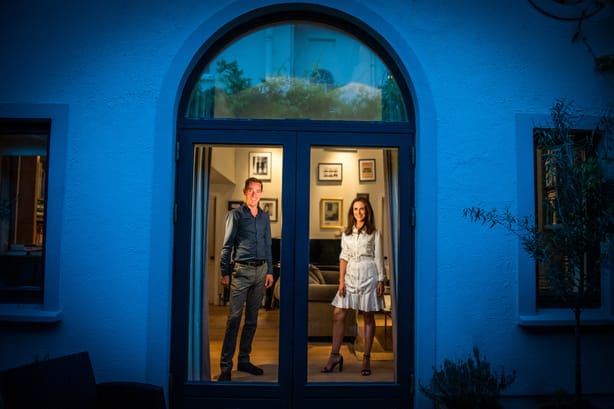 4. You have now photographed RTÉ stars for the new season, how did that come about?
The commission from RTÉ was totally organic. Maureen Catterson, the comms manager, saw my work and had the great idea of doing it for the RTÉ presenters. I guess they usually have a big group shot to announce the new season but, with social distancing, she had to think outside the box and came to me instead. I had a lot of offers to shoot this style for other companies since I first made the series public, but I went with RTÉ as they gave me full creative freedom to just do my work and implement my own vision. They didn't want to interfere or change my style, it was a very supportive process.
5. How did the shoot work with social-distancing restrictions?
I'm sure a lot of eagle-eyed viewers will be able to spot some of my bad photoshop techniques and figure out that the photos are sometimes composites. I'd shoot one person, and then another separately, and add them together in post-production. In some cases, the people were standing 2ms apart, but this looked a little weird so I'd close the gap afterward in the edit. I worked alone and directed through the open window, so it was a really nice and safe shoot.
6. Was there anyone, in particular, you were excited to shoot out of the bunch?
I'm a big fan of the RTE 2FM presenters, Tara Stewart, Jenny Greene and Tracy Clifford, I love listening to their shows as they promote such great Irish tunes so that was a blast.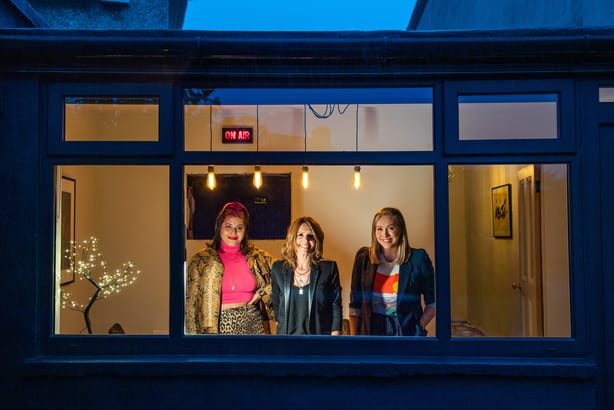 7. Do you hope to continue the series?
Continuing the series would mean more lockdown so, hopefully, we won't come to that. I am offering people a chance to book their own Window Shoot in their homes on my store though. After shooting 167 windows in total, it would be a shame to let all that really specific knowledge and expertise go to waste!
8. If there was one person who you could photograph at home, who would it be?
Enya. In her castle. Orinoco Flow blasting. Absolute perfection.
9. What's next for you?
I hope to have an exhibition in November where people can come and (safely) view all 150 of the photos that are in the book. 2021 is difficult to gauge as I'd love to resume my normal role as a music photographer, but Covid might have other ideas. My plan B though is for another "Portrait of Ireland" type series...but you'll have to wait a little longer to hear more on that!
For more information, you can visit Ruth's website or find her on Facebook, Twitter or Instagram.