In life, one should always take the occasional leap of faith. It's a line that Ear to the Ground's Helen Carroll has included in her life plan. Donal O'Donoghue gets her story.
"I've said it before that they will be taking me out in a box but I think this house is it."
Two weeks before the lockdown in March, Helen Carroll moved into her new home in Kilkenny city. It was the fourth move for the Ear to the Ground presenter: from the centre of Dublin to the Kilkenny countryside and now this, circling, by accident or design, ever closer to home.
Primrose House, on the edge of her native city, is where Helen, husband Peter and their two children, Katie and Luke, lived through lockdown: new adventures in a changed world, with its garden running down to a disused railway line and its proximity to family. "And there were some good things to lockdown, like the chance to slow down and breathe," she says.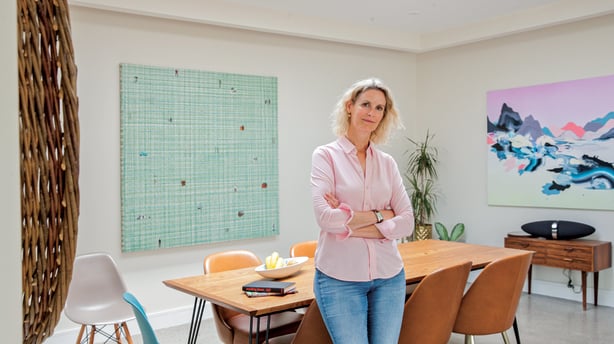 It's mid-morning in mid-July in Primrose House. In the background the washing machine hums. Otherwise, all is quiet. Juno, their 11-year-old Red Setter-Labrador mix, is living nearby with Helen's mother, Angela (he
stayed put when the rest of the family moved into their new home), eightyear-old Luke is at GAA camp and Katie (18) who was in the Leaving Certificate class this year, is waiting for the grading results, due now in
September.
Helen's screenwriter husband, Peter McKenna (EastEnders, Red Rock) is beavering away on two new screenplays, the crime drama, Hidden Assets and a yet-to-be-announced series, both slated to be filmed later this year.
Autumn is also when RTE's Ear to the Ground returns for its 28th season: the other side of life for the busy broadcaster.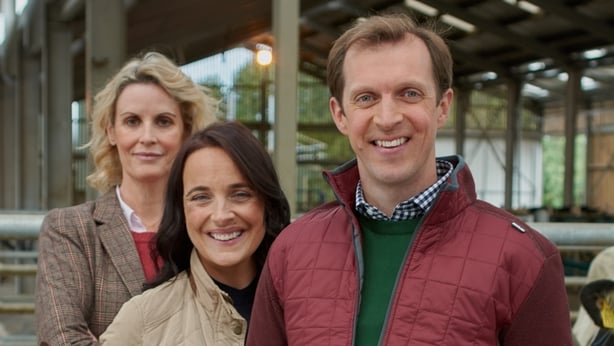 Four years ago, I visited Helen Carroll at her old home, just ve miles from Kilkenny but down a squiggle of country roads that even had the sat-nav flummoxed. Homemade soup was served and later, as I wandered the house and garden with its fruit trees, beehives and work studio (Peter's place), it looked like this was it for the nomadic duo. But things change.
Children grow up, there's the onerous family ferrying to and fro ("nearly 50 miles each day") and less space is OK. "We were having a cup of coffee after lunch one afternoon when Peter asked: 'do you think we should move into town?' So myself and Katie just ran with the suggestion which took on a life of its own. It was a bit of a blind leap, I suppose."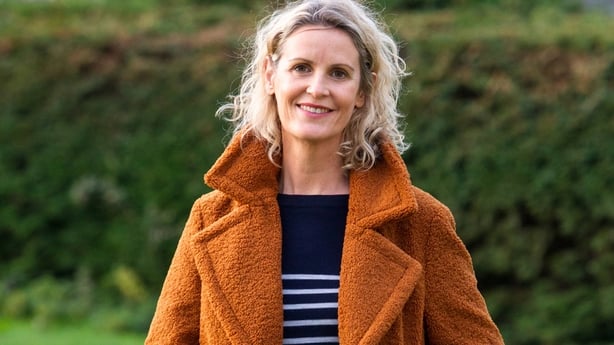 Blind leaps of faith punctuate Helen Carroll's life: whether opting for journalism, leaving Dublin for country living or swapping that dream home for a 'wreck' with 'good bone structure'. "I never had a plan for career
or personal life," she says now.
"That makes me sound a lot more easygoing than I am. But if an opportunity arises, nine times out of ten I will take it. I find that the worst thing that you can do is to overthink things. Of course, you might say that I put more thought into a holiday or buying a new car than moving into a new house or changing career but you have to take risks in life. I don't consider anything I've done a huge risk. Anyway, what is the worst thing that could happen?"
Despite her TV niche, Helen Carroll is a 'townie': born and reared on the edge of Kilkenny City, the middle of four boys. "I learned quickly how to stand up for myself," she says with a laugh. She was a tall kid, six foot two
inches from the age of 13. "I didn't like my height back then," she says.
"It was that stage in your life when you just want to be like everybody else and not stand out. People would comment, saying things like 'your mother told you not to belong!' Even buying clothes was difficult. And now when I'm filming the show I sometimes have to stand in a dip while the person I'm interviewing stands on a little hill so that we can make eye contact."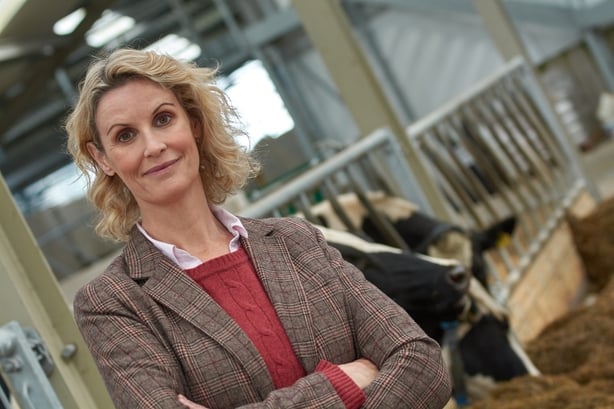 Her father, Ted, played hurling for Kilkenny: a three-time All-Ireland winner and Texaco Player of the Year in 1969. He was only 56 when he died suddenly just before Christmas 1995. "In fact, I'm looking at an old
photograph of dad just now," says Helen, adding that she uses her father's greatness as a player to sometimes encourage Luke when he's reticent to go training.
"He was a kind man, a great father and someone who lived for hurling. He was also a very gentle character but not, I'm told, on the hurling pitch [laughs]. I was never a natural at sport. I tried camogie, didn't have the hand-eye coordination. But GAA was a huge part of our lives and still is with my family."