Childline has been providing comfort, support and guidance to children and young people for years, but it's arguably never been more essential than in the past few months.
With school disrupted, plans put on hold, friends separated from one another and families coping with the huge amount of unexpected stresses due to Covid-19, children need an outlet for their concerns. And as volunteer Eric O'Byrne explains, not all of them have a listening ear at home.
Eric joined the Jennifer Zamparelli Show to share what kids are going through while the world battles a pandemic.
Childline gets over 300,000 calls, online chats and texts from children and young people across Ireland every year. The outbreak of Covid-19 in March led to a surge in contact with the service, something Childline responded to by operating their live chat service 24/7.
"I think it's safe to say that our entire world was turned upside down back in March, and it was up until the end of June when things started to open back up", Eric says. "For children and adults alike there was a huge range of emotions being experienced."
When it comes to the worries shared by kids, Eric says there's a "huge range" these days. "Not being able to see friends was a big thing. There was a lot of worries about the home as well.
"Some of it because the lockdown hasn't been as hard for people. It's been incredibly difficult with knock-on effects to home life, such as parents being out of work. This created additional anxiety."
Watching planned-for milestones pass them by or be delayed only adds to this. This week, Leaving Cert students would have received their results, heralding in new experiences for them, be that college, courses, apprenticeships or moves. Instead, they're waiting longer.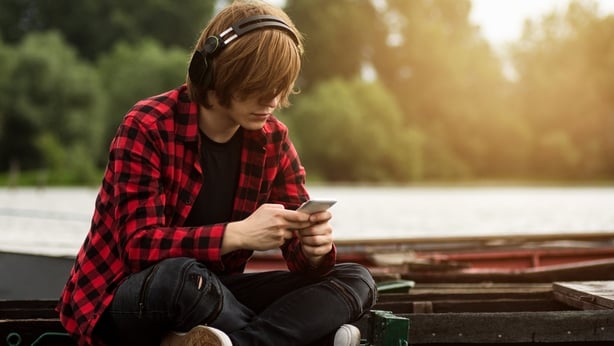 This time of year would always be a busy one for volunteers, and the increase in cases in the past few weeks have only led to an increase in calls to Childline.
As to whether kids have access to too much information these days, Eric says "at times, potentially" but adds that "it's a difficult one to say, and it could be the same for adults as well".
As trained volunteers, however, people like Eric are used to listening to kids talk through their worries. "Our approach in Childline is we're a non-directive listening service, we're simply there to listen, to help with what a child is going through."
"We try and get to the root cause of the particular anxiety, so why are they really concerned about their mams, what does it mean to them to do well or not get the results that they want?" From there, they can explore what might help the child feel better, whether that's exercising or simply talking it out.
At the end of the day, listening is key, he says. "We understand that a lot of times when kids are going through a difficult time they don't want to be told what to do. They simply want someone to listen to what they're going through. One of our core beliefs is to empower children and to build resilience."
The @ISPCCChildline Support Line is available to provide guidance, support and information to parents and carers at this time and always. Monday to Friday, 9am to 1pm.

Visit: https://t.co/1Qa4Nza2vw pic.twitter.com/QqpbzX34cD

— ISPCC Childline (@ISPCCChildline) August 11, 2020
Childline, like many charities that are in the majority self-funded, have been feeling the pinch in the past few months, so Woodies taking them on as one of the charities in their Woodies' Heroes campaign has been a huge boost for the vital service.
"Having someone like Woodies come on board and say 'we'd like to raise money for you' is absolutely huge. Without these funds we simply wouldn't be able to do it", Eric says.
The campaign runs until 16 August and you can support it by shopping in Woodies or donating directly through the Woodies website.
If you are affected by any of the issues raised in this article, click here.