She's walked in runways for the top designers, created collections with Tommy Hilfiger and is the eldest child of one of the 80s top models, Yolanda Hadid.
So, you'd imagine that Gigi's home would be full of designer pieces, sharp edges and the kind of luxe, understated colour scheme Kim Kardashian would go nuts for.
But no, for Gigi Hadid – one of the most successful young models out there – home is where the pasta-facade cabinets are.
The model – who is expecting her first child with boyfriend Zayn Malik – shared photos of her Manhattan home, which she had been renovating before the outbreak of Covid-19 led her to relocate to her mother's farm in Pennsylvania. And it is ... something.
We need your consent to load this Instagram contentWe use Instagram to manage extra content that can set cookies on your device and collect data about your activity. Please review their details and accept them to load the content.Manage Preferences
"Spent all of last year designing and curating my passion project / dream spot", she wrote on an Instagram post that included a few snaps of her kitchen and bathroom. "I'm excited for the time I'll get to spend enjoying all the special corners that were made with a lil help from some of my favorite creatives ... who embraced my ideas and didn't call me crazy."
The space is eclectic and playful, with some truly unique style points dotted throughout. The kitchen features what Gigi called in her Stories her "dream pasta-facade cabinets": pale wood cabinets filled with rainbow-coloured dried pasta.
Contrasting this is the gold-threaded marble splashbacks on the walls, while a large wooden bowl filled with billiard balls prompted many confused comments on Instagram.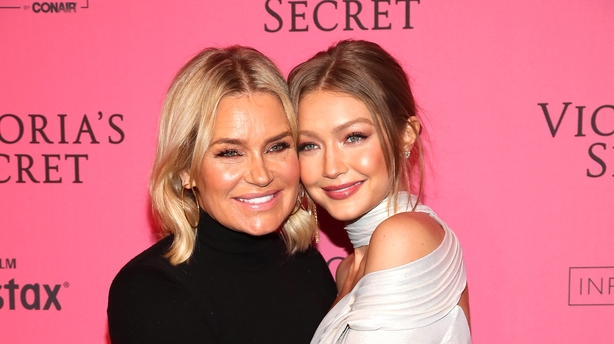 The marble motif continues in the bathroom, where Hadid has paired it with vintage New Yorker magazine covers, plastering half the room's walls. Outside the bathroom, an enormous yellow pen sculpture leans against a door, while a vivid red painting announces that "All people" are "safe here".
Hadid's use of textures and patterns are bold but lush, and tie the otherwise quirky home together. A plush Missoni sofa in a rainbow pattern dominates the living room, while the stairs are draped in intricate rugs. A glimpse into the model's glam room shows an ornate yellow velvet makeup chair and lightbulb-lined mirror.
Based on those thanked and tagged in the post, the star had help from creative heavyweights like Jean Paul Gaultier, Missoni, Austyn Weiner and Williams Sonoma. As well as that, Gigi had help from her mum Yolanda, who built a successful business as an interior designer.
Still, the denizens of the online world were none too pleased with Hadid's choices.
therapist: Gigi Hadid's interior design choices can't hurt you
Gigi Hadid's interior design choices: pic.twitter.com/JUP82WlnSW

— hannah louise (@hannahlouisef) July 26, 2020
gigi hadid's inedible dyed pasta cabinet facades ruined my day pic.twitter.com/KshoowuMuT

— ?? (@whysimonewhy) July 26, 2020
For many, the inexplicable ornaments and trinkets were the problem – the billiard balls, a sugar skull, that orange box on the living room table, engraved with her initials. For others, it was the New Yorker covers, seemingly just taped onto the wall with no lamination or frames to protect them from the bathroom condensation.
It seems to live on the opposite end of the spectrum to Kim Kardashian's serene, museum-like home, or as one Twitter user put it, "terror house".
Unsure what haunts me more: Kim K's terror house or Gigi Hadid's pasta cabinets pic.twitter.com/ctwvOcmnJU

— the 1 on repeat (@jenrara) July 27, 2020
Still, it's nice to see supermodels like Hadid indulging their unique tastes in lockdown like the rest of us, albeit with more money and the confidence you only get from having Tommy Hilfiger on speed dial.