After four years in Los Angeles, TV cook Donal Skehan and his family have made their way home. He chats to Janice Butler about their dramatic move during the pandemic, being a father of two and having no regrets.
They say moving house is one of the most stressful things you'll ever do, but add in a new baby, a toddler, a dog, transatlantic travel during a global pandemic and you have what can only be described as an extreme sport. This is what TV cook Donal Skehan and his family, wife Sofie, sons Noah (2 and a half), Oliver (6 months) and dog Max have just done when I catch up with him.
Getting settled back into life in the Dublin suburb of Howth, where he's originally from, Donal unsurprisingly describes the experience as "mad".
"I think it's taken until now to realise just how mad it was. We were not only dealing with the chaos of the pandemic, but then we had to throw moving country into the mix as well, packing four years of our lives into boxes. For nearly two months, we were in a limbo land wondering would it all even happen", he says.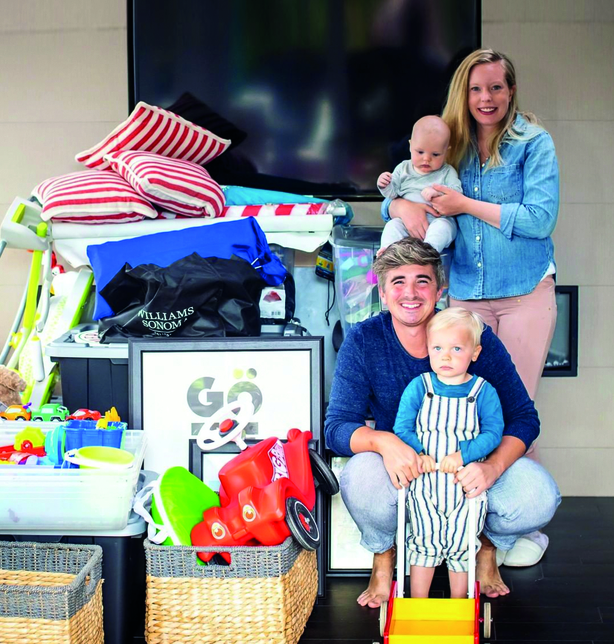 Donal and Sofie moved to Los Angeles four years ago after getting married. While there, he released books, signed with a big agency, made shows for the Food Network, filmed Youtube videos at the Hollywood sign and had two sons. It's certainly been eventful and successful, but when baby number two was on the way at the end of last year, the draw to be closer to family was getting too strong and the couple made the decision to come home.
They were due to return in April but the outbreak of COVID-19 meant things were fast-forwarded and they had to leave the city they loved in a hurry. "L.A almost seemed like the last place to get hit by it, especially in the States. We were watching it move from China, to Europe, to New York and then slowly making its way to L.A.," he says. 
"I had this big plan to go to all my favourite restaurants in my last month. We didn't get to say goodbye to friends; on Noah's last day in daycare, we didn't know it would be his last and that was kind of sad, not that he's aware, but we were caught up in the emotions of it. 
"It wasn't the way we would have liked to say goodbye. But hopefully, once all this is over, I still have quite a lot of work out there, so we'll be back over to say a proper goodbye to the city and our friends there."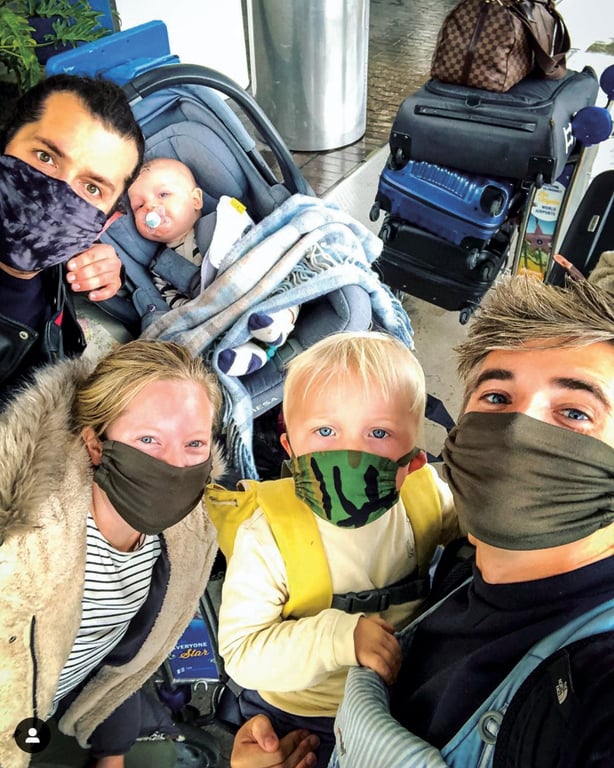 They had to send their beloved dog Max on a flight first, making his way to London and then Dublin. After that, the family and their close friend Arthur Gourounlian (Brian Dowling's husband) who was also in L.A at the time and helped massively with the move, took a flight from Los Angeles to Paris, before eventually landing safely in Ireland.
"I always compared the time in L.A. to being like you're out in the open water and being home in Ireland is like having your hand on the boat. There's something about the warmth here and having family and friends nearby. If something went wrong in L.A. we were always at a bit of a loss. We loved it and we'd definitely move back again but I think at the life stage we're at with two young kids, it was more trying than I thought it might have been. I thought having kids was going to be easy," he laughs. 
Does he find being a father of two a lot harder than one? "Yes, is the straight up answer," he laughs. "The only thing I will say is you've let go of that freedom you had as a couple by the time you have the first child so that's not new but you just don't have a minute with two. The slivers of time you have to yourself are less. It's an amazing time but I think for anyone, it's also the most challenging time of your life."
Like every parent at the moment, he's facing the challenges of juggling work and no childcare, laughing that it would help if the two boys napped at the same time. In 2016, Donal launched his own production company, Appetite Media, which now produces his TV work and YouTube channel. This allows him to take more control of his own work. The company produces other food shows including last year's Beyond the Menu and Mark Moriarty's Cook-In which is currently on RTÉ One.
Donal was due to start filming a new series of his own in May but like everything else, it's been pushed back. "Hopefully that might happen by the end of the summer at this point. If it all goes to plan it should be due to air in October/November," he says. He will continue to do some work in Los Angeles when normal travel eventually resumes, but he admits there's always a slight fear that he might be missing out on a big break.  
"We're with an agency over there and they look after our brand deals. But there is always the worry that when you come back to Ireland that you're going to miss out on opportunities that would come up in L.A but I think for us, having family close by was the overarching thing." 
We need your consent to load this Instagram contentWe use Instagram to manage extra content that can set cookies on your device and collect data about your activity. Please review their details and accept them to load the content.Manage Preferences
He'll miss the food and weather most; "I've definitely been softened by the Californian sun. I need to toughen back up," he laughs.
Friends will also be missed; "We had a really great group of friends out there and a lot of them had kids at the same time as us which was a nice bond. That was hard to say goodbye to and hard without having a proper goodbye."
The family are home nearly a month now: most of the boxes have been unpacked and Donal is excited for his parents to see the children when restrictions are loosened. His instagram is filled with sun-filled but cold early morning walks along the cliffs of Howth that he knows so well.
Any regrets? "No regrets for now – maybe ask me that again when we're in the depths of winter", he laughs.