When you're planning on popping the question during a pandemic, sharing the same four walls doesn't leave a lot of room for surprises. So when Ciarán decided to ask his girlfriend of seven years, Hazel, to marry him, he had to get extra creative.
Enter Katie Kavanagh, a photographer who has captured hearts online by doing "doortraits" – portraits of people at their front door at home – in aid of Purple House Cancer Support. The now-engaged couple joined Ray D'Arcy on his show this week to dish on how the surprise proposal went down.
This is Ciaran & Hazel. Ciaran messaged me weeks ago to see if I was free to do a doortrait for his girlfriend's birthday. When I said I was available he filled me in on his plan to propose that day to make it a double celebration. #covidengagment #lockdownpropoal #engaged2020 pic.twitter.com/ojMc6P6Ujd

— katiekavphoto (@kateikavanagh) May 25, 2020
Ciarán first messaged Katie a few weeks ago, knowing he wanted to propose on Hazel's birthday. Together for seven years, Hazel had hinted at taking things to the next step on their last anniversary, when Ciarán unceremoniously told her she'd be "up for review".
Katie, who is a wedding photographer, lived just down the road from the couple, so it couldn't have worked out better for the pair. But organising it on her birthday was a bold move in and of itself, as Hazel is a self-confessed "birthday diva".
"One year we gathered all my friends and we did a photoshoot at a photography studio in town, but this was for my 29th birthday. In my head, it was the last one before I was 30 so we did a reenactment of the last supper. I was Jesus!", she laughs. "That kind of shows how extravagant I tend to go for my birthday."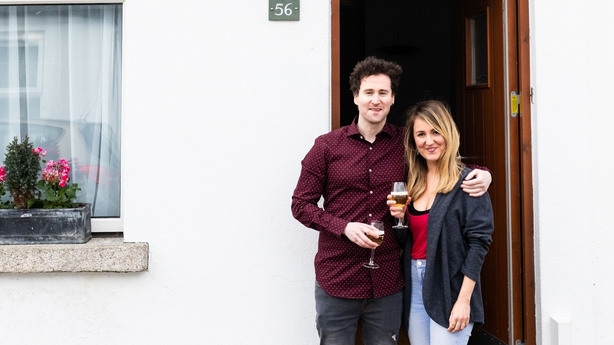 But this wasn't his first idea when it came to popping the question. Ciarán's initial plan was foiled when Hazel refused to let him elbow in on her birthday tradition.
"I have a strange tradition on my birthday where I get up really early in the morning, at around 5 'clock, and I go for a walk down the canal", Hazel told the show. Everyone thinks I'm doing this [because] I'm having a mental breakdown because it's such a nice time in the morning. Ciarán wanted to come with me this year but I wouldn't let him!"
"I had an ulterior motive at that stage", he added. "I was planning to whisk her off and go somewhere romantic, to a beach or somewhere like that and pop the question then." And then the pandemic came along.
Still, they made the most of it, with Hazel donning a pair of bright pink heels and holding a pink balloon to mark her birthday, "not having a clue what was around the corner".
"We were getting birthday pictures and I was nearly about to say to Ciaran, 'I want these pictures on my own" not knowing what he was planning", she laughs. "At one stage he told me to look down the road. He went down on one knee, I started crying, Katie started crying, he was just looking at me and he was waiting on me to finish speaking so he could ask me. I said yes before he could ask me."
I've started a series of Door Portraits in my neighbourhood #dublin8 to document people at home during the lockdown in aid of Purple House Cancer Support. DM to participate. pic.twitter.com/cVSKw4zqa6

— katiekavphoto (@kateikavanagh) April 26, 2020
Ciarán wasn't too concerned about not getting to say his speech, saying "the yes came and I wasn't going to ask her a second time", but he had his chance later that evening, with even more crying from Hazel.
It was a thoughtful proposal in every way, as Ciarán had bought a Claddagh ring from Fallers Jewellers in Galway, where he's from, remembering that years before Hazel had told him she loved them. To make sure the fit was right, he tested the ring size on his baby finger.
If planning an engagement during a pandemic was challenging, it would be nothing compared to planning a wedding. Understandably, the couple are doing a lot of waiting-and-seeing. "We're just going to give it a couple of months and see what's available."
To listen back to the full interview, click here.