Chances are, you've considered taking up some kind of craft during lockdown. You're not alone – from crochet and cross-stitch to knitting, people around the world are turning to thread and wool to keep themselves busy.
If you're new to knitting, it might feel a bit daunting. The first thing to know though, is that it's a good tool for balancing your mental wellbeing as well as creating a new item of clothing.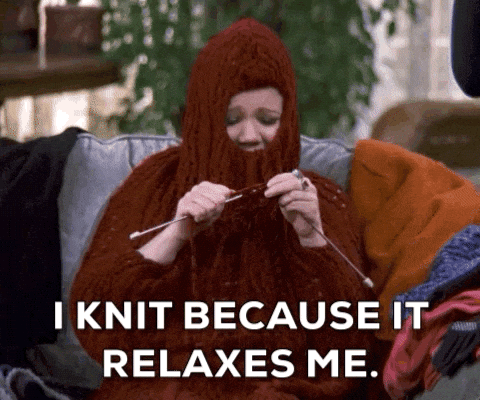 Merion Willis, craft editor and spokesperson for the mindful crafting movement at LoveCrafts.com, says: "For many of us knitters, picking up a pair of needles is a form of mindful meditation. The repetition of stitches has been said to stimulate the production of serotonin, boosting your mood and making you feel a little brighter.
"It's proven that knitting is not only great for relaxation, but also improving both physical and mental health. From easing chronic pain to taking the edge off anxiety, the health benefits of crafting are endless."
The benefits of knitting have been well documented over the years and have been highlighted again during the covid-19 crisis," adds Sophie Rochester, founder of crafting site Yodomo.
"Knitting, like many other crafts activities, involves repetition and is, as a result, deeply meditative. While knitters have long known how relaxing it is as an activity, the evidence is now really starting to build.
"It's no wonder that knitting is making a come-back at this time – not only is it relaxing, but it also feeds into another major growing trend of make, do and mend, MIY (make it yourself) and sustainable fashion," says Rochester. "As consumers turn their back on fast fashion, it looks like a trend set to stay."
Where to begin
You'll need to learn three basics: how to hold your needles, how to 'cast on', and how to knit your first row. You can find online tutorials at lovecrafts.com or search for the relevant terms on YouTube.
"If you've never picked up a pair of needles before, the thought of learning to knit can seem a little daunting. But the great thing about knitting is that there are plenty of tutorials to guide you, every stitch of the way," says Willis.
The equipment
You'll need needles and wool, of course, which you can buy online or you might be able to borrow from a housemate or family member.
Casting on
This is the first thing you need to learn – it's attaching the wool to the needles.
Willis explains: "Learning how to cast on is one of the most basic knitting skills, and the first thing a beginner knitter will need to master. Lots of people progress a long way on their knitting journey using the same basic cast on method, before they realise there's a whole world of ways to cast on!"
More lock down knitting- today I knitted a slug 😀 pic.twitter.com/PGdCPkrjI8

— Dr Sarah Burthe (@SarahBurthe) April 13, 2020
"Different cast on knitting techniques suit different projects, and you'll find some methods might suit your style better than others. My personal favourite is casting on with your thumb," says Willis. "It's a fast way of working a long-tail cast on, perfect for yarn with a firm twist. It's faster than working with two needles, hence its popularity."
Choosing your stitch
"Knit stitch is a great beginner stitch, but it's a firm favourite with seasoned knitters too. If you knit every stitch and every row – you will create what's known as garter stitch. Known for its signature gorgeous wavy texture," says Willis.
"With garter stitch, both sides of the fabric look the same, meaning there's no 'wrong' or 'right' side – fabulous if you're worried about your fabric curling." Although, she reassuringly adds, it won't.
Got me some lockdown #knitting on the needles! This technique is called brioche and is reversible. So fun and pretty! pic.twitter.com/KFlcPpWeot

— Murphy Peoples (@murphy_peoples) April 21, 2020
"It can also be used to create beautifully classic knitwear – from children's cardigans, scarves, toys and cushions. If you're a beginner but want to jazz up your knit stitch opt for variegated yarns (multicoloured in one ball) which will add a dimension of colour to your knitting project."
ExperimentingOK, so you've made a scarf, now what? Well, it's up to you, really…
"When you're feeling a little more confident, you can start to experiment with super simple stitches," says Willis. "It's a good idea to watch some beginner knitting videos, so you can knit along with beginner projects to practise your new skills."