By the time Stephen Palmer and his new wife, Sabina, found themselves on the Cook Islands, they were at the end of a prolonged and leisurely honeymoon.
Palmer, a "digital nomad" who runs the Irish Around the World blog, had island-hopped for three months through the azure South Pacific with his new wife, finishing up with an idyllic stay on Aitutaki and Atiu Islands, just off the main island, Rarotonga.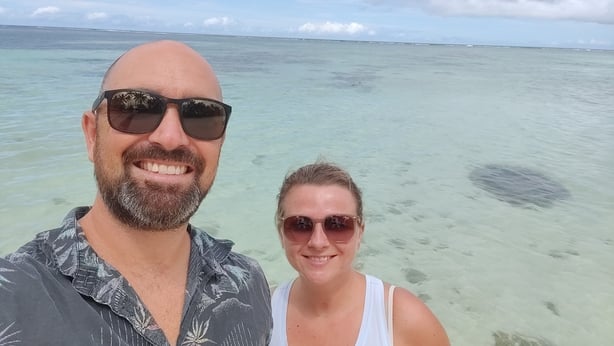 At the same time, the coronavirus was making headlines around the world, grounding flights, shutting borders.
"We decided the Cook Islands were going to be our last stop", he tells RTÉ LifeStyle over Skype. "There were two weeks left of the holiday and first New Zealand shut their borders overnight, basically, for a month." From Auckland, they'd planned to return to Ireland.
Instead, what followed was a scramble to book tickets as flights were rerouted and cancelled. A flight to LA the following week could be followed with one to London, and from London to Dublin, costing the couple €2,500 between them.
"We booked the flights last minute because there were three days to go. Then, the day before our flight, the US flight changed to the following day." To make matters worse, the flight would now be stopping in Washington for several hours, meaning they'd miss their flight from London to Cork.
The flights they'd booked would be their last chance to head home, as the rest were for New Zealand citizens only.
Back home, the situation was worsening. "Our family were like, 'do you realise what you're coming back to? You're probably better off to stay there and wait it out'."
So... they are.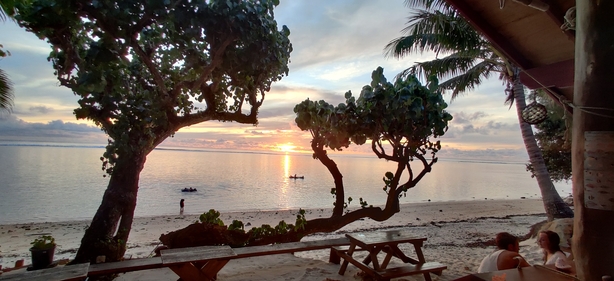 Aside from the obvious travel obstacles, as well as the risk of being stranded in transit and being neither home nor somewhere you know, there's the clear plus that there are no cases of Covid-19 on the Cook Islands. When we spoke, the country was waiting for the last 200 tests to come back, and when they did they were all negative.
Compared to the current situation in Ireland, it seems like a no-brainer. Even if the couple were to fly home, they would need to self-isolate for 14 days anyway, and then comes the fear of catching the coronavirus mid-travel and passing it on.
"It's a hard decision to make because on the one hand, you're in paradise and on the other hand you kind of want to go back home", Palmer says. "The worst is the indecision and once we made the decision to stay, it was like a weight was off our shoulders."
It's somewhat eased when "home" is a bit of a moveable feast.
"For us, it's weird because we were living in Portugal, we got married in Portugal and we left our apartment, gave up the lease. So we've no home so to speak!" Their options were to stay with Stephen's family in Ireland or Sabina's in Poland, though neither would come without difficulty.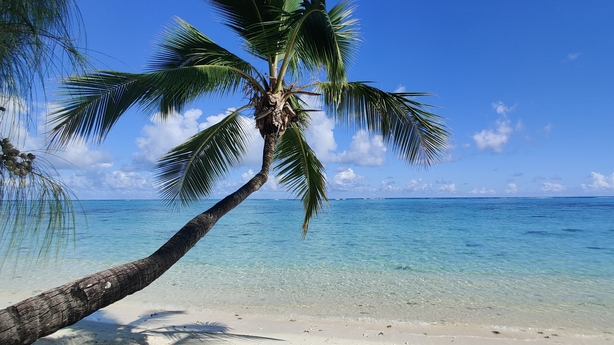 "Our perspective is a little bit different in the sense that we've travelled quite a lot over the past few years. We've been digital nomads for a few years. We were living in Australia first, then we lived in Canada for a while and then we did a Central America trip.
"We're used to spending a few months in one place. If the pandemic hadn't happened, we probably would have gone from here to Bali and we would have stayed for a month or two there."
"At the same time, if we did go back, we'd be in quarantine for two weeks anyway. Definitely having a lot of freedom here and great weather has helped."
So, what does waiting out a pandemic look like on a tropical island?
"Before the start of April we were just chilling, waking up, we'd have a few beers by the pool so we were drinking far too frequently!" Palmer laughs. "On the 1st of April we decided to do a month of no drinking, so we've been getting up in the morning, doing exercise, hitting the pool, then doing some work or maybe going to the beach or there's a lagoon here. There's quite a few hikes but the weather has been rainy the last few days."
There's a sense of pandemic management, all the same. Social distancing is in effect in public spaces, there are hand sanitisers in shopping centres and only a limited number of people allowed into shops at one point. But you can still go to the beach.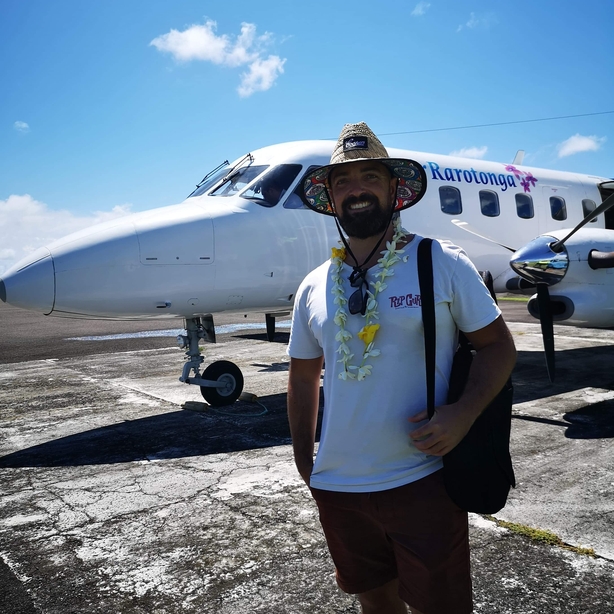 "We talk to family and they say, why not stay?" he says. "It's kind of weird to be enjoying yourself when there's so much stress and terror happening around the world. A lot of people just say, 'oh, you're having a great time in paradise!' But then obviously there's a whole different stress going on over here."
Thanks to the couple's multiple blogs, they have income coming in, and shortly after deciding to stay put they got accommodation for a reduced rate. "It's what we would be doing anyway", Palmer says. "Our cost of living is relatively low."
"We've a beachfront place with a pool", he says, "and dolphins just swam past this morning."
If you have recently travelled from an affected area or want information about coronavirus, go to the HSE's coronavirus page here.