Light is a source of warmth, hope, and vision. In a time of darkness, it can be hard to see.
President Michael D. Higgins has led the Irish at home and abroad to take part in the #ShineYourLight initiative - bringing light into darkness in a gesture of global solidarity and hope.
Government buildings were lit up with a host of national and local public buildings across the island shining their beacon lights, along with Irish embassies and missions around the world.
#ShineYourLight/ #LonraighdoSholas called on people of all ages, to be as creative as they wish to either power their phone torches, flash house lights, leave a candle safely in the window or even put up Christmas lights, to participate in the initiative from wherever they are.
View the gallery above of how people got involved.
We need your consent to load this rte-player contentWe use rte-player to manage extra content that can set cookies on your device and collect data about your activity. Please review their details and accept them to load the content.Manage Preferences
Watch: Poignant moments from around Ireland
The special event began on RTÉ Radio 1 with John Creedon featuring music from Martin Hayes and Glen Hansard, and poetry from Moya Cannon.
At 9pm, #ShineYourLight, a live television programme was simulcast on RTÉ Radio 1 and RTÉ Player to share this moment. Watch it back here on the RTÉ Player.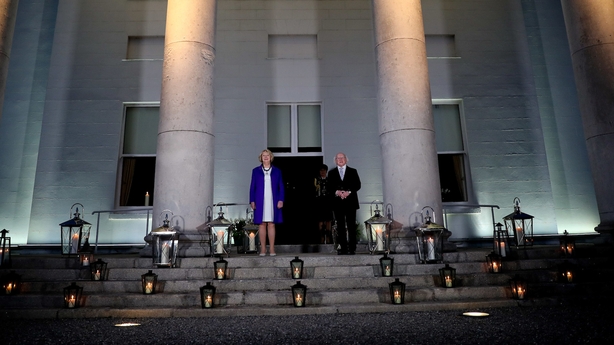 Below are some of the images and thoughts on social media.
We're inviting everyone to #ShineYourLight for our healthcare and essential workers at 9pm tonight. For the sick, the grieving, and everyone affected by #Covid19. Our public buildings, embassies and peacekeeping missions around the world are joining in. I hope you do too. pic.twitter.com/LEMllxC1He

— Leo Varadkar (@LeoVaradkar) April 11, 2020
President and Sabina Higgins joined the 'Shine Your Light' / 'Lanraigh Do Sholas' campaign, lighting lanterns as a symbol of hope and solidarity.https://t.co/PeqaS8DbqI #ShineYourLight pic.twitter.com/jdKChYe5CD

— President of Ireland (@PresidentIRL) April 11, 2020
Eileen (98) and Ned (101) Gortnahalla, Moycullen, shining their lights to create a moment of solidarity in the battle against the Covid-19 pandemic #ShineYourLight pic.twitter.com/vHJ7NlDl28

— Eamon Cusack (@EamonCusack) April 11, 2020
Dublin Airport staff joining the nation in the #ShineYourLight tribute for hope & solidarity. #TogetherApart #LonraighdoSholas pic.twitter.com/bILhi3LMwO

— Dublin Airport (@DublinAirport) April 11, 2020
I light a candle here in the middle of London hoping it's warmth and light will comfort the sick and give strength to our amazing frontline staff. #ShineYourLight @rte @johncreedon ?? pic.twitter.com/x4Cco4xdFy

— Siobhán McSweeney (@siobhni) April 11, 2020
A candle in the window - bringing light to the dark. An Irish tradition, lit in #London by Ambassador @AdrianGONeill to remember all those who have lost their lives to #Covid_19 and to thank #health and key workers. #ShineYourLight #LonraighdoSholas pic.twitter.com/M011EzRd5i

— Embassy of Ireland (@IrelandEmbGB) April 11, 2020
Our light in Finaghy #ShineYourLight looking forward to listening to what @johncreedon and @RTERadio1 brings our way ? #StayHomeSaveLifes #FlattenTheCurve #EasterAtHome pic.twitter.com/0QJbApqoaE

— Ailbhe Hickey (@ballaghbelfast) April 11, 2020
As dusk settled on #HongKong we are proud to join our @dfatirl colleagues & @GlobalIrish community for @rte's #ShineYourLight campaign as a gesture of #Solidarity on this unique #Easter weekend.@PresidentIRL @RTEOne @rtenews @IrlEmbChina @dmacostello #BeatCOVID19 #StayHome pic.twitter.com/0todNGJHLP

— Ireland in Hong Kong (@IrelandinHK) April 11, 2020
As a gesture of hope and solidarity during this Covid 19 pandemic we honour our frontline workers and all those who are effected and have lost loved ones, we shine our light ??@IHFcomms @HSELive @rtenews @ancienteastIRL @johncreedon @Failte_Ireland @TourismIreland #ShineYourLight pic.twitter.com/pdvzK9UbiC

— Mount Juliet Estate (@mountjuliet) April 11, 2020
Tonight @defenceforces soldiers, sailors, airwomen & airmen #ShineALight & think of those who died or suffer because of #Covid_19. We salute all frontline workers especially @HSELive

'Neither should a ship rely on one small anchor nor should life rest on a single hope'
Epictetus pic.twitter.com/LhVQiHVaam

— DF Chief of Staff (@DF_COS) April 11, 2020
Our Embassies & Consulates are participating in #ShineYourLight in solidarity with frontline workers & those affected by #Covid19 everywhere.

As lights shine across Ireland tonight we also think of colleagues far from home & thank them for everything they are doing. pic.twitter.com/zGDMY3kZvV

— Irish Foreign Ministry (@dfatirl) April 11, 2020
We are shining our light tonight to remember, to reflect, to say thank you, and to hope. @rte #shineyourlight #lonraighdosholas pic.twitter.com/m4778TGbg2

— RTÉ (@rte) April 11, 2020
That was the most gorgeous piece of television I've ever watched ♥?
Shining a light here for all our wonderful healthcare staff ??♥?#ShineYourLight pic.twitter.com/YhdHcOVise

— Carl Mullan (@CarlMullan) April 11, 2020
#ShineYourLight all up our street & from the lads @DubFireBrigade across the road in Dolphin's Barn (I went out in my jammies to film them, scarlet). Thanks to #FrontLineHeroes pic.twitter.com/aYCWMK8yuw

— Helen Vaughan (@HelenVaughan24) April 11, 2020
For all those who lost their lives to #COVID19 , to the frontline staff & healthcare workers out there so we can #staysafe, our Shannon Airport runway lights shine bright in honour of you all. ?#ShineYourLight | #wereinthistogether

Read more: https://t.co/oMhu5OHXOk pic.twitter.com/2B3yn11E0E

— Shannon Airport (@ShannonAirport) April 11, 2020
A candle lit for loved ones in Ireland & Australia and in solidarity with all those impacted by the pandemic #ShineYourLight #LonraighdoSholas #COVID19 @dfatirl @GlobalIrish pic.twitter.com/pX4s3s4wAE

— Irish Consulate Sydney (@IrelandSydney) April 11, 2020
This is for all the Irish people making a sacrifice to stay in and protect others during this horrible #COVID19 crapdemic. #ShineYourLight ??????@rte #HappyEaster #ShineALight pic.twitter.com/OUXI1HbCHD

— Oliver Callan (@olivercallan) April 11, 2020
We shine a light in Vancouver in solidarity with all affected by #Covid19 in Ireland ????& in the Irish Community in British Columbia????. Although the night feels long and dark, the light of hope???reminds us of the bright future that is sure to come #ShineYourLight #StayHome pic.twitter.com/du3NXJofnc

— Ireland in Vancouver (@IrlinVancouver) April 11, 2020
#ShineYourLight pic.twitter.com/n3ABVxdl7E

— Mister Struggle (@mister_struggle) April 11, 2020
Sitting here listening to fireworks and car beeps and seeing the other candles in the windows glinting for 9pm #Shinealight in hope and solidarity xx https://t.co/EeX92JbUvo

— Amy Huberman (@amyhuberman) April 11, 2020
???????? At the French Embassy, we #ShineOurLight for healthcare and essential workers. And also for the sick, the grieving, and everyone affected by #Covid19. #ShineYourLight @rte @DeptAHG https://t.co/eE45RIt4Gm

— France in Ireland (@FranceinIreland) April 11, 2020
We are proud to join this moment of solidarity as we thank our frontline staff for their hard work, and we commemorate those who are suffering or who have lost their lives as a result of this pandemic.#ShineYourLight #lonraighdosholas@rte @HSELive @Failte_Ireland pic.twitter.com/z7qoCAS6aF

— The K Club (@thekclub) April 11, 2020