Avid Liveline listener, Margaret Lynch, had a heartwarming chat with Joe Duffy this afternoon from her house in Walkinstown, Dublin. Listen back above.
Born in the Rotunda hospital on the 3rd of April, 1920, Margaret Lynch has lived an incredible life and, to this day, refuses to lose her independent streak.
Although she has plenty of grandchildren to drop up food and gifts to her during the Coronavirus outbreak, the 100-year-old lives alone having been widowed thirty years previous.
Not only does she like to spend time sitting out in the garden every day, but she also keeps herself busy planting flowers and veg - as self-sufficient as can be.
"Last week, I put down a few plants and planted a few spuds," she told Joe. "I'm hoping they'll mature, I'd say they will. They'll be up in July, hopefully."
Margaret went on to say that she's getting on great while 'cocooning' during the coronavirus pandemic thanks to the support of her family and the local day centre who send up her dinners to her every evening.
The Dublin woman is well known to the day centre as she volunteers there two days a week. In fact, she is the longest-serving volunteer in the country and has been working with the Sisters of Charity for the last 54 years.
"I serve out dinners and help clear tables. I did cook for them for many, many years. I have plenty of friends up there so I keep well," she told Joe.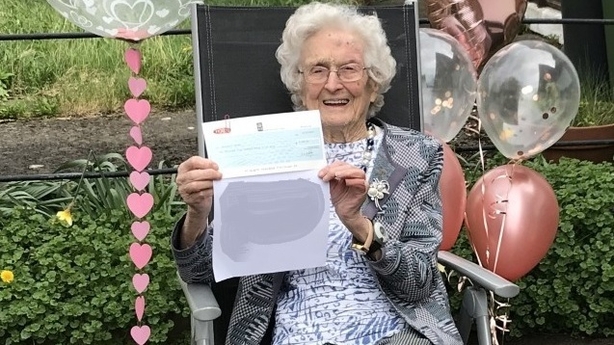 With over 100 years of life experience, Margaret has no plans to let the Coronavirus pandemic get her down, she told Joe about the time she lived through the emergency of the second world war.
"I got married in July 1945 and we were still on rations. Even for my wedding, I had to borrow food and clothing coupons from family friends," she explained.
"We had a wedding breakfast, there was no hotel, we had it at home. I got married early in the morning and we went to Tramore for the honeymoon. The train was going at ten o'clock or something and I lived in Inchicore at the time so we had to have the wedding and the breakfast over to get to Kingsbridge Station at ten o'clock."
Margaret was light relief and great entertainment on Liveline this afternoon with floods of callers ringing in to wish her Happy 100th Birthday. Listen back to hear more of her story above.