Cameraman Dave Perry shot a beautiful video highlighting Dublin's silent streets during the coronavirus pandemic. Here, he explains how he came to Ireland and describes the experience of shooting an empty city.
I moved to Ireland from the North East of England 17 years ago after falling in love with one of its women and subsequently with the small island itself. I've been a cameraman for 30 years, capturing everything from polar bears in the Arctic to Princess Diana in Angola.
I observe people and moments in time for a living and more recently completed a documentary called The Man Who Wanted To Fly which was over five years in the making and again a study of another life and moment in time.
Every day is different as a cameraman, every location throws a different challenge and thought process on how best to portray it. Nothing prepared me for this morning when I left my home to film these scenes in Dublin City. As I was setting up the equipment at the top of Grafton Street I wondered would this footage be on programmes like Reeling in the Years in 50 years' time?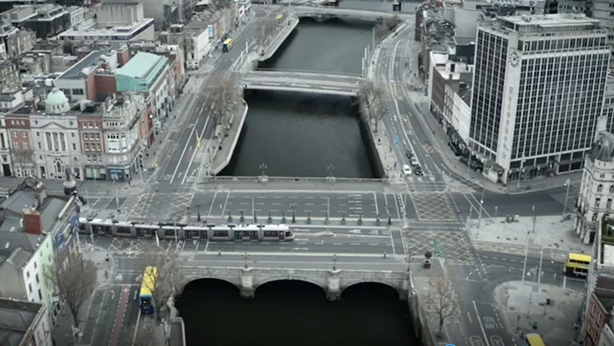 Here I was, on the busiest shopping street in Dublin, about to launch a drone and there was nobody there even to say "Hey Mister, what'ya filming for?" Or "Can I have a go?" The moment resonated with me for many reasons and not least that I probably would never see this striking emptiness again in our fair auld city.
Whilst engulfed in emotion filming these scenes, I felt they had to be captured. My great grandfather was a stills photographer in Newcastle upon Tyne and documented the Tyne Bridge being built in 1927. Images I still look at in amazement and awe just for being present in that moment.
Moving from Southside Dublin to Northside, I caught sight of a lone person on the Ha'penny bridge. These were truly striking images leading me up to the GPO where two buses passed and became the solitary movement within my frame.
I filmed both on ground and from the air and my next thought process began, one which prevails throughout putting this short film together and it is this: This is a tribute to the wonderful people of Ireland for embracing the seriousness of Covid-19 and staying at home which in turn is helping our incredible health care workers no end. Historical images like these are proof we will get through this and I personally can't wait to be stuck in traffic jams on the Dublin Quays again.
- Written by Dave Perry.