"It's very hard to make me laugh," says Marian Keyes. So I don't try. No need to: Marian is funny enough to keep the world going round on her own. The bestselling author, whose latest novel, Grown Ups, is currently riding high at the top of the charts, has been called a 'National Treasure' (she would roll her eyes heavenwards, if she believed in such a place, at that label).
She is a feminist happy to fly the flag for International Women's Day; as well as a recovering alcoholic, a wife, a daughter, a sister, a bright spark and someone who knows how different it all could have been.
"I didn't start writing until I was 20," says Marian. "It sounds quite young now but at the time I felt ancient. I felt I was all washed up at 30. I had no idea that my real life hadn't begun yet."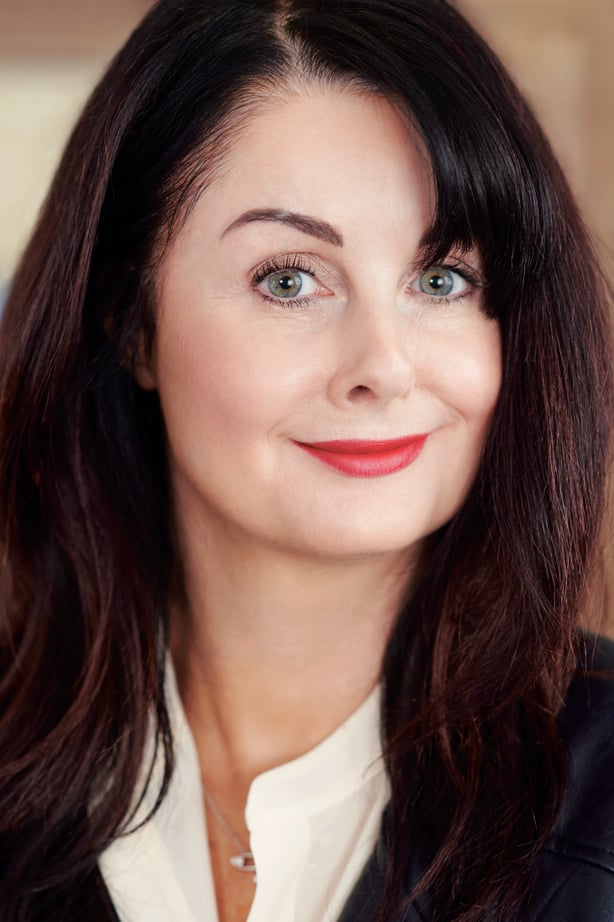 Marian Keyes is a tonic: in print, in person, and on Twitter. Many years back I met her at her Dún Laoghaire home, an Aladdin's cave of soft furnishings and vibrant colours (a lot of purple, I recall). That same day, I got some bad news, but Marian's joie de vivre made everything seem that bit brighter. It appears the love is universal. Two days before this interview I was in London amid a group of European journalists who, when I said I was reading Marian Keyes' latest, promptly noted the title and snapped the book's cover.
And the day before we spoke, I asked best-selling thriller writer, Lucy Foley, which three people she would most like to hang out with on a desert island. Her first choice was Keyes. "That's so nice and her new book is fabulous," says Marian, who I suspect hasn't a bad word to say about anyone. 
Today she is in London, relaxing in between publicity work for Grown Ups. It's Ash Wednesday morning but there's no talk of hair shirts or religious matters. Except when she says that she doesn't believe in a vengeful God (there was too much of that back in the bad old days). Rather, she is just being herself, fabulously witty, provocatively wise and irresistibly young at heart.
"I definitely have a melancholic side. I can really feel the pains of the world but I get an awful lot of joy out of life as well," says the woman with the hilarious Twitter posts, whether zipping from London to Paris for a shopping spree or revealing that she once saw Gabriel Byrne's "mickey" or how her fringe is running out of benefits. So what if many of her Twitter followers (200K plus and counting) have never read her books? "I just love Twitter," she says. "People can be so funny and clever and hilarious on it."
Wait till you hear my drama! I awoke in the night to go to the loo, I accidentally knocked over my glass of water which smashed and landed on my foot, slicing wan a' me toes open. Blood EVERYWHERE. Also glass. Also water. Now me toe is throbbing away goodoh

— Marian Keyes (@MarianKeyes) March 8, 2020
Grown Ups is funny, clever and hilarious and the rest, an epic tale of an epic family, the Caseys. This glamorous clan seems to have it all. But, of course, they don't: this is, after all, a yarn from the arch chronicler of life in all its tragi-comic bits and pieces. The novel's 637 pages open with a bang (on the head) for Cara, who is married to Ed Casey. Consequently, she is unable to stop herself from spilling the beans on the family's secrets and lies. And so all the skeletons tumble out of the closet, as the narrative winds back six months before ticking ominously towards the now.
"It happened to someone I know," says Marian of the bang-on-the-head idea. "She was putting up IKEA stuff, something hit her on the head and she got a concussion. Suddenly, she kept saying what she thought, all these cranky thoughts. And I thought 'Wouldn't it be horrific if you couldn't lie?' You'd have no friends left really fast."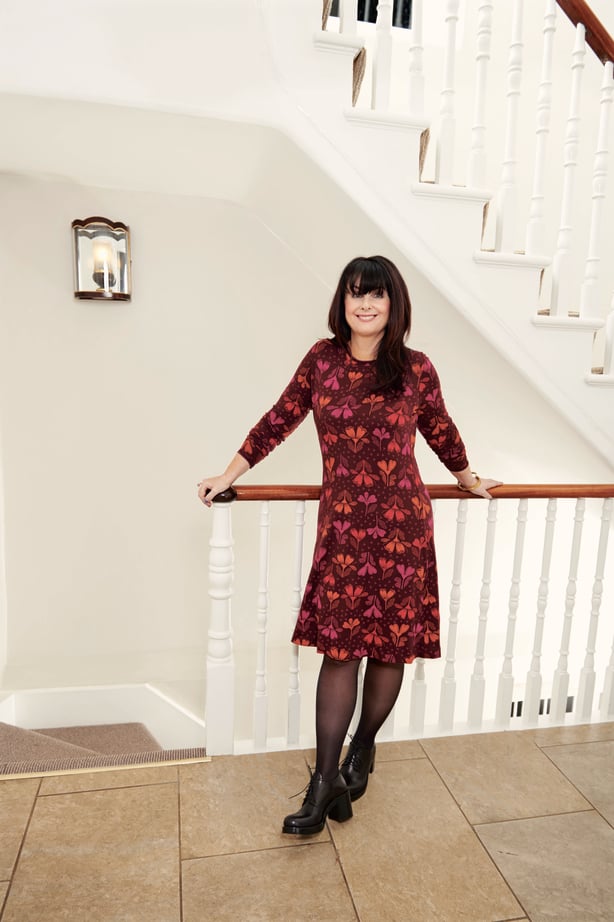 Marian herself is an open book: or as much as you can be in public. She has written about her alcoholism and depression, about how she twice went to a DIY store to buy the tools to cut open her wrists. She tweeted last week that she has had Botox and fillers ('fair play to you girl' was the gist of the responses from her followers) and regularly talks about her long-time fear of being abandoned. "Is that a bit dark?" she asks at one point in this interview, because the thing is she is also naturally hilarious, instinctively warm and empathetic from the top of her glossy mane of hair to the tulips of her shiny stilettos.
Buoyantly young at heart, Marian looks and sounds miles younger than her 56 years. "I feel about 43 and sometimes I feel 34, which is a good age," she says with a laugh. "I feel a little bit older than my friends but my friends are very young and they are great craic. And that's how I feel!" In a recent Irish Times piece titled 'Am I Ever Going to Feel Like A Grown-Up?' Marian wrote of the Shangri-La of adulthood, where everything would finally be sorted. Of course, life's not like that. Read any of her 13 novels and you'll see how we live: desperately, comically, yet heroically too.
In that same article, Keyes offered a whistle-stop voyage around her life so far. There was "sneery teenager" with plans to be a grown-up who couldn't care less about money. There was her Roaring Twenties when she left home, moved to another country, lived in a squat and worked as a waitress. Four months after her 30th birthday, she checked into rehab for alcoholism. She would fall in love, get married to 'Himself ' (Tony Baines) and go on to sell over 35 million books. At 56, Marian is more than 25 years sober and 24 years married, yet still wonders if she ever will feel like a proper grown-up.
We need your consent to load this Instagram contentWe use Instagram to manage extra content that can set cookies on your device and collect data about your activity. Please review their details and accept them to load the content.Manage Preferences
Marian is the eldest of five. Of the characters in Grown Ups, she says that the one she is most like is Jessie: a buzzing worker bee and organiser, with a head full of ideas and a million worries. Or in Marian-ese, the personusually standing at the bottom of the stairs shouting: 'COME ON! WE'LL BE LATE!'. "That's me," pipes Marian.
"I was a mini-dad when I was growing up, a right sergeant-major. Now I'm mother's personal assistant. So when she wants us all to get together she will say light-heartedly to me 'Wouldn't it be lovely if we all got together on Friday?' I know then that I've received my instructions. So I lure the younger ones with pizza, others with cake and the rest with Prosecco. I'm like a little sheepdog rounding everyone up.
"My family are so important to me. I adore them. I find them so easy to be with and such a laugh."
Marian speaks softly, warmly. "I'm grand," she says when I call, the accent revealing her peripatetic beginnings (born in Limerick, she lived variously in Cavan, Cork and Galway before the family settled in Dublin). In Grown Ups Jessie asks: 'What's the age when a person finally feels safe and secure?' Marian has her answer.
"You never do. For as long as you love somebody anything bad that happens to them is going to hurt you. Also, the very fact that we are alive means that one day we are going to get intimations of our own mortality. So we never feel beyond the fear. The one thing that has made it easier for me is accepting that I'm always going to have days where I worry, times that I'm insecure or rattled. But that is not immaturity or being overly sensitive, it's just part of being alive."
Marian's father, Ted, who had been ill with Alzheimer's disease for a number of years, died in December 2018. Devastated by the loss, Marian was unable to function in many ways, not least as a writer. "The book was almost finished when Dad died but I couldn't write the end," she says.
"I was meant to have finished the book at the end of December 2018, but Dad died in the middle of the month and it took me another five months to get some clarity."
I just couldn't do it. My head just wouldn't work. But then it became OK. Now that the book is so successful, Mammy Keyes is saying that Dad made it all happen and that he's up there stage-managing the whole thing. He was always so proud of me for being a writer. He was baffled by it but thought it was fantastic."
In Grown Ups, Jessie remembers how her Dad "faded away like a picture left in the sun." So it was for Ted. "He still recognised us but he became less and less present," says Marian. "In some ways, you could say it was a soft landing but when it came to the last 48 hours it was horrifying. This thing I'd been so afraid of all mylife was finally happening." How did she cope?
"The fact that my head didn't work and I couldn't do my job was very frightening. I also have arthritis in my fingers and the pain suddenly became far worse in the week Dad died. And another thing is that I used to read Mills and Boon books when I was a teenager and I started reading them again when Dad died because I liked the safety of them. I also worried that depression would overtake me again. It didn't."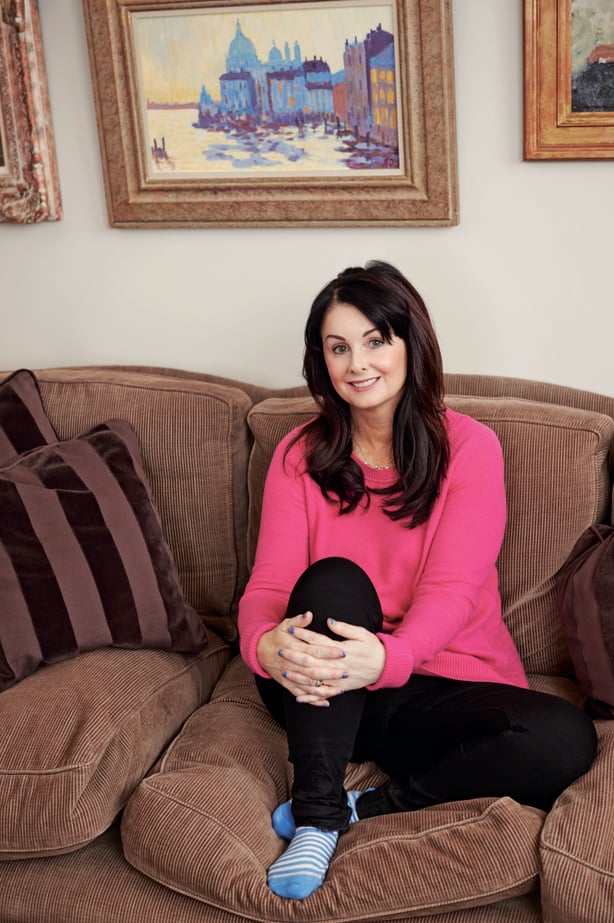 Yet writing Grown Ups was largely a joy, apart from nailing the character of Cara, who has bulimia. "It was important that she was more than just an eating disorder," she says. Marian's own experience of addiction helped. "All addiction comes from the same place. It all comes from not feeling good enough, from being incredibly uncomfortable inside your own head and inside your own skin. It doesn't matter really what your drug of choice is, it all comes from that same wound."
So how does she feel now? "I feel much happier in my skin. There is a lot more acceptance as I get older. I feel like I'm a decent person and I try my best and I'm well-intentioned. Of course, I make mistakes, but I never set out to hurt anyone. I can stand over myself on that and that's a good way to feel."
Marian stirred things up a bit recently by declaring that she now only reads women writers ("I know that men write books. But their lives are so limited.") Was she being a teensy bit mischievous? She has never been unafraid to fly the flag for writers who often get the fuzzy end of the literary lollipop. Last year, Keyes was a judge in the inaugural Comedy Women in Print Prize. This year, she is the chair.
We need your consent to load this Instagram contentWe use Instagram to manage extra content that can set cookies on your device and collect data about your activity. Please review their details and accept them to load the content.Manage Preferences
"There is the Wodehouse Prize for comic fiction but in 19 years only two and a half women won it," she says. "Hannah Rothschild was made to share it with a man. She obviously wasn't funny enough to merit the entire prize!" That's why she's also happy to fly the flag for International Women's Day. "It's funny that there are a lot of men who go 'Oh why don't we have an International Men's Day? There is one. It is in November! But there is no energy around it because it's not necessary in the same way."
Earlier this year, Marian and 'Himself' celebrated their 24th wedding anniversary. Of this, she said that "if you're married for a long time, you live through several marriages". "Absolutely," she affirms. "This notion I had when I got married that this was it, that I'd never have to try again and nothing would change and I'd never feel insecure or lonely is nonsense. We are born alone and we die alone and we remain ourselves.
"And yet the person that I was and the person that Tony was 24 years ago is very different to the people we are now."
"We had to recommit to each other several times, not in any public way, but our lives are very different. He goes off and he climbs mountains and glaciers and that's important for him. Maybe back then I would have felt threatened by that but now I think 'Fair play to him!'"
Keyes is as much pragmatic as she is romantic. "Love doesn't conquer all," she says. "It doesn't take away my fundamental character flaws. And it's not my husband's job to take away my insecurity or take away my fear of abandonment. But love does so much too. I have a companion, a best friend that I'm so grateful for. We have the in-jokes, the shared memories and the catchphrases. Yet also, nothing is guaranteed. I'm very aware that just because I've been married for 24 years doesn't mean that he won't suddenly get a notion.
"I do feel in many ways that every human being is a stranger to themselves. There are things inside us like time-bombs and we don't know when they will go off. Does that sound quite dark?" Not really but does she truly fear being abandoned? "Yes. That was always my fear as a child." Yet she beats on, as we all do, against the current or with the tide. "In life, if you get something good you should delight in it," she says. "I don't believe in a vengeful God. Everyone will get ups as well as downs, nothing remains fabulous all the time. So rather than being anxious about when it will be taken away it's more 'Feck it, I'll just love it while it's happening!'"
Yes, it's a joy to chat with Marian Keyes, someone who wears her learning lightly, someone who loves a bit of Scandi crime drama ("any murder in a cold place and I'm up for it"), someone who lists Cold Comfort Farm by Stella Gibbons as one of her all-time favourite novels. "Oh. My. God. Every time I read it I nearly get sick laughing." So I didn't attempt to make Marian laugh. And we never did get to discuss Gabriel Byrne's mickey. But I hope she never, ever, really grows up.
Grown Ups by Marian Keyes is published by Michael Joseph (Penguin Books).