It's a rite of passage for most Irish people but, for many, it's one of the scariest moments of their life. Many will remember the nerve-wracking days, the sleepless nights, the endless hours of practice... We are, of course, talking about the Irish driving test.
Do you remember that time of your life? Endlessly memorising the correct millimeter depth of a tyre, keeping your hands glued to the steering wheel, moving your head dramatically - earrings swinging - so as to observe your surroundings efficiently. It was all a bit of a nightmare.
 Not the kind of thing you'd do on national television... surely.
We need your consent to load this Instagram contentWe use Instagram to manage extra content that can set cookies on your device and collect data about your activity. Please review their details and accept them to load the content.Manage Preferences
For the first time on Irish television, we'll be following the driving test stories of Ireland's learner drivers across lessons, at home and in their tests. 
Hosted by Simon Delaney, the show will follow the journey of fifteen of Ireland's learners, across official lessons and home practice sessions through to their actual test.
From reversing around corners to near misses and hairy moments, these stories will provide plenty of laughs, tears, and tantrums.
Finally, we will join the learners on their test day, witnessing their results and the subsequent joy or disappointment alongside their instructor, family or friends.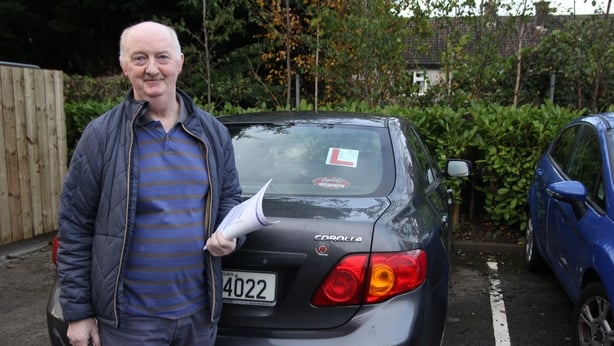 "This show is not only a must-see for Ireland's learners, it's a must-see for anybody who drives a car, bike, truck or bus," says Simon Delaney.
"It really makes you think back on your own L Plate days and it made me reflect on how I act around learner drivers. As we say at the top of the show, spare them a thought, they're sitting in a seat you once sat in."
"When we see an "L plate", we tend to think of an 18-year-old in their mom's Yaris; what's great about this series is how it smashes this stereotype view of Ireland's learners. We have a 68-year-old man who's been on a provisional for over forty years, a middle-aged lady who has failed her test 12 times (she is amazing) and a 17-year-old Circuit of Ireland racing champion, all sporting L Plates and all trying to get their test... and that's just in the first two episodes."
The Test starts tonight on RTÉ One at 7:30pm.