On Wednesday night on RTÉ One, the grand finale of Operation Transformation is on. But before the leaders appear on telly, they all joined Ray D'Arcy in studio to talk about the ups and downs of life in the spotlight over the past eight weeks.
And Ray started with a quip at Tanya, telling her, "It only seems like yesterday when we saw you drinking twelve cans of Coca-Cola a day".
That was the old Tanya, though. She told Ray she doesn't even get cravings now: "Even when I woke up Monday morning, slightly hungover, I was fine… It was a great feeling not to want to have a can of Coke."
Shane told Ray that, eight weeks on, he feels amazing: "I'm a new man… Eight weeks ago I was broken inside, I had no confidence. I'm not healed yet, but, by God am I healing. And I haven't stopped smiling since the last week… the last week was just phenomenal."
Our leaders will be on @RadioRayRTE in 10 mins, and you can watch live on our #OperationTransformation Facebook page! 😃😃 pic.twitter.com/clum1VKwBf

— OT RTÉ (@OpTranRTE) February 26, 2020
After the freshly-groomed Barry talked beards with Ray, our host revisited that first weigh-in when Carol told him he was the tallest and heaviest-ever leader on Operation Transformation. Did that inspire Barry? Ray wondered.
The answer wasn't that straightforward for Barry: "I'm 6'7", I'm not the average person. Carol also said that day that I'm sixteen and a half stone of muscle. So what most people weigh, who are overweight and on this show, I carry on my body as muscle."
Of course, Barry and Andrea were the first married couple on OT – Andrea told Ray that she signed up for it first, not knowing whether the show took couples or not. And she was delighted when she saw the change in Barry, although she was at pains to make clear that his transformation wouldn't make any difference to her feelings for him:
"I've always loved him, from 29 stone to what he is now. And even though I can see the improvement, it doesn't make me love him any more or any less. I always thought he was awesome and handsome."
It was a romantic moment in the studio and it wasn't the only one. But more on that in a minute.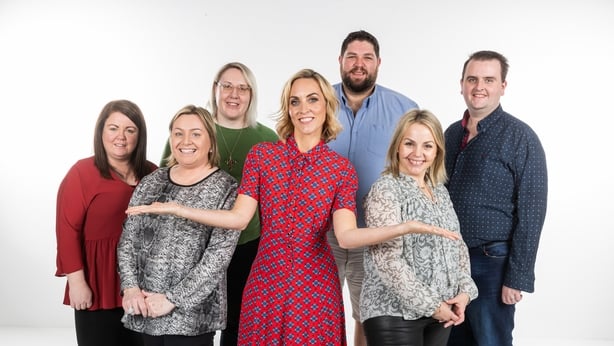 First, Lorraine spoke about the tough times she had on the show: "My weight loss was very slow. But what I learned from that was something more important, that it's not all about the scales. You have to think about everything that's coming."
Lorraine said she now feels alive – she has very little interest in sitting around and always wants to be active, something that's quite the change for her, she told Ray. And that's what OT is supposed to be about, isn't it?
But weight loss and improvements in health aren't the only features of this season of Operation Transformation.
'I'm over the moon... it was brilliant. It topped everything off for me' Tanya reveals the big news - SHE'S ENGAGED! 💍💍💍
Congratulations 🥳❤️💕 @RTERadio1 @OpTranRTE @RTEOne #OperationTransformation pic.twitter.com/UDjE98J2vv

— Ray D'Arcy Radio (@RadioRayRTE) February 26, 2020
One big reveal from the Wednesday night finale was announced exclusively live on the radio this afternoon – Tanya, Ray said, seemingly a little indelicately, is carrying a little more weight than she did on Sunday.
The reason? Something to do with her boyfriend Mark, Tanya explained: "So, on Sunday, I was looking at all my VT, going back in the last eight weeks and Mark came on saying he was proud of me. And he just said, 'Can you turn around? I've one more question to ask you'. And there he was, down on one knee."
Cue excited whoops in Studio 10. Tanya had no idea the proposal was coming:
"I was afraid to turn around, 'cos in my head I was like, 'He's going to propose. Imagine if I turn around and he's just standing there, like, with flowers'."
You can hear the full chat – engagement ring reveal and all – with leaders on The Ray D'Arcy Show above. The grand finale of Operation Transformation airs tonight at 9.35 on RTÉ One.