Former Fianna Fáil politician Mary O'Rourke has held many positions of power over the years, from her time as leader of the Seanad and her tenure as "Mammy of the Dáil" until 2011, to mother to two sons and grandmother to six grandchildren.
However, Ireland is getting to see another side to the veteran politician and presenter, as she doles out advice on RTÉ Player's new show Agony OAPs.
Joining Pat Spillane, Sharon Higgins, Frank Twomey, Gray Cahill, and Matt Dodd, Mary shares her sage advice and encouragement to the millennials who write in with their problems, answering questions on everything from coming out to disliking your best mate's girlfriend.
In her own words, "I've survived so much and I'm still thinking about life and grabbing every day that comes. I'm lively and curious and want to know more about all that's going on".
"If you've lived to be 82, you've experienced love and disappointment and childhood and rearing children and having jobs and being in a stressful life, which politics is, and encountering all sorts of different people all the time. I have all of that."
Having played major roles in many levels of government, does she feel it taught her to guide others? For Mary, it's far more simple than all that.
"I've lived life", she tells RTÉ LifeStyle, "and also I've had children, they're now grown up and in turn they have children and I have six grandchildren of all ages. So I've dealt with people at all ages in my life."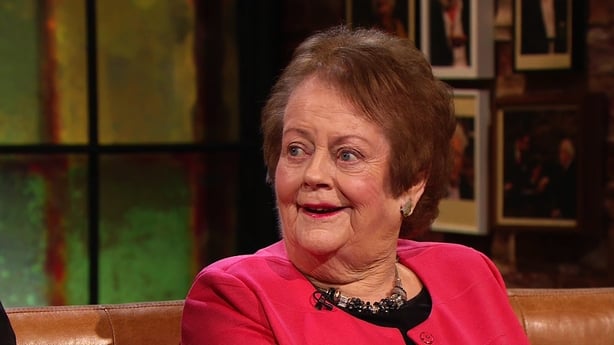 As for whether problems have changed over the years, she says that young people today are grappling with many of the same issues people of older generations grappled with.
"I think life is the same, always. There are always dilemmas in life, there are always men and women or men and men or women and women. Nothing much in life shocks me simply because I've been through it all. Not that I've lived through [every scenario] but I know what's going on, and I read a lot. I'm a very intense reader, and there's nothing that surprises me in life that I haven't seen or read about."
Of course, there are obvious differences: social media has revolutionised how we interact with each other and the world, how we communicate who we are and what we want. Add to that the "serious times" Mary says young people are living in, and you have a sizeable generation gap.
Still, it all boils down to a common concern: "I think young people worry about if they're doing the right thing.",
"They're worrying about education and jobs they'll get and relationships, when really, relationships have never changed down through the years. There will always be emotions and upsets, and people will fall out and make it up again. That's always been life.
"There's nothing changed in that at all from the very beginning, and I guess it will continue that way."
Watch Agony OAPs on RTÉ Player now.