Spring may not be in the air, but love is! Valentine's weekend is also the start of the mid-term break for many schools and provides a perfect opportunity for some family fun.
If you are feeling especially romantic, or in search of love, you could visit the Shrine of St. Valentine in Whitefriar Street Church in Dublin, which is said to house his remains.
Otherwise, we have loads of other ideas to put a spring in your step.
Have fun!
1) Northern Ireland Science Festival
With over 180 events across 50+ venues, the NI Science Festival from 13th-23rd offers a stimulating and wide range of events focusing on the wonders of science, technology, engineering and mathematics. Events this weekend include The Science of Star Wars.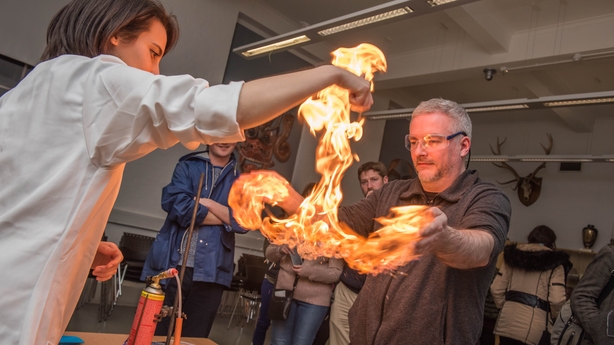 2) Valentine's Breakfast with Mickey and Minnie Mouse
Enjoy a Valentine-themed breakfast this weekend with Mickey and Minnie Mouse in Kidspace in Rathfarnham on Friday or Saturday morning or in Rathcoole on Sunday morning. Children enjoy fresh pancakes, singing and dancing with Mickey and Minnie and 60 minutes playtime in the play centre.
3) Mid-Term Tales | Glasnevin Cemetery
Looking for something to do on Saturday and Sunday morning? Look no further than Glasnevin Cemetery Museum as their popular Mid-term Tales tours are back with highlights including Fr. Browne and the Titanic, William Fogarty's pesky parrot and Maria Higgins the only person in the cemetery who was buried twice!
4) There Was an Old Lady Who Swallowed A Fly | An Táin Arts Centre
The popular children's book by Pam Adams celebrates its 45th anniversary, and to mark the occasion the story has been into a magical musical stage show written especially for children to enjoy with their parents.
5) Around the World with Nellie Bly
To celebrate the Herstory: Ireland's Epic Women TV Series on RTÉ, EPIC have a long list of exciting activities planned, all exploring the stories of inspiring Irish emigrant women. Ever dreamt of travelling the world?
Follow in the footsteps of the many Irish emigrants we feature in EPIC without stepping a toe out of Ireland in this interactive gaming session, where the floor is the board and you are the games piece! Advance booking essential; shows on Saturday at 10am or 1pm.
6) Zipit Forest Adventures
The new season kicks off this weekend at Zipit locations in Dublin, Cork and Roscommon. Climb high into the treetops, swing into cargo nets and fly down one of their many zip lines providing hours of fun for all ages and abilities.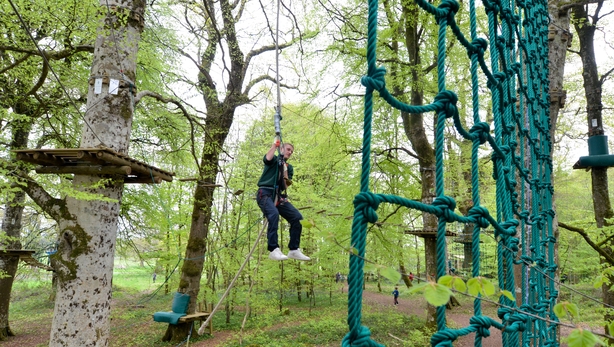 7) Navan Vintage Fair
The Ardboyne Hotel hosts the Navan Vintage Fair on Sunday with thousands of items; from fine art, vintage books and rare coins to antique a jewellery, silver and lots more.
8) Northern Ireland Puddle Jumping Championships
Challenge your friends and family to see who can make the biggest, craziest splash with the special 'splashometer' at the Puddle Jumping Championships at Castle Espie. As well as splashing about in puddles there's lots of other fun activities to have a go at including Wild Welly Walks, Welly Wanging, Welly Bootcamp and not forgetting our Wildwood play area and Secret Swamp.
Event activities will be available from 11am to 4pm from Saturday until Thursday.
9) GAA Museum Junior Explorer Tours
Young visitors can pick up a Junior Explorer Passport, which follows the trail laid out by our mascot Cluasóg, at the entrance to the museum and then figure out the clues within by visiting exhibits in the Museum to reveal a secret sentence! Visitors can follow Cluasóg's Junior Explorer trail either before or after their stadium or Ericsson Skyline tour as part of their museum visit.

The passport and secret sentence can then be shown to a staff member and children will receive a special Junior Explorer badge!
10) Kids Rock | Solstice Arts Centre
It's entertaining, it's engaging, and it's guaranteed to get you and your little ones moving! This Saturday, Kids Rock with Kyle Riley is a genre-busting musical concert for kids that is fun for the whole family.
11) Castlecomer Discovery Park
Reach new heights during the mid-term break with a visit to Castlecomer Discovery Park in Kilkenny, where, among a huge range of activities, you can enjoy the Tree-Top Adventure Walk, Climbing Wall, Octagon High Ropes Course or Ireland's longest zipline! 
13) SKYPARK | Carlingford
Ireland's biggest adventure park, just 1hr from Dublin, is open this weekend and all of next week. Get the kids away from technology for a few hours, out into fresh air and fun activities.
12) Bray Comedy Festival
Now in its sixth year, Bray Comedy Festival gets bigger and better with more of the best comedy acts bringing belly laughs and banter to Bray. Acts this week include Jason Byrne, Andrew Maxwell, Enya Martin, kids magic with Jamie Skelton and Improv Allstars with special guest, Phill Jupitus.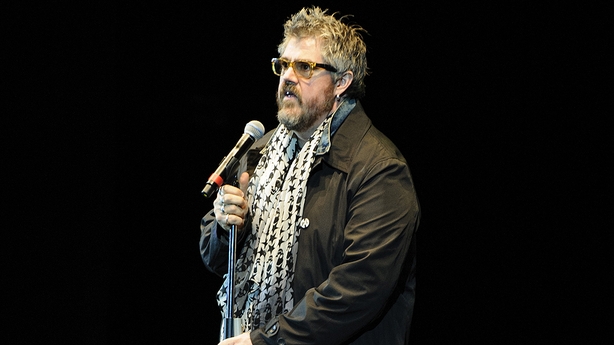 Three things to do next week:
1) Fantastic Flix at The Ark
The Ark have a mid-term full of film and animation workshops including An Introduction to Movie Making and Silhouette Animation Workshops.
2) Make a Bird Box Workshop | Rediscovery Centre
The Rediscovery Centre host a family-friendly workshop next weekend where you can make your own bird nesting box from old pallets; learn a new skill with your kids and attract wildlife to your garden.
3) Magical Oceans Workshop | Cool Planet
Cool Planet's concoction-packed workshop will captivate kids who love to explore and experiment. Dive into the scientific method, experiment with the pH scale and create bubbling chemical reactions.
YourDaysOut is a sales & marketing SaaS platform, connecting people with activities and events while providing tools for businesses to sell tickets and take bookings online for admission, events, birthday parties, camps, school tours, classes and more - all managed from a very simple dashboard.